In the right place at the right time
By Adam Broderick
A single-engine biplane went down in a field just north of Highway 50 at Cerro Summit at roughly 7 a.m. on Wednesday, June 3. The plane was carrying 50 gallons of fuel, much of which was spilling onto the ground when help arrived. Fortunately, Gunnison County employees were there to watch it all play out and then rescue the pilot from the wreckage.
Gunnison County Public Works director Marlene Crosby wrote in an email that five Gunnison County employees were driving by on their way to a gravel haul on Big Cimarron Road when they watched the plane go down on the northwest side of Cerro Summit in the grassy area just off the highway.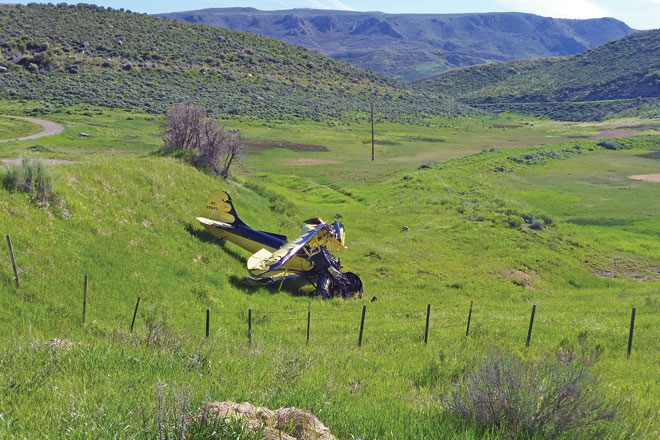 "Dale Tillman saw the plane approaching the south side of the highway, cross Hwy. 50 and crash into the north side of the road," Crosby explained. "At first he thought it was one of the crop dusting planes."
Crosby said it was fortunate the crew saw the plane as it descended. It landed only about 50 yards off the highway, but due to the guardrail and road embankment, a car passing by might not have spotted it.
"Employees pulled over and Shawn McConnell went to the plane," Crosby continued. "Fuel was running out of the plane so Shawn helped [the pilot] out of the plane and up to the edge of the road. A couple in a camper also stopped and got their fire extinguishers out."
Crosby said the pilot was not moved farther due to potential medical concerns, and since the plane carried 50 gallons of fuel, everyone stayed as far away as possible due to the chance of fire.
A June 3 statement from Montrose County reported the pilot, Stephen Mathis of Montrose, Colo., was en route to meet friends in Elbert, Colo. before flying to Kansas for a biplane show when his plane crashed into the summit about 14 miles east of Montrose.
The Montrose Fire Protection District's EMT staff was the first emergency responder group on scene and evaluated Mathis. The Gunnison County work crew had called in the incident and already extracted Mathis from the plane.
Montrose County sheriff Rick Dunlap commended Gunnison County employees Scott Bever, Shawn McConnell, Dale Tillman, Kenneth Webb, and Dave Coleman for their quick actions in assisting a community member in his time of need. Mathis was treated at Montrose Memorial Hospital and was reported to be in stable condition.