"When I was down in the dumps I'd listen to bluegrass and when I wanted to push, I'd listen to rock and roll."
by Than Acuff
"A few hours mountain climbing turns a rogue and a saint into two roughly equal creatures. Weariness is the shortest path to equality and fraternity—and liberty is finally added by sleep."
—Nietzsche
Red Bulls, juice, water, gummy bears and gummy worms, Snickers, Pay Days, Quarter Pounders, fries, milkshakes, BLTs, Pearl Jam, the Red Hot Chili Peppers, Infamous Stringdusters, Sam Bush, two to five hours of sleep per day and the support of friends and family are what carried Team Griggs Orthopedics rider Neil Beltchenko to a third-place finish in his first attempt at the Tour Divide bike race.
Beltchenko covered the course in 14 days, 12 hours and 22 minutes, which averages out to almost 200 miles of riding per day.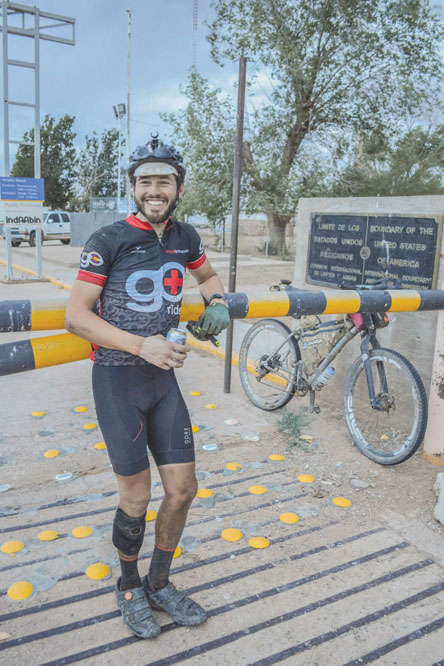 The Tour Divide is the mother of all multi-day self-supported bike races. The race starts in Banff, Alberta and follows a series of dirt roads and jeep roads with some singletrack along the Continental Divide south to Antelope Wells, N.M. The course is 2,745 miles long and includes 200,000 vertical feet of climbing. Divide race organizers compare the vertical relief to summiting Mt. Everest seven times from sea level.
It's one thing to simply ride that far, but due to how the race shook out, Beltchenko was in a battle going back and forth for the lead almost the entire time. In fact, the record-setting pace picked up the final two days as the three leaders jockeyed for the win.
Beltchenko is no stranger to epic bike races. He has competed in his fair share of Colorado Trail Races (winning it in 2014), Arizona Trail Races and the Stagecoach 400, but the Tour Divide would be the longest race of his life. Nevertheless, he was ready for the challenge that was years in the making.
"This was five years in the making," says Beltchenko. "I remember following it online when Jefe and Ethan Passant were racing and right then and there I set a goal to do it eventually. Two years ago I set the date for 2015."
While most Tour Divide competitors may be logging massive miles on their bike as they prepare for such an undertaking, Beltchenko knew he had the miles and experience under his belt and opted to prepare in a different way.
"I definitely knew what I was getting into," says Beltchenko. "Doing the Colorado Trail Race and the Stagecoach prepares you for what you can expect every day. I just dialed in my setup, took it easy, rested and made sure I didn't have any nagging injuries."
His set-up included a titanium bike-packing race-specific bike from CHUMBA Cycles, Montbell bivy sac, 32-degree Mountain Hardware sleeping bag and a Dynamo Hub that charged all of Beltchenko's electronics and his lights the entire race flawlessly. All told, fully rigged with water, his biked weighed in at 46 pounds.
"Everything I had on my bike was perfect," says Beltchenko.
Beltchenko admits his modus operandi with epic bike races is to "go out as hard as I can and then ease off." But 2014 Tour Divide winner and friend Jefe Branham offered him some sage advice prior to the race.
"Jefe gave me some good advice: Don't go out too hard," says Beltchenko. "The whole strategy was to pace myself. It seemed to work out pretty well."
Beltchenko opened the race averaging two to three hours of sleep per day and never slept more than five hours the entire two weeks. Every time he slept, he laid down with his shoes and coat as a pillow and his feet up on his bike to let the blood flow out and help reduce the swelling. The schedule kept him in the mix for the lead throughout the entire race.
"A week in, things were good," says Beltchenko. "Pretty much after day three I was on cruise control."
Beltchenko's race almost came to an abrupt end in the Great Basin of Wyoming. Cruising downhill, he got caught in a rut and when he tried to steer out of it, he crashed hard.
"I fell directly on my knee and it started gushing blood," says Beltchenko. "I thought I was done. I felt my leg to see if anything was broken and then just laid on my back and relaxed and realized I was okay—though my left leg wasn't working that well."
He also experienced a litany of nagging aches and pains as the race continued that could have forced him out, but as he was riding with fellow race leader and seasoned Tour Divide rider Jay Petervary, Beltchenko received additional insight and every time an ache flared up, Beltchenko would ease up a bit, and the pain would subside.
"He just told me, it's like rain and smoke, it's not comfortable but it will go away," says Beltchenko.
And while the weather cooperated with no snow on the course and rain limited to just four separate storms, the heat proved to be challenging in spots. The first major weather challenge came in the Great Basin when he was battling the heat and a headwind and ran out of water. The second one came in Colorado.
"Sargent to Del Norte was really difficult," says Beltchenko. "I ran out of water 20 miles from Del Norte and it was so hot I was just melting."
But aside from the physical, there were also psychological struggles and Beltchenko turned to his tunes and his phone to get through the tough times.
"I would turn on my phone and there would be messages of support," explains Beltchenko. "When I was down in the dumps I'd listen to bluegrass and when I wanted to push, I'd listen to rock and roll. Kind of a weird mix but it worked."
The final test for Beltchenko came in the final days of the race as he was in a three-way battle and the pace started to pick up. Petervary and Beltchenko overslept one night, allowing the third-place rider Josh Kato to take the lead. They caught back up to Kato but the pace was unrelenting.
"In New Mexico three of us were close together and started to race and I knew there were still two days left," explains Beltchenko. "I was sick of it and I didn't want to keep going fast."
Fortunately, a call to his girlfriend and past race experiences got him through the final stretch as he crossed the finish line on the Mexico/U.S. border in third place, just 40 minutes out of first place and over a day faster than the previous record time.
"I'm still trying to digest it," says Beltchenko. "It was the ride of a lifetime and I couldn't be any happier with the result. Finishing third and faster than the record, I was ecstatic."