The playoffs are going to be awesome
by Than Acuff
The whole rec league world has turned upside down this past week. The Eldo was slumping, the Talk of the Town was surging, the Avalanche looks to be a contender (until half of their team leaves for college) and four games last Thursday were decided by two runs or less.
Good thing I decided to watch a blow out on Tuesday instead but so be it. I hadn't covered King Systems yet this year and everyone deserves some press. Though, I have to admit, I had an idea it wasn't going to be pretty for King Systems. Granted, they came into the game Tuesday night against the Eldo on a two-game winning streak. And, like I said before, the Eldo was slumping, having lost three games in a row. But, the Eldo have generated more runs than any other team this year and Tommy V Field is a hitters' ballpark.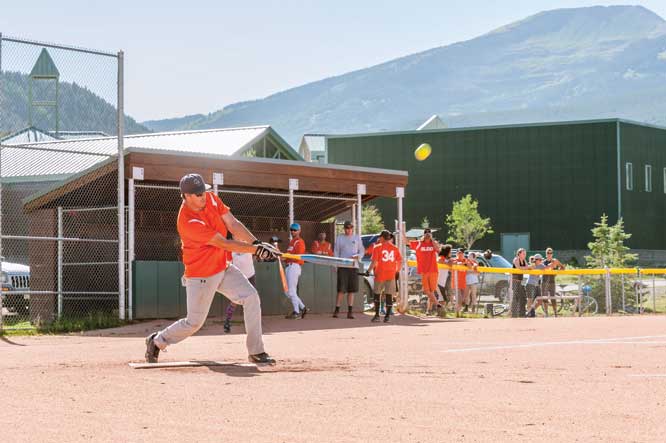 Adding insult to injury, King Systems showed up for the game missing a few players. And while I know King Systems is better, there was nothing they could do to hold off the Eldo who was determined to return to their winning ways before the start of the post season next week.
King Systems opened the game proving they've got some magic despite their subpar record by scoring two runs. Adam Zatorski doubled and Ali Yanni singled to put two runners on. Thomas McLean loaded the bases with a double and then Savanna Hines knocked two in with a Fielder's Choice and some opportunistic running by King Systems.
Here we go, I thought. King Systems is clicking and the Eldo has been struggling. This would be the greatest upset all season. But then disaster struck for King Systems as the Eldo found their bats early and often.
Ian Baird led off the bottom of the second inning with a solo Inside the Park Home Run (ITPHR). Three batters walked, scoring another run, and then Carly Fritz and Sebastian Zurweg combined for base hit RBIs for a 5-2 Eldo lead.
The Eldo tacked on five more runs in the bottom of the second inning, paced by a grand slam ITPHR from Patrick Cashion. Carly Webb looked to stretch for her own solo ITPHR but the King Systems defense connected for a perfect relay to home for the out to stop the bleeding, temporarily.
Down, but not out… yet, King Systems scored one more run in the top of the third as Zatorski and Yanni knocked base hits and Zatorski scored off a big-time hustle infield single from McLean. But King Systems' efforts were ultimately for naught as the Eldo opened up the biggest can of whupass they could find in the bottom of the third inning.
The first five Eldo hitters rattled off five singles in a row to score one run, and Will Jones and Baird each connected for sacrifice fly RBIs for two more, but still ,things were looking manageable for King Systems with two runners on and two outs.
But the Eldo was far from done as they proceeded to go on a seven-run two-out rally, building a 20-3 lead and forcing umpires to enforce the 10-run rule.
Thank God.
The Eldo offense slowed up a bit, scoring just eight runs over the next two innings as player/manager Cashion asked his team to "keep it classy, San Diego."
Webb was far from done, knocking in another Eldo run with a single and Sean Crossen tapping a two-RBI single for a 26-3 Eldo lead.
But, like I said before, King Systems is not as bad as the scorebook makes it appear and they kept fighting, scoring two runs in the top of the sixth thanks to the women. Yanni led off with a double to centerfield, Hines drove her home with a triple to center and Chelsey Wilson pushed Hines home with a single. Maybe they should be called Queen Systems…
At any rate, I like their pluck and while the Eldo managed to score two more runs to finish King Systems off 28-5, if King Systems can get their entire team to show up, the sun is just right and they're playing at Pitsker, they just might shake up the post season with an upset, or even two.
Meanwhile, watch out everyone, as the Eldo have appeared to gotten their groove back, just in time.