It is hot and it is crowded in Crested Butte and estimates are now that between 15,000 and 20,000 people will be on Elk Avenue Saturday morning for the Fourth of July parade. All of July will carry the double-edged sword of busyness.
That was prompting me to write a piece on the need for patience by everyone out there and ask the question: Is more always better? Look for that in another paper in July.
Instead I was emailed a pretty in-depth analysis that was posted on the financial website SeekingAlpha. The article focused on U.S. Energy, the company that owns the mining rights to the molybdenum beneath Red Lady, the mountain that overlooks the town of Crested Butte to the west. The idea of a moly mine has always been perceived as a major threat in this community. Hard rock mining and tourism are not naturally compatible.
A little over a year ago, U.S. Energy stock was worth more than $4. This week it dipped below 50 cents. You don't have to be a financial guru to know that is not good for the company. A big reason the stock has plummeted is that it is a relatively small company that pivoted toward oil and gas production. They got slammed hard when energy prices started falling. They have not recovered.
Last week, the Riverton, Wyo. company let stockholders know that it cut its workforce by 15 percent. Those remaining took a cut in salary. "All officers and directors of the Company have agreed to take a 20 percent cut in salaries and fees, respectively," the announcement stated. "The total compensation savings is in excess of $600,000 on an annualized basis… We believe that cutting our general and administrative costs is a prudent business decision in light of the current price of oil. We will also continue to evaluate other cost-saving measures going forward, which should have meaningful impact to our bottom line," said Keith Larsen, CEO of the company. "These measures are part of our forward looking plan that will allow us to continue to participate in our ongoing drilling programs…"
Larsen and his company seem to have an emotional attachment to the moly deposit in Mt. Emmons. Despite the costs of carrying a site with no production, the boys just don't want to let it go.
Based on everything I've read, I do not believe in an immediate threat of a molybdenum mine in the near future. The high cost and the intense regulation it would take to get a mine up and running is prohibitive in this country unless the price of moly shot up significantly. It currently sits just above $6 a pound. There is a fair amount of molybdenum all over the world, so it is not a rare mineral. In my opinion, it would not be worth a high mortgage for the community to try to say, buy the mine for tens of millions of dollars. But it might be worth trying to help U.S. Energy and figure out a way to get a liability off their books while at the same time eliminating a cloud that hangs over Elk Avenue.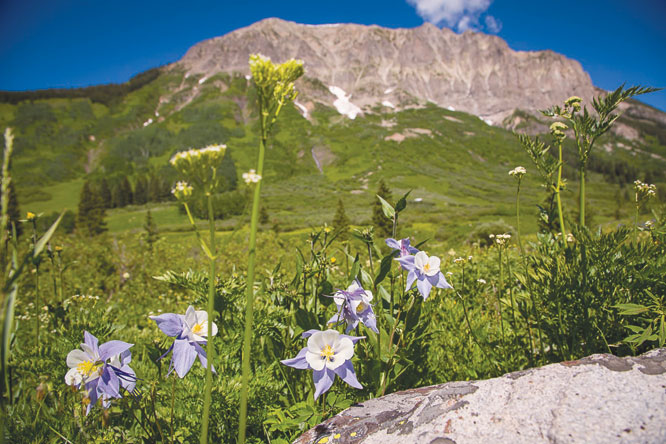 The big issue is that U.S. Energy is legally required to operate a water treatment plant on Coal Creek that treats the water running through Crested Butte. Before the treatment plant was constructed, the creek ran orange. There are old mines up there and believe it or not, the mining companies didn't always restore the environment to the way it was before a mine.
In doing more research after the SeekingAlpha article, I found some analysts believe the company can weather this storm for at least a while longer. U.S. Energy has operations with proven oil reserves and the upcoming financial quarters should show they could hang in there as the price of oil rises.
But…given this latest red flag, it might be time to once again focus on a contingency plan. Those that monitor the situation—the Red Lady Coalition, the High Country Conservation Advocates and the town of Crested Butte—should huddle up and determine if there is opportunity. Could they finally convince the U.S. Energy boys that this mine is indeed a long-term liability and it might be worthwhile to find a way to hand it over, with some operating cash, to this community? Is there a way that U.S. Energy can focus on what should be its money-making ventures in the Bakken oil shale fields? Is there a way the community could control its destiny in terms of the potential mine by taking a liability off the hands of U.S. Energy and getting some financial assistance to keep the water clear? Is the stock so cheap, the "community" could buy the company and sell a few lots to pay for it and the treatment facility expense? I don't know. But given the timing of this financial shake-up with the company, it might be time to again look into it.
That water treatment plant needs to be protected. At the very least, the community watchdogs should have some sort of plan on how to keep the water treatment plant going if U.S. Energy does fold. That responsibility would ultimately fall either to the state or the feds but that minimum contingency plan should be in place sooner rather than later.
In the meantime, it is hot and busy and looks like it will be that way for a while. Have a wonderful Fourth everyone—and stay patient out there.
—Mark Reaman