"Just sad, really"
by Than Acuff
The energy was off the Richter scale leading up to the Big Mountain Enduro (BME) races hitting the trails around Crested Butte Friday through Sunday, July 31 to August 2. Not only were the top riders from the BME circuit in town, but the event was also part of the Enduro World Series, drawing the top mountain bike enduro racers from the world to Crested Butte.
Organizers had three incredible days of racing planned for the more than 300 riders in attendance, opening on Friday, July 31 with stages on Roaring Judy and Doctors Park. Saturday's plan was to have athletes ride Trail 400 from Star Pass and then head up Block and Tackle and along Double Top before dropping onto Waterfall Creek.
The enduro was set to wrap up on Sunday with a stage set for Trail 403, two stages in the Evolution Bike Park and then the finish with a stage on Upper Loop and Tony's Trail. Overall, riders would be covering 13,500 feet of climbing and 17,700 feet of descending over the three days, averaging 23 miles of riding per day.
"We were all super psyched on the planned stages and the courses were perfect for world-class enduro racing," says BME Executive Director Brandon Ontiveros.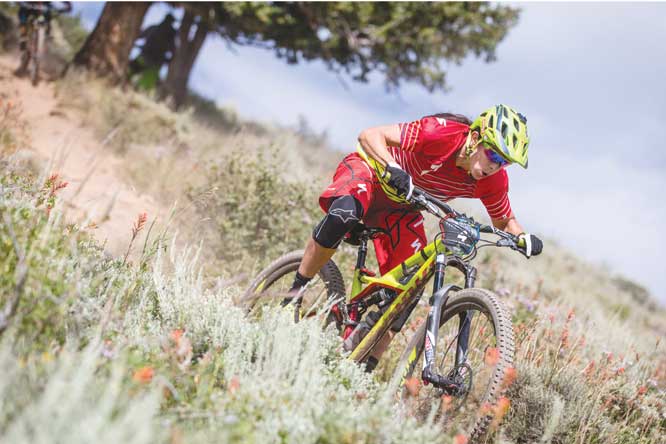 "I think it was really rad what they came up with," adds Team Griggs Orthopedics rider Evan Ross.
And with the help of Mother Nature, the trails were set up for riding fast and hard.
"It was as good as it can be," says Ross. "It's been a nice, wet summer, dried up for the races, it was perfect really."
Once the stages were announced, riders had Thursday to get practice rides in on some of the venues and people were charging.
"People were having such a blast," says Ross. "It was cool to ride a trail and then see how other people ride it."
Friday saw athletes crushing Roaring Judy and Doctors Park, laying down amazing times from the pro class down through the amateurs. The fastest time on Doctors Park came in at 14:28:03 and the fastest time laid down on Roaring Judy was 10:53:73.
While Ross won both stages to finish the day on top of the standings in his class, Dylan Stucki had the fastest local time on Doctors Park, cracking the 16-minute mark.
"Day one was successful and most riders were jazzed on the first two stages," says Ontiveros. "Everyone was eagerly awaiting the next big day starting up on Star Pass."
Saturday proved to be more of the same with riders ramping up for a climb up to Star Pass before dropping down Trail 400 and then heading up to Double Top to ride down Waterfall Creek.
As organizers started working through the start list, Brick Oven rider and Alpineer bike mechanic Bartolomej Stuchlik had posted the second best time on that stage among the first round of pro class riders, and Ross had the second-fastest time down 400 in his class finding the trails, once again, in great shape.
"Conditions were really good," says Ross.
"Energy and stoke level was high," says Ontiveros. "I was racing with Will (Olson) and dropped a few riders before him. Everyone up at the top of Star Pass was mesmerized and even Will was in good spirits; not only with the views but with the great course/stage we had ahead of us that day."
Then tragedy struck as Will Olson, an accomplished enduro racer, crashed on his ride down Trail 400 and died from injuries sustained in the crash. Olson, from Edwards, Colo. won the Aspen/Snowmass BME event earlier this season, was sitting in third place in the overall BME points series and was in ninth place in the men's veteran expert 30+ class heading into Saturday's stages.
The fatality rattled racers and organizers and after a meeting that day, the event was cancelled and a group memorial ride on Sunday on the Lupine Trail was planned instead. Riders came out in droves for the group memorial ride Sunday.
The BME circuit will continue with its final race of the series September 4-5 in Winter Park. The Enduro World Series heads to Whistler for the next stop of the World Tour this weekend.
"Will was one of the best riders in Colorado, has won BME races before and was favored to win his category at the EWS stop in CB, until the fatal accident occurred," says Ontiveros. "He was very skilled, respected by the bike community and was always a helpful and positive soul at our events."
"It was kind of a funky ending," adds Ross. "Just sad, really."
As for a return to Crested Butte next year, Ontiveros says that will take some insight and continued communication among all parties involved.
"Not sure, still a lot to think about and discuss internally and with our local partners here in CB," says Ontiveros.