Boys' team takes the win
by Than Acuff
Granted, cross-country head coach Austin Ross admitted the annual Ramble at the Reservoir in Ridgway had a different feel this time around.
"This was a bit of a weird one," says Ross.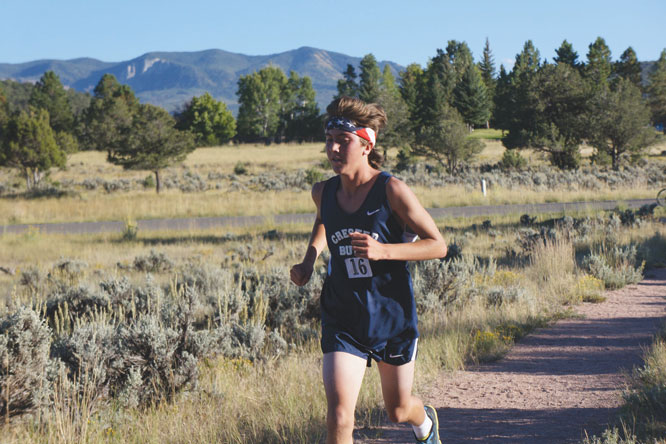 While the Ramble was Friday, September 18, another meet was scheduled in Gunnison on Saturday, September 19, thus drawing several programs away from the Ridgway event. Nevertheless, the course, and its notorious hill, still gave Ross and his team plenty to work on and gave the coaches some insight into their team with a daunting hill at the state meet course on the horizon.
"This was a good test to see how the kids are climbing," says Ross. "The smaller field changes things, too. There's less traffic, it has a different feel and the kids spend more time running on their own so it's also a good test on how well kids can motivate themselves."
Ross lined up five runners for the boys' varsity race and the Titans rallied to take the team win led by Aiden Truettner. Truettner has been solid all season long but Ross saw a new side of him at the race in Ridgway.
"I think Aiden ran a really good race," says Ross. "He's been consistent all season and at this race I could tell he wanted it and he showed his fitness is really starting to come in."
Hunter Wright had the next top finish, placing 11th with Conrad Truettner in 12th, Benjamin Swift in 19th and Vincent Michel placing 22nd.
Ross points to Swift's effort as one of the top races among his runners as he crushed the uphill and still managed to hold his own on the descents.
"Downhills are not his strength but he was solid and that was good to see," says Ross.
The Titans varsity girls were limited to just one runner with Sydney Petersen carrying the torch. The field spread out early on the opening hill but Petersen remained focused and proceeded to reel in runners over the five-kilometer course to finish in second place.
"She's definitely making improvements and to finish in second is awesome," says Ross.
The coaches were also impressed by the efforts of the JV runners in their races and especially by the girls in the JV race, including varsity runner Sam Crossett, who is back in action after being sidelined with a knee injury.
"We had some really good performances from our freshmen girls and it was good to see Sam back in action," says Ross. "I thought a lot of our runners did really well. A couple had tough races, but the fact that so many ran well was encouraging."
The Titans cross-country team will host the annual Titan Fun Run this Saturday, September 26, as part of the action-packed Homecoming Weekend. There will be a one-mile and a five-kilometer option available and the Fun Run is free and open to the public. Registration is at the school starting at 8 a.m., with the event set to kick-off at 9 a.m.
Meanwhile, Ross will have his athletes switching gears in their workouts to prepare for three more races, including their next one in Salida on October 2, before heading into the post season.
"We will shift this week from hills and base work to building on speed," says Ross. "It's definitely time to start building some speed."