"It wasn't our kind of day to be fast"
by Than Acuff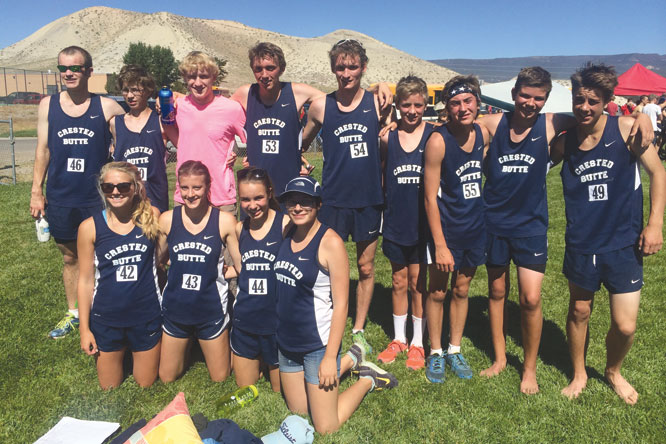 The Titans, no matter what sport, always struggle with the heat and that rang true on Saturday, September 12 as the Titans cross country team headed to Hotchkiss to face larger programs and tough temperatures. And it wasn't just the Titans who struggled, as several runners were sidelined, at least temporarily, due to the heat and the tough course.
"It's one of the hillier courses we run on and it was really hot with no shade," says coach Austin Ross. "That added another level of adversity for the runners. It wasn't our kind of day to be fast."
Aiden Truettner dealt with the heat accordingly and made a move for a top finish early. Truettner led for the first mile of the race and then hung on through the next two miles to cross in sixth place, the lone 2A runner in the top 10, with a time of 18 minutes and 34 seconds on the five-kilometer course.
"He was right in the mix and it was a good result for him," says Ross.
Because there was no JV race to offer, Ross threw everyone into the varsity mix and the team as a whole stepped up to the challenge. Hunter Wright had the next top finish for the Titans taking 34th in his first varsity race, Conrad Truettner was close behind in 37th and Joe Coburn joined Wright as the other freshman to score team points, coming in 49th.
"He's hungry and it was exceptional to have two freshmen as our top four runners," says Ross.
The team finished the day in fifth place overall and first among their 2A peers.
The girls' team remains in recovery mode with Sam Crossett still out with an injury and Tara Mortell returning after a long illness. That left Sydney Petersen to lead the Titans, placing 15th with Mortell finishing in 37th for the top two Titan results.
"That's a pretty good mark for Tara," says Ross. "She lost her lunch but managed to fight through it."
In fact, several runners from all of the teams succumbed to heat and dehydration, leaving coaches scrambling to get key fluids into their athletes.
"We had to be super aware of getting liquids back into the runners after the race," says Ross.
The team heads to Ridgway on Friday, September 18 for the Ramble at the Reservoir. The course is known for its one hill at the start that includes running stairs.
"It's an interesting test of how the kids recover after redlining it for the first 10 minutes of the race," says Ross. "You have to be tough to make it your race."