"It was really exciting to see a full team out there"
by Than Acuff
The Lake County Invitational in Leadville may just be the highest high school cross country race in the nation: the start line sits at around 10,000 feet. To add pain to the suffering, the course is notoriously tough, with a series of potentially soul-crushing hills thrown into the mix.
This year, race organizers changed things up by dropping the tough climb to the finish line, but the course still put runners through the ringer.
"It was still a good test," says coach Austin Ross.
Fortunately, the Titans are often one of the most prepared teams to handle the altitude and hills, since they train at 9,000 feet and often have a strong showing at the annual high-altitude race.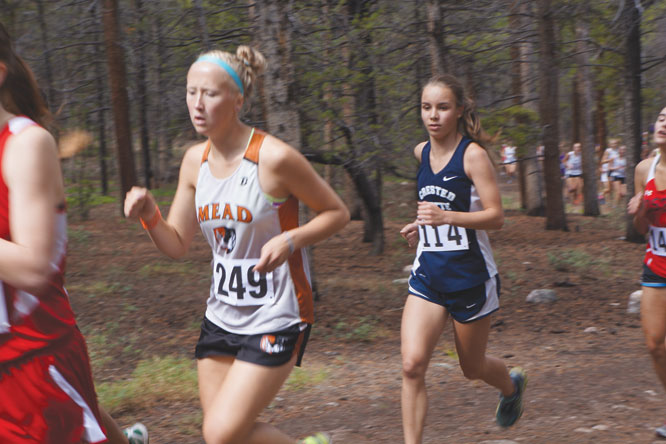 This year was a little different for Crested Butte. The team is quite young and continuing to work on bringing runners up to speed as they build their varsity team, getting several young runners used to the five-kilometer distance.
To make matters even more troubling, the girls varsity team was missing two of its returning top runners in Sam Crossett and Tara Mortell, since both are recovering from injuries or illness.
Nevertheless, rookie cross country runner Sydney Petersen continues to make some waves near the front of the pack. Running alone for the Titans in the girls varsity race, Petersen battled with 63 other runners to push her way to a 10th-place finish overall in 23 minutes and 44 seconds.
"She had a really good race," says Ross. "Leadville was a good race for tough runners and Sydney's definitely tough. Once Sam's back they'll be a great one-two punch."
On the boys' side of things, Ross lined up five Titans to run in the varsity race, with Titans top runner Aiden Truettner leading the way. Truettner returned to race action in Leadville having missed the first race of the season and picked up right where he left off last season. Truettner was in third place and looking strong until he fell with a half mile left in the race. He recovered to still finish in sixth place in 19 minutes and 36 seconds.
"He looked solid and easily could have been on the podium," says Ross. "He's on track for a really strong season."
Conrad Truettner and Vincent Michel worked together to place in 32nd and 34th respectively, Benjamin Swift placed 41st and Joe Coburn posted his first varsity result as a freshman, finishing 44th.
"It was really exciting to see a full team out there," says Ross. "They worked really hard to put together a great team effort and it was encouraging to see everyone perform so well."
The team heads to Hotchkiss this Saturday for a new venue because their original plan to head to Grand Junction was rescheduled. As a result, Ross has no idea what to expect from the course or the competition. He does look forward to bringing Mortell back into the varsity fold and looks to line up as many as six Titans in the boys varsity race.
"It will be a bit of a wild card to see who shows up and how we'll do," says Ross.