Six people vying for four seats
by Mark Reaman
The Crested Butte News hosted its Candidates Forum on Sunday, October 18. Given the length of the forum and the candidates' answers, we divided the story into parts. Part One dealt with leadership, spending and Champagne. Part Two looks at how they feel about housing, economic development and priorities. You have until Tuesday, November 3 to return your ballot.
Economic development
Crested Butte resident Steve Glazer asked about the balance between the council pushing for economic development and the nuts and bolts of keeping the town running.
"It's my observation that in its natural state the economic development of the valley is about right for where we are," said Skip Berkshire, who is running for mayor. "There will always be people introducing more economic development just for the idea of 'more' or 'better.' And while 'more jobs' sounds better, it brings more pieces of the pie. I'm very cautious of economics. Business will come here on its own because of our specialness. More and better come with a price."
"I'm a member of the One Valley Prosperity Project and we are trying to expand our prosperity without damaging our quality of life," said candidate for mayor Glenn Michel. "We need to maintain our values and keep a balance with why we live here."
"It's not the council's purview to push economic development, but we need good relationships with the entities that do, like the Chamber of Commerce and CBMR," said current mayor Aaron Huckstep, who is running for a council seat. "As for the nuts and bolts of running the town, that is not the council's job. It is our job to set priorities. We don't want what some places are experiencing with festival fatigue. We don't want to lose our quality of life."
"Economic development should happen naturally as a reaction to a positive town council," said council candidate Laura Mitchell. "Working on nuts and bolts isn't the council's job."
"I hope that I can help foster economic diversification if I am on the council," said Erica Vohman.
"We are so reliant on tourism right now and that is leading to some angst. I think we can create an environment that is viable for new business to come in," Vohman continued.
"We have had good economic growth recently and we are seeing the results of a busy summer for example," added council candidate Paul Merck. "We need more tourists in the winter but it might be time to back off summer a bit. We need to protect the backcountry that is out our back door."
Warm and fuzzy
Keitha Kostyk asked an admittedly "warm and fuzzy" question about which one thing each candidate would want to preserve in the valley.
"The human element of town," said Michel. "The fact that people still walk and ride bicycles to get around Crested Butte. People coming here sense that element."
"For me it would be the land trust and what they provide by keeping the special landscapes we have," said Berkshire. "Everything else fits in, such as the viewsheds and the trails we have."
"I was just in Washington, D.C. with my family and we had a lot of fun but coming home is still great," said Merck. "People stay here and that is great."
"I like the sense of community and safety we have here," said Vohman. "Knowing our neighbors."
"I like things like the Woods Walk and Lower Loop," said Mitchell. "I value the land trust."
"For me it is the opportunity for what the younger people might say is 'stoke,'" said Huckstep. "This is a place you can still chase the dream. And it shouldn't be exclusive to the people with financial means only. It is the opportunity to stay in a place you are passionate about."
Carrying capacity
Sue Navy asked the candidates if they saw a carrying capacity for the town and the valley.
"The town needs to know what the capacity is for its infrastructure like water and sewer," said Michel. "And we need a robust discussion of what people think in terms of how many people to accept. I'd guess most people think we don't need any more with July Fourth, for example."
"It transcends the town," said Berkshire. "There are something like 10,000 more approved dwelling units north of Round Mountain already. But I think it will come down to water. The amount of available water might limit expansive growth."
"We need to provide the services we have to the houses and people we have here," said Merck. "We need to work collaboratively with the county."
"Carrying capacity sounds like a math problem but it is a qualitative issue, too," said Huckstep. "Quality of life comes into play. Do we want to plan for something like the Roaring Fork Valley or something else? It's more than a math problem."
Big ideas
Former mayor Alan Bernholtz asked the candidates to give an example of a program or idea that would benefit the community into the future.
"Speeding in town needs to be better controlled," said Vohman. "I have some strategies I think we can try."
"We could use better signage around town," said Mitchell. "For example, the three-way stop at Second and Whiterock could be better signed. And places like Santa Fe are building tunnels under their busy streets. We need our kids to be safe getting across the highway. Sometimes tourists turn their brains off when on vacation. Maybe a flashing sign the kids can activate when they want to cross the highway."
"Speeding is an issue," agreed Merck. "I think we need to better enforce the rules we have in town and not just be Crested Butte–cool with it. I'd ask to enforce and ticket the 15 mile per hour speed limit."
Huckstep listed some things the council has addressed, including a new transportation plan, the Big Mine Park master plan, infrastructure for blocks 79 and 80, Anthracite Place, and the potential of looking at more regulation of short-term rentals in town.
"As the former chair of BOZAR I've probably said 'no' more than anyone in town," said Michel. "We need to do more with parking. I would explore the 17 acres of land by Brush Creek Road that we own with the county. I would also have a hard 10 p.m. meeting limit. If at 10 o'clock we are not done, I'd ask for a vote to go another half hour and from there push anything we don't get to to the next meeting. That will help with better productiveness."
Berkshire said he was proud to have his "fingerprints" on things like the reworking of the town watershed ordinance, the night sky lighting ordinance and the input into the county land use resolution when it came to viewsheds.
Housing
Affordable housing consultant Melanie Rees asked about the workforce housing situation and people being forced to leave the town boundaries to find an affordable place to live.
"The town will not solve the problem alone," said Berkshire. "We need collaboration with the other stakeholders in the valley. Who can do what? It will be a mosaic of solutions."
"According to the town planner, when Anthracite Place is completed and the lots in blocks 79 and 80, the town will have a deed restriction on about 25 percent of all the units in town," said Michel. "That's pretty good. But I understand there is more need. So we need to partner with the other stakeholders. And transportation is part of the issue. Transporting people from their pods of living to their pods of work. We also want new commercial development to provide onsite housing for their workers."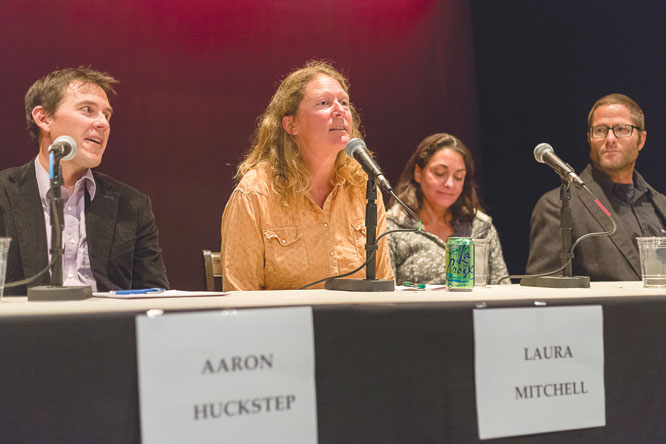 "I think we need to try to incentivize people who own accessory dwellings both inside and outside of town," said Huckstep.
"I wish I had the answer, but I don't," said Vohman. "I've suggested that maybe the town can adjust its density limits to get more people in town. But places like Aspen are hyper-dense. I look forward to collaboration with other stakeholders to find a solution."
"When I moved here, there were a lot of empty houses in town," said Merck. "Our workforce has changed and the people coming here to live have changed. Housing everyone is not the town's job and the current council has done some good work that we can continue to build on."
Neighbors
Mt. Crested Butte resident Janet Farmer asked about the relationship between the two communities.
Michel said as a member of the Mountain Express board of directors, he thinks representatives of both towns have worked well together to address issues like expanding bus service. "We all get along splendidly and have done some good things together like putting in the Crested Butte South bus," he said. "I think we now recognize that we have more in common than not and we need to work together."
"In the past there hasn't always been a lot of collaboration," admitted Berkshire. "That is changing with the continued interface between Crested Butte and Mt. Crested Butte, the county and things like the RTA. We need to share in our problem-solving ideas."
"I had a meet-and-greet and some Mt. Crested Butte folks came down," said Merck. "We have some common goals. I think in the past the town and ski area butted heads a lot but I see a lot of good growth in that relationship now."
"I look forward to creating synergies with Mt. Crested Butte," said Vohman.
"After the fireworks debacle it seems like we have made great strides in the relationship," said Mitchell. "We just need to act like adults."
"One good example is the $700,000 the town of Crested Butte contributed to protect the Snodgrass trailhead inside the town of Mt. Crested Butte," noted Huckstep. "That might not have happened a few years ago. The recently formed group looking at backcountry issues is another great opportunity for collaboration."
Voters: Election ballots have been mailed and must be returned before November 3 at 7 p.m.