Flat…then really steep… then flat again
by Than Acuff
Cross country coach Austin Ross took the Titans team to new territory last Friday, heading across the Continental Divide to Salida to meet some new challenges, both among other teams and on the course.
"We weren't really sure what to expect and it turned out to be really interesting," says Ross. "It was a pretty flat course except for one really steep section. Steep enough that some people were walking up it. It was a funny little blip that threw people for a loop."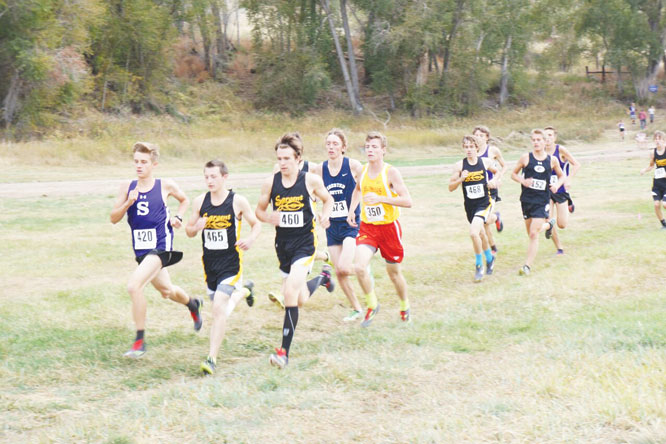 Adding to the uncertainty of the day was a host of bigger programs from the Front Range that challenged the Titans and for the most part they stepped up to the challenge.
"We had some PRs [personal records] and some big improvements from the week before," says Ross. "I think it was a successful weekend."
Aiden Truettner opened it up off the start line to post a fast time in the first mile but slowed down through the middle of the race, only to surge once again in the final mile and place eighth. Hunter Wright came in 25th place overall but was the fourth freshman, as he continues to cut his teeth in the varsity races.
"That was awesome to see," says Ross.
Conrad Truettner, Vincent Michel and Benjamin Swift stayed compact through the race to finish close to within each other and help propel the team to a sixth-place finish overall, second among 2A schools.
"It was good to see those guys run in a pack," says Ross.
The girl's team was a little less consistent as some runners are still searching for midseason form after battling some illness and injuries.
"It was a little bit more of a mixed bag for the girls but still a good race," says Ross.
Sydney Petersen fought through the field of 108 racers to lead the Titans with an 18th-place finish. Sam Crossett came in 43rd place, Tara Mortell crossed in 58th and Emilie Elkins finished 64th.
"Sam is still getting back into the swing of things," says Ross. "That was the strongest I've seen Emilie run and she's closing the gap on the older runners."
The Titans head to Delta on Friday, October 16 to match up against some similar-size schools on a familiar course.
"It's a course we know and a course where we can put down some fast times," says Ross.
In the meantime, Ross has the team putting the finishing touches on their workouts before they turn their attention to the October break and the post-season.
"This is our last week before we start to taper so we're building speed still and keeping the mileage high," explains Ross. "We'll get a good week of training in and then work on peaking for regionals."