Nordic Thanksgiving Camp
Get the legs and lungs going this week at the Crested Butte Nordic Thanksgiving Camp. The camp offers clinics for all ages and abilities from Thursday through Sunday. For more information go to cbnordic.org.
Santa Stop
The Crested Butte heritage Museum will be hosting a visist by Mr. Santa Claus this Sunday, November 29. Santa arrives at 4 p.m. and will hang out until about 5 p.m. Enjoy cocoa and crafts with family and friends as part of the visit. Feel free to bring a camera to get a photo of the jolly old man…
New exhibits at the museum
Speaking of the museum, an open house to showcase some of the new exhibits will be held Thursday, December 3 starting at 5 p.m. View the new exhibits about the Ute people of the Gunnison Valley, the Crested Butte Mountain Theatre, the Croatian Fraternal Lodge, local Olympian David Chodounsky, and Health and Safety in early Crested Butte. Cider, hot chocolate and snacks will be served. It is free but the WSCU Anthropology Club will be accepting donations.
P.A.W.S. to host Sips, Dips and Microchips
Paradise Animal Welfare Society will host their annual Sips, Dips and Microchips event on Wednesday, December 2 from 5 until 8 p.m. Santa himself will be available for pet photos and it's free! Enjoy a beverage and appetizers while techs from the Animal Hospital of Crested Butte microchip your pet for only $20. For more information go to facebook.com/paradiseanimalwelfaresociety.
Need food assistance? 
Gunnison Country Food Pantry is open Mondays from 1 to 4 p. m. and Wednesdays from 1 to 7 p.m. If extended hours on Wednesdays are well attended and if enough volunteers are willing to assist customers, evening hours may become a regular feature. Visit the pantry at 321C N. Main Street in Gunnison, at the southwest corner of Main and Ohio. See more information at GunnisonCountryFoodPantry.org.
Call for artists to exhibit at GAC
The Gunnison Arts Center is now accepting submissions for shows in the Upper Gallery for the 2016 calendar year. Submissions must be completed by the end of November 2015 and may be for the whole gallery or for a shared exhibit. Go to www.gunnisonartscenter.org, and go to "exhibits," "artist opportunities," for complete submission guidelines and forms. The cost is $65 for non-members and $50 for members for the Upper Gallery. This price may be split or shared among artists holding joint shows. Call 641-4029 with any questions.
Birthdays:
November 26- Adam Crist, Jennie Villanueva, Molly Massey, Albert Maunz, Chris "Buck" Myall
November 27- Eric Jernigan, John Covelli, Camille Lohr, Shelley White, Cyndy Lang, Liz Blackwell, Sam Reaman, Diner Theaker, Trevor Maltby
November 28- Sharon Sharpe, Wes Williams, Audrey Anderson
November 29- Nel Curtiss, Aria Capps, Nathan James, Francene Kopf
November 30- Candy Carson, "Mr. Ben" Poswalk, Heather Dawn
December 1- Trevor Reep, Nancy McCoy, Tom Moore, Adam Gerber, Andris Zobs
December 2 – Heather Bradford, Veronica Beck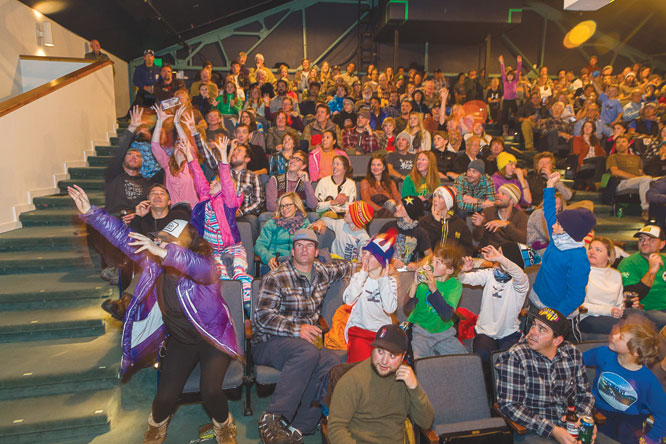 FILM SERIES:  Crested Butte Film Festival hosted a screening of Warren Miller's latest film Chasing Shadows at the Center for the Arts on Thursday, November 19.  photo by Lydia Stern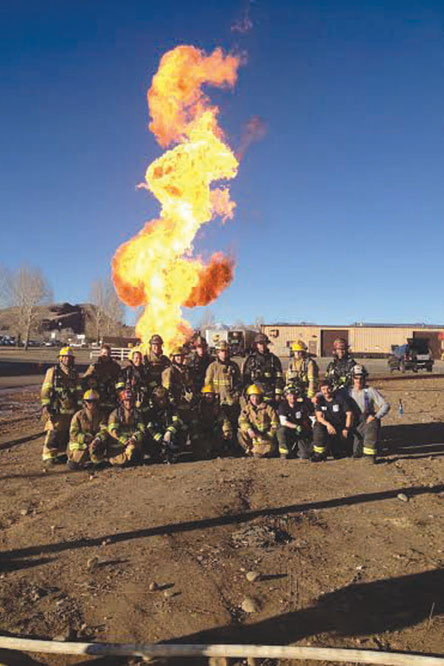 THANK YOU:  On Saturday, November 14, three Crested Butte Firefighters trained with Gunnison Fire for Propane Emergency Training. Gunnison Fire hosted the training, JC Propane represented the propane companies and Blueflame Gas, Inc. provided the props and instructors. Charmin Heimel from CPERC of the Colorado Propane Gas Association and Colorado propane industry provided this training at no cost.  courtesy photo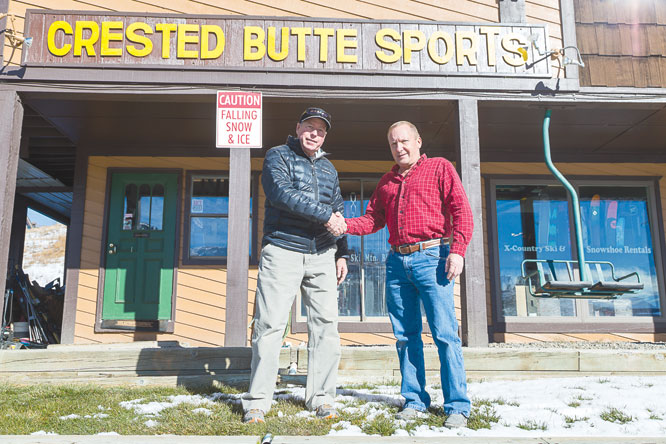 NEW BUSINESS OWNER:  Steve Bunt congratulated Jim Rehberg who recently purchased Crested Butte Sports Ski and Bike Shop. Bunt owned and operated Crested Butte Sports for 33 years before selling to Jim and Connie Rehberg this fall.  photo by Lydia Stern
Cameos: What gets you through the night while waiting for the first chair?

Hot cocoa.
Otis McLoughlin

Hangin' with Colin.
Owen Murray

Thinking about shredding
the gnar.
Nate Ball

Toaster Strudel.
Kris Murray

That feeling that skiing is near.
Carson Hildebrandt