We're Skiing!
Last week's storm dropped over a foot of snow at Lily Lake. We were able to groom a skate and classic track, which made for great early season skiing. Ruthie's Run on the Bench next to town was track packed on Monday and as you read this, may be groomed, depending on how much snow this latest storm dropped. Check our trail report, Facebook page, or sign up for our e-mailer for updates.
Lily Lake Parking Notice
Due to safety concerns, the county is requesting that all Lily Lake users park at the Irwin Y and not on Kebler Road. Crested Butte Nordic is providing a groomed trail heading out from the Y to access the climb to the Lily Lake trail system. Please remember that Irwin residents also use the parking area at the Y, so please park accordingly.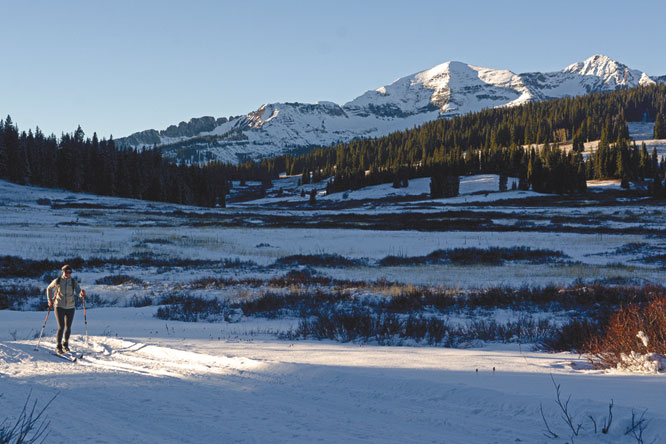 Crested Butte Nordic annual meeting and potluck dinner
The Crested Butte Nordic annual meeting and potluck dinner will be held Thursday, November 12 at 6 p.m. Our annual "meeting" is quite informal and is a great way to get together with the rest of the Nordic community and hear about what is going on this winter. It's also the best potluck around, complete with beer from the Elevation Beer Company.
Crested Butte Nordic opening day
The Nordic Center officially opens this Saturday, November 14, at 8 a.m. You can come in to rent gear, purchase merchandise, and pick up your season passes. Remember, this year all season pass sales are online at cbnordic.org and you can pick your pass up at the Nordic Center before November 14.
The Crested Butte Nordic Thanksgiving Camp, November 26-29, 2015: Registration is open
Enjoy some of the best early season Nordic skiing in the country at our Thanksgiving Camp. Featuring ski clinics for all ability levels, wax clinics, a free kids camp, transportation to and from the venues, yoga, Pilates, the first Alley Loop Points Series Race, our Winter Kick Off Party, and more! Sign up for activities or just come out and enjoy some of the best early season skiing in the country! Visit cbnordic.org for more information.
Registration for Crested Butte Nordic Team is open
The Crested Butte Nordic Team offers affordable after-school programming for children in the Gunnison Valley. The mission of the CBNT is to provide young Nordic skiers and biathletes with exceptional coaching, training opportunities, and a healthy approach to sport. Our philosophy is that a fun, healthy, outdoor lifestyle is a great foundation for growth. To this end, our organization strives to provide programming that will appeal to recreational and competitive skiers alike. Visit cbnordic.org for more information.
–Drew Holbrook