— Crested Butte tradition continues to spread holiday joy —
By Adam Broderick
Bazaar (bəˈzär)—a market in a Middle Eastern country; a fundraising sale of goods, typically for charity.
When Valerie Jaquith decided to sell some of her handmade bath products at the Holiday Bazaar last winter, she had no idea the plug had been pulled on the event.
The Crested Butte Community School's Parent Teacher Association (PTA) had run the event as a fundraiser the previous 20 years but each year it was growing and getting more chaotic and more difficult to host. A few local women knew the community wanted the event to carry on, and they weren't willing to just let it go. So Jaquith partnered with Sherrie Vandervoort (aka Sherbear, the bazaar's founder), Bailey Hoosier, and Erika Vohman to form a volunteer committee and keep the event above water.
On Saturday, December 5 from 10 a.m. to 4 p.m., the Crested Butte tradition will give vendors and shoppers a unique experience featuring all local, handmade gifts.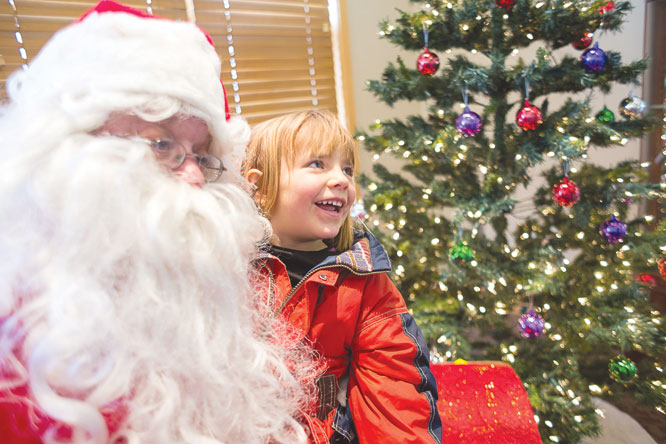 The Holiday Bazaar will be held at Queen of All Saints parish at 4th and Sopris, and the cozy atmosphere should provide an intimate feel, with 25 or more local vendors and artists selling their fares. A food and clothing drive will benefit Young at Heart, Gunnison County's senior citizen center and social program, and St. Mary's Garage in Crested Butte, which offers free clothing and bedding to anyone in need. Mountain Roots will be running a soup kitchen and their leftover food will also be donated to Young at Heart.
Hot apple cider will be free for shoppers and Santa will be spreading holiday cheer from noon to 3 p.m. Sherbear will lead cool and crafty art projects, one in the morning and one in the afternoon. And of course, holiday tunes will deck the halls throughout the day.
Some fun things to expect out of the Gunnison Valley this year include handmade jewelry and ceramics, original artwork, soaps and lotions, handbags and holiday ornaments, tasty treats, and even Gunnison-based Leonard Farms Maple Syrup with their tree-tapped deliciousness from upstate New York. Local author Sandy Cortner will also be signing copies of her new book, Crested Butte: Love at First Sight.
Generous givers should bring non-perishable food items to donate to Young at Heart, and winter clothing, especially lightly used coats, are most desired for St. Mary's Garage. Cash donations and vendor booth fees will also go to Young at Heart. Jaquith says she feels there are a lot of efforts in this community to collect things for people overseas, but that right here in our valley we need to think about our seniors.
Vandervoort says her love and involvement in art fairs started with the first Crested Butte art fair in 1971 where she sold her cartoon drawings and enjoyed street food. She helped start the Paragon People's Fair and later started the Holiday Bazaar with the PTA in the 1990s. Forty-four years later, everything's still handmade in Gunnison and Crested Butte and the Holiday Bazaar volunteer committee couldn't be more excited to host the fun community fair once again.
For more information or to register for a booth, visit the Crested Butte Holiday Bazaar Facebook page or email CBHolidaybazaar@gmail.com.