'Tis the season
The jets are flying in to Gunnison and we should start seeing a lot of people on the streets and the slopes. Now we need the snow to follow suit. Those coming missed the 827 Santa skiers that sleighed the slopes last Saturday. Oh well, maybe next year…
Wintertok
This Sunday, December 20, all are invited to join the 7th annual Wintertok, our local Soulstice celebration. Come join with Father Christmas, Santa Lucia, the Green Man, Harvest Mother and Baby, Red Lady, Ullr and more for seasonal song, libation and ritual! At 11:30 a.m. the cast of characters will proceed from The Guild at the end of Elk Avenue to Totem Pole Park for ritual song and story with a sacred dance offering in honor of this turning of the seasons. From 1-3 p.m., the Dogwood is opening its doors for a family friendly gathering with mulled wine and other food and drink. Everyone is welcome.
Skimo Academy
The GORE-TEX Grand Traverse and Griggs Orthopedics are hosting the Grand Traverse Skimo Academy in Crested Butte Thursday through Sunday, December 17-20 in the former location of the Sweet Spot in Mountaineer Square. There will be clinics on all things skimo and a backcountry day on Sunday. For more information check out elkmountainstraverse.com.
Chodounsky!
Former Crested Butte Ski Club and Crested Butte Academy alpine ski racer David Chodounsky just posted the top slalom result of his career on the World Cup circuit placing fourth in Val d'Isere on Sunday, December 13.
Library food drive and fine amnesty: Food for Fines 
Clear your library fines and help those in need by participating in Gunnison County Libraries' annual Food for Fines program. Gunnison County Libraries is encouraging library customers to get their library card in good standing and give back to the community. Customers with outstanding fines for overdue materials may have their fines reduced by donating undamaged and unexpired boxed or canned non-perishable food or toiletry items to either the Gunnison library or the Old Rock library from November 16 to December 31, 2015. Each single food or toiletry item will be applied as a $1 credit toward the reduction of existing overdue fines. Bring food donations to the libraries' main desks.
Streeeeeeetch Meeeeeen
Dina Ferrante has created a six-week yoga series designed specifically for men. This class will incorporate simple stretches and breath awareness to help men incorporate yoga into their life. Classes will be on Monday evenings, from 7 to 8:30 p.m. at Yoga for the Peaceful, between January 11 and February 22. The cost is $125 before January 1 and $150 after January 1. Ferrante will keep the instructions simple and applicable to men's needs so they can continue to play hard and feel great. The class size will be limited so each person can receive individualized attention.
Monthly Film: Citizenfour
After Laura Poitras received encrypted emails from someone with information on the government's massive covert-surveillance programs, she and reporter Glenn Greenwald flew to Hong Kong to meet the sender, who turned out to be Edward Snowden. Experience this intense documentary at the Gunnison Arts Center Black Box Theater December 20, 7 p.m. Admission is $10. Popcorn and full bar will be available. Running time: 1 hour, 54 minutes. The film will run at the Crested Butte Center for the Arts on Thursday evening as well.
Birthdays:
December 17- Woody Martineau, Jack Nelson, Rebecca Raygor, Alex Lambro, Dana Zobs, Bobby Warner, Gloria Beim
December 18- Mollie Carson, Lucy Houghton, Corey Tibljas, Andy van Amson
December 19- Krista Peterson, Allen Cox, Pat Crow, Mark Reaman, Rene Deforneaux, Justin Smith, Gage Meredith, Bill Kastning
December 20- Mary Kay Falkner, Ruth Kapushion, Holt Loeffler, Mike McMahon, Reid Templeton, Kyle Beck, Zoe Lypps, Barney Debnam
December 21- Brian Intrary, Mikayla Molitor, Ellen Osterling
December 22- Bryan Shea, Todd Azud, Kay Holz, Jessy Jarvis, Chuck Reynolds
December 23- Neil Ganous, Steph Johnson, Roland Mason
Cameos: What is your favorite holiday dish?

Apple pie with ice-cream.
Megan Clark

Pizzelle
Elizabeth Dickson

Polish sausage
Christie Hasz

Klotchky
Carl Dickson

Christmas cookies
Arabella Hasz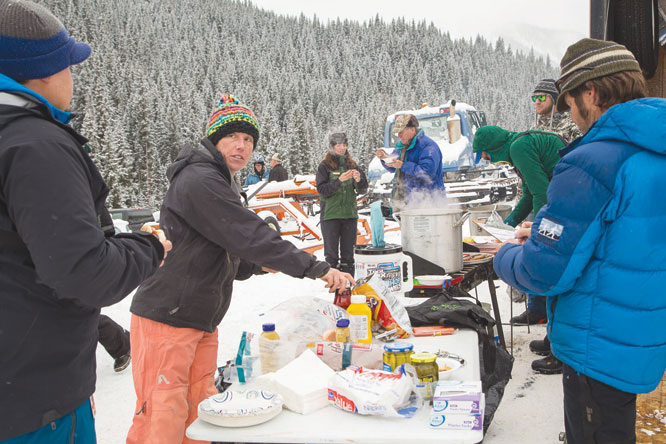 TRAINING AND PERMITS:  Search and Rescue held a training out Splain's Gulch while the Forest Service offered snowmobile registration at Kebler Pass trailhead, and they all convened for lunch on Saturday, December 12.  photo by Lydia Stern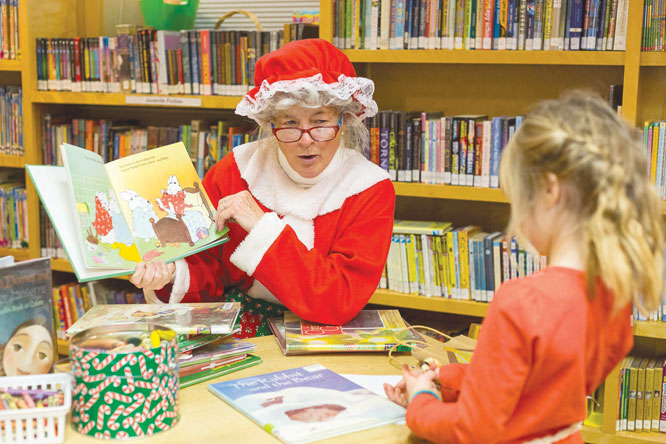 SANTA STORYTIME:  Mrs. Claus read stories to children at the Old Rock Library on Friday, December 11.  photo by Lydia Stern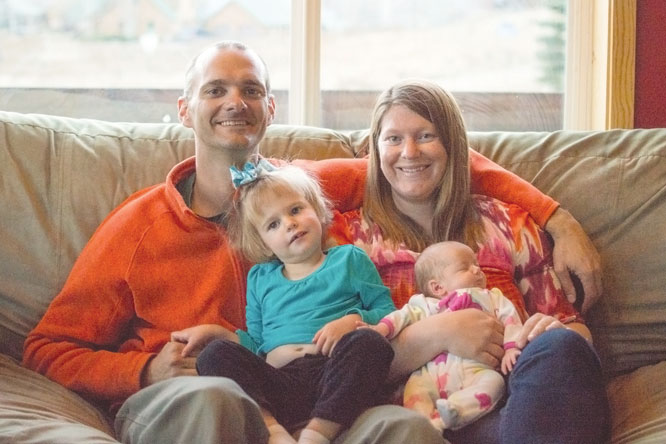 CONGRATULATIONS:  Philip and Sarah Coleman welcomed Margaret Schuyler Coleman on September 26.  She weighed 4 lbs., 14 oz.  She joins two-and-a-half-year-old big sister Ellen.  courtesy photo