"We were ice cold"
by Than Acuff
During a pre-season tournament, the Crested Butte Titans realized that they had game from the perimeter with several Titans hitting shots from outside, including success from beyond the three-point arc.
And after seeing the Ridgway Demons this past summer in some summer camp games, coach Brandin Hamilton knew the Demons had some serious talent on offense but they could be exploited on defense.
"We knew we had to defend their two top guys closer and take away their shot and I felt like we had some mismatches to take advantage of on offense," says Hamilton.
And while the plan in place appeared to be effective in the opening quarter, two things derailed the Titans' attempt at an upset. For one, Crested Butte suffered early game foul trouble. Secondly, while the Titans ran their offense to near perfection, opening up numerous easy looks at the basket, the shots just were not falling. The Titans started out the game shooting 0-4 from three-point range and 2-5 inside the paint.
"We did a decent job on defense, not spectacular," says Hamilton. "We were ice cold. We did everything we needed to do on offense and had wide open looks."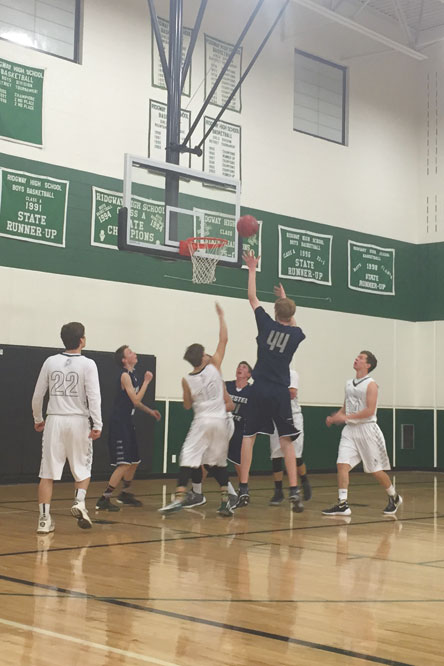 The Titans finished the first quarter down 12-7 and then things got out of hand as the Demons' top two players started finding their game on offense, while Crested Butte continued to struggle with their shooting.
The Demons started pulling away, outscoring Crested Butte 19-9 in the second quarter to take a 31-16 lead into halftime.
"We let them get away from us," says Hamilton. "Our shots weren't falling and that took a mental toll on the defensive side."
Hamilton made some adjustments and the Titans found seams penetrating from the outside. Crested Butte slowly chipped away at the Ridgway lead and cut it down to 10 points before the Demons pulled away for good to eventually seal the 56-37 win.
"The damage was done," says Hamilton. "We didn't do the things we needed to do when the ball is not dropping."
Quinn Farnell led the team with 10 points and three other Titans dropped in between eight and nine points each. David Wasinger led the team in rebounds on the night.
"The team realized that they need to get better defensively because we're going to have nights when we're not scoring well," says Hamilton. "We are starting to identify other ways to contribute when shots aren't falling."
The Titans head to Sargent on Friday to take on the Sargent Farmers, one of the top two teams in their league.
"They're going to be tough as nails," says Hamilton. "It's another game that's not out of the realm of winning but we'll have to play our best game to have a shot."