Learn from the pros
by Than Acuff
Ever wondered how those guys and girls climb and descend so fast in the ski mountaineering (skimo) races like the Grand Traverse? Well, for one, they have the legs and lungs to do it but they also have the proper gear and technique, both of which help tremendously.
Now they are exposing the secrets to skimo success to the general public as the Grand Traverse and Griggs Orthopedics are hosting the Grand Traverse Skimo Academy in Crested Butte, Thursday through Sunday, December 17-20.
"Our mission is to utilize Griggs Orthopedics athletes to help grow the sport and also teach," says Sarah Stubbe, performance services manager for Griggs Orthopedics.
Griggs Orthopedics offered a similar camp last year with great success. This year, Grand Traverse race organizers contacted them to see if they were interested in upping the ante.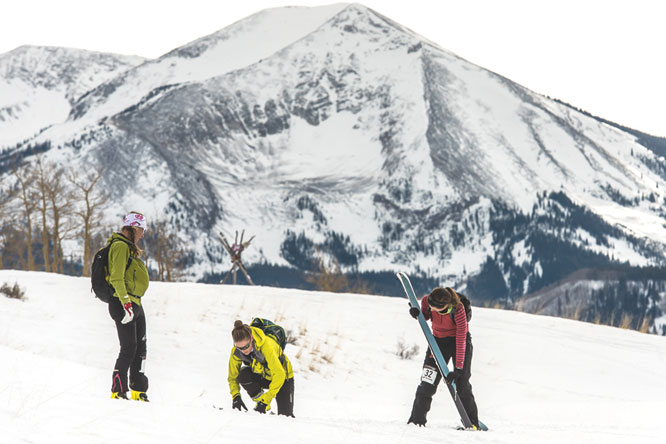 "Last year we had a great turnout and lots of inquiries about another one," says Stubbe. "The Grand Traverse asked us to help put on the Grand Traverse Academy, which would incorporate some of the things from last year but also be Grand Traverse race specific."
The camp provides an opportunity for John and Jane Q. Public to find out some tricks of the skimo trade, everything from technique to injury prevention, nutrition as well as venturing out for some backcountry training and instruction.
The academy will be based out of Mountaineer Square in the former location of the Sweet Spot and is a three-day training camp with instruction from elite Grand Traverse winners, U.S. National Skimo team members, and industry-leading ambassadors and Griggs Orthopedics-gO athletes.
Each day will provide a variety of skills and techniques, including race training programs, nutrition and injury prevention education, and an introduction to the newest, cutting-edge gear in ski mountaineering.
"It's modeled after the PDG Academy in Europe," says Stubbe. "It's the only one of its kind in Colorado and we will have some of the best skimo athletes in the nation as coaches."
The camp is open to all levels of participants, not just Grand Traverse race entrants. Participants will be introduced to techniques that make uphill skiing more enjoyable and efficient—kick turns, boot packs, and transition tricks. A portion of the camp will focus on downhill ski technique on lift-accessed terrain, and another portion will be devoted to acquiring efficient skating ability on skimo gear. Forums will cover race day strategies on nutrition and hydration, partner dynamics, technical gear use, and avalanche awareness.
"It runs the entire gamut from people new to the sport to experienced racers who are looking for secrets to a faster or more efficient finish," says Stubbe.
While parts of this camp will focus on race fitness and skill sets specific to the Grand Traverse, all abilities are welcome to participate in this experience. By offering instruction in both skimo fundamentals and race coaching, the goal is to nurture a passion for this sport, while providing an accelerated pathway to athletes seeking a competitive advantage.
The academy comes to a close on Sunday, December 20 with a backcountry day as participants can sign up for tours on Crested Butte Mountain Resort, on Snodgrass or a tour on the Grand Traverse course to and from the Friends Hut.
Registration and more information is available online at goriderunski.com or elkmountainstraverse.com. Stubbe points out that there is a major cost savings for Grand Traverse teams that sign up together. They hope to have online registration wrapped up by Monday, December 14.