"It was the best we've ever played"
by Than Acuff
It was supposed to be a massive blow-out and while the final score appears that way, the truth lies deeper than what the scoreboard shows.
The Crested Butte Titans girls basketball team had their hands full when they hit the road to face the Ridgway Demons on Friday, December 11. The Demons are a strong program with a Colorado High School Hall of Fame coach at the helm while the Titans are in the midst of rebuilding once again.
Yet, rather than accept fate and give up before the opening tip-off, the Titans brought their best game to the floor in the first half and gave the Demons a run for their money before the game eventually got away from Crested Butte in the second half.
"We came ready to play," says coach Mike Moran, who, incidentally, may be in the Arizona High School Hall of Fame. "We were executing on offense and playing defense."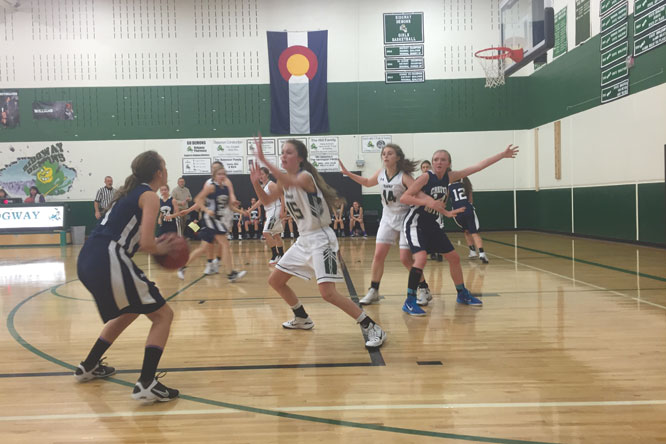 So much so that three different Titans scored in the first quarter and Crested Butte closed the opening eight minutes of the game with the lead.
Additional Titans got on the scoreboard in the second quarter but the Demons managed to find some seams in the Titans' defense and take a 16-13 lead into halftime. Still, the game was way closer than anyone expected at that point.
"I was so excited—it was the best we've ever played," says Moran. "We had an incredible first half."
Unfortunately, while the effort of the Titans remained strong in the second half, their composure started to unravel. Ridgway came out applying more pressure on the Titans with the ball and started to find mismatches inside to take advantage of the smaller Crested Butte team. Furthermore, the Titans lost a couple of key players to injury and Ridgway outscored the Titans 18-6 in the third quarter to take a 34-19 lead into the fourth quarter.
"They really dominated us in the third," says Moran. "We lost our composure."
Once Ridgway was up 42-22, Moran turned to his bench to get his freshmen additional varsity experience and the Demons ran away with the game, finishing off the Titans 52-22.
"We're getting closer but we've got to be able to sustain it for four quarters," says Moran. "We just have to learn to handle pressure and sustain our intensity."
Things will ramp up even more for the Titan girls this week as they head to the San Luis Valley to face Southern Peaks league opponent Sargent on Friday, December 18. Sargent has spent the better part of the opening weeks of the season matching wits with some 3A powerhouses and is primed to take the 2A Southern Peaks league by storm.
"They're even better than Ridgway—it will be a tremendous challenge," says Moran. "We have to go down there and attack, play hard and continue to work on things and gain confidence. I'm really pleased. These kids are giving everything they've got."