Residential damage at Harmel's and Almont
By Alissa Johnson
Ice jams have caused flooding along the Taylor and Gunnison Rivers over the last several weeks, severe enough to cause residential damage at Almont and Harmel's. A flash flood warning remained in effect through Tuesday evening, January 19. While it is difficult to determine exactly what is causing the jams, flow levels and winter temperatures do not appear to play a role.
In an update to affected and interested community members, Upper Gunnison River Water Conservancy District general manager Frank Kugel said, "Icing problems were noted on December 27, January 1 and January 12, particularly on the Taylor River near Almont and Harmel's Resort, with flood damage reported at both locations."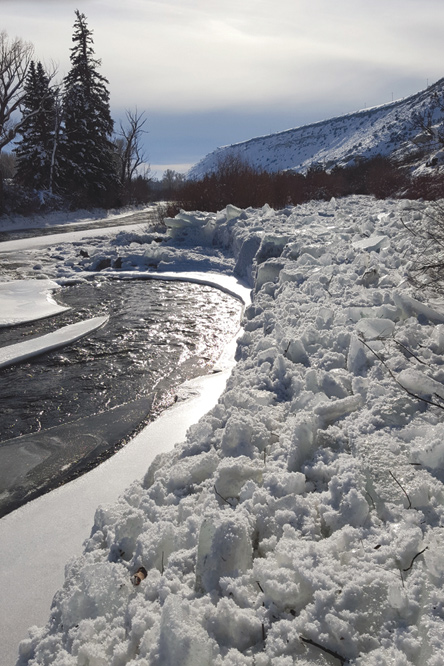 As of Tuesday afternoon, minor flooding was occurring along the Gunnison River near Esty Ranch due to an ice jam. A large piece of ice was lodged between the Way Camp and Garlic Mike's, with the potential to break free and cause the river to rise five to eight feet. That kind of surge can cause a significant amount of damage.
Scott Morrill, Gunnison County's emergency manager, received a call from a Taylor Canyon property owner regarding damage done to their house during the January 1 ice flow down the Taylor.
"The property owner stated that they had some broken windows and damaged doors, walls and flooring on the first floor of both homes," Morrill said.
There has been speculation that winter flow levels and cold temperatures have played a role in the ice jams, but the data doesn't back up those assertions.
Kugel determined that the long-term average flow for January on the Taylor River is 87 cfs, with the current flow of 92 cfs.
"[That] could be considered an average flow for this date. I conclude from this data that the current release rate from Taylor Park Dam is not a factor in the formation of recent ice jams," he said.
Temperature data did not reveal a correlation either. As of January 19, Kugel says there have been 12 days colder than –20 degrees Fahrenheit—not unusual over the long-term period of record.
Kugel emphasized, "An analysis of flow and temperature data does not show a direct correlation to this year's unusually severe ice jams on the Taylor and Gunnison Rivers."
County manager Matthew Birnie said the county has spoken with several hydrologists as well. "No one really has a clear explanation," he said.
Kugel says it's possible that the recent construction of structures in or near the river channel could be contributing factors. Fish habitat and diversion improvements have been completed since the last time the Gunnison Valley experienced these cold weather and water conditions—but even that would be difficult to prove.
"It's very, very difficult to have a direct correlation between any suspected triggers for these events. There's nothing clear cut, it's just suspicions," Kugel said.
There have been no reports of icing on the East River.