Dear Crested Butte:
Pottsville, Northern NSW, Australia. Heard of it? Doubtful.
Heard of Byron Bay? Most have. About 20 kilometers north of Byron on the beach is Pottsville, where my family lives. We are on the hippie fringe, south of the Gold Coast strip. Between there and Crested Butte there are hundreds of places to snow ski. Whether it is summer or winter, I can find a place to ski that would be a whole lot closer to home than Crested Butte.
A 20-minute drive and a four-hour flight can put me in Queenstown, New Zealand with Alps all around and lift-served peaks. A day's drive in the months of July to September puts me in Australian alpine villages, skiing amongst gum trees with no time zone change and very little altitude change. Between December and April a world of opportunities opens up. One flight would get us to Japan and its legendary powder dumps; there is only a two-hour time difference, abundant snow and villages built for westerners. The mountains aren't thin-air-high so there is little chance of the headaches, nausea, shortness of breath and general complications that occur after arriving in the Butte.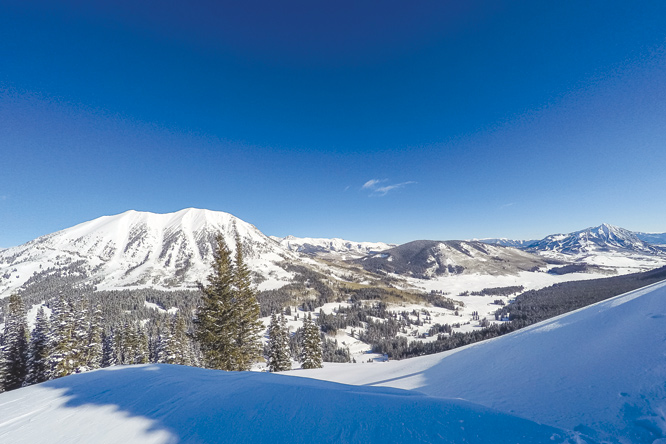 So, let's say instead of Japan you make the 12-hour flight to LAX and decide to bypass skiing in California or Utah or Nevada because you really want to ski in Colorado. After a three-hour flight to Denver, how many ski resorts are along the Front Range within a three-hour drive down wide highways serviced by door-to-door shuttles from Denver Airport? These are easy, seamless, comfortable and convenient. These are places that dwarf Crested Butte in skiing acreage. These are places that have thousands of accommodation options conveniently situated to access thousands of miles of trails.
But no—we head to Crested Butte from Denver. That means taking either another flight, which is highly weather-dependent, making four flights from our house in Pottsville totaling more than 20 hours in the air over a two-day period (this assumes all connections are seamless), or we can forgo the last flight and drive the five hours from Denver over high-altitude passes and across wind-swept prairies to arrive at the split town of Crested Butte/Mt Crested Butte, where in town you are above 8,000 feet. Where the facilities are a bit run down compared to the flashier resorts and where the skiable terrain is limited unless there is mega snow.
So why bother?
On average we bother every two years and I have done so for more than 20 years. Are we nuts? If it were only the skiing, well, as I have said, we must travel past uncountable ski hills to get here, so that wouldn't make sense.
I have traveled here when I was single, then when married, then with a baby, toddlers, and now with a pair of preteens.
Every time we experience jet lag, altitude sickness, a bout of the Crested Butte crud and after four days here we ask, "Why do we keep doing this? Didn't we learn from last time?"
Then after a week to ten days the fog lifts, breathing becomes easier, the snow falls and the sun shines and you start to see what it is that brings you back.
It's not the snow. It's not the resort facilities or the skiable terrain.
It is walking to the town shuttle along quiet streets, passing winter cyclists with yoga mats or skate skiers with dogs heading to the Poop Loop. It is the excited smiles on the bus. It is seeing familiar faces and cars that stop for pedestrians. It is experiencing cars that stop in the streets while their drivers have a chat. It is the courtesy in the shops and the restaurants. The person who chases you to return a glove you dropped. There is the sense that in Crested Butte, while time is important, watching it is not going to interfere with life. Is it knowing that houses are left unlocked, cars have keys in the ignition and that this is known but rarely abused.
Before the roads were paved here and the Internet joined everything around the world, there was a wonderful isolationist frontier feeling about being at the end of the road. Survival was dependent on community, with the community eager to accept any who came. There is a "You can go anywhere else but you want to be in Crested Butte" appreciation.
Here the town and resort are unbreakably intertwined, with each knowing that they need each other to survive, but like fighting siblings, they are not going to admit that they care.
Will they ever? I suppose that is part of the "local charm."
Over the years I have been a distant witness to the tug of war between town and the mountain. Expansion? No way. But there is still the attitude of "We need to keep the skiers returning so people can pay my mortgage and pay for their kids' college."
This does exemplify a characteristic of the area—passionate people. People passionately calling the valley home. People who believe and tirelessly pursue ideas, activities and want to live the fullest, most real and most meaningful lives possible in breathtaking surroundings.
When we return we try to stay for more than a month. It takes that long to adjust to the altitude, climate and also the way of being. It takes more than a month to slowly reconnect with old friends. It can't be planned and must be slower than social media dictates. It's bumping into people at Clark's, by the ice rink or over a beer at the Eldo. It's going to live theatre to watch familiar faces tread the boards and going backstage after to chat about the play and life. Or it is walking the sunny side of Elk Avenue on a cold January day while feeling your nose hairs freeze.
It takes more than a month. And then you appreciate all the specialness that comes with getting here.
It takes a full cycle of the moon, conversations about places and ideas, and a hike or three out of Teocalli Bowl before I start to know why I bother—and will keep bothering.
Do you know why?
Cameron Wegemund