Skaters battle winter weather
by Gregg Morin
Mix the longest, hardest speed skate race in the country with the biggest snowfall day of the winter in Gunnison, and what do you get? An incredible day of skate races on the state's largest body of water on Blue Mesa Reservoir.
Snowfall rates of one to two inches per hour all day did not dampen the spirits of the race organizing crew or the 32 racers who showed up for the event. Ice-meister Spencer Gordon (who came up with the idea for this race) and his crew were out on three machines clearing snow the entire time, and spectators as well as racers all pitched in to shovel the 2.5-mile loop.
As the race timer and scorer, I gave the racers the option to do fewer laps because of the conditions. But at the start, all of the racers wanted to go the full distance—impressive!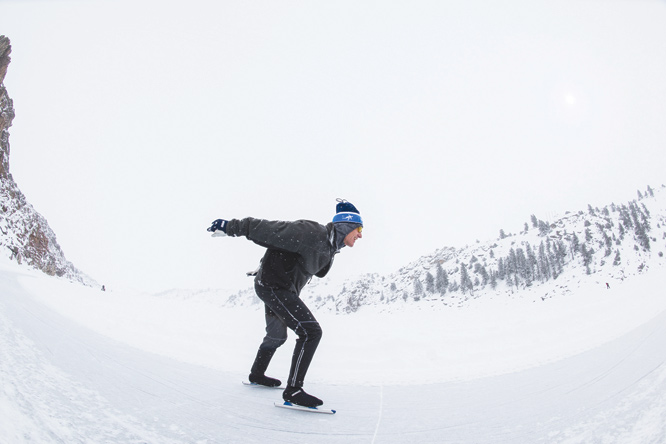 In the end, über-athletes Pat O'Neill (Crested Butte) and Gail Levins (Gunnison) won the 42k marathon race, and Brian Smith (Gunnison) and Levins won the combined title by racing in the Kenny Mac XC race at Hartman Rocks on Saturday and the skate race on Sunday.
Special thanks to Eric and Kimberly Kraan, who own the Skate Now shop in Salt Lake City, for coming to race in the event. They also gave a speed skate sharpening clinic before the race, which was attended by about 15 skaters. These two have more knowledge about speed-skating than probably anyone, and we all learned a lot from them.
And finally, thanks to all of the sponsors, volunteers, and snow movers, too many to list here (you know who you are!).
Results
42k Men
Pat O'Neill 1:23:06
Brian Smith 1:29:22
Eric Kraan 1:35:33
Tommy Pulaski 1:41:45
Wouter Vantiel 1:42:59
Andy Tocke 2:02:31
Sam Sorkin 2:03:31
Nicholas Koukoutsakis 2:12:20
Alexander Irick 2:23:30
Kenny Marks 2:30:00
42k Women
Gail Levins
Laura Kottlowski
Boys 16 and Under Hockey
Colton Crittendon
Kai Miller
Men 17+ Hockey
Dally Hanson
Women 17+ Hockey
Hannah Cottier
Mountain Goat (Kenny Mac and Blue Mesa Black Ice combined)
Men: Brian Smith
Women: Gail Levins
10k Men
Bill "Dolph" Lindow 31:05
Richard Atkinson 32:30
Kevin Donavon 33:09
Bruce Bartleson 39:31
10k Women
1. Jani Pulsaki 30:58
2. Di Bridges 34:06
3. Barb Haas 36:15
4. Kimberly Kraan 37:50
5. Andrea Jessoe 37:51
6. Renee Lindow 43:45
8. Deirdre Fotescu 44:35
21k Men
1. Mark Dailey 1:05:15
2. Chris Garrer 1:05:23
21k Women
1. Lynn Cudlip 1:02:56
2. Barb Haas 2:00:00