"It took a full team effort to make that comeback"
[  by Than Acuff  ]
Week in and week out, the Crested Butte Titan boys have been suffering at the hands of their league opponents, losing by as many as 30 points at times and with just two wins so far this season. Nevertheless, they shoe up each and every day for workouts and take the floor convinced that, no matter who their opponent may be, they always have a chance to win.
Despite the numerous losses during the long first half of the season, their spirit remained intact and was on full display Friday, January 29 against the Sargent Farmers in Mt. Olympus, as they battled back from a 21-point deficit before falling in the final seconds of the game, 62-60.
Everything was on display that night. John Theis was solid in the paint, David Wasinger was strong on the boards and scoring, Ryan McCudden and Noah Dumas both proved potent from long range, Joe Cummins rose above a nagging injury to provide quality minutes as point guard and Quinn Farnell, Jacob Monroe and Broderick Truettner all came off the bench to bring energy to the floor when needed.
The only thing missing was a win.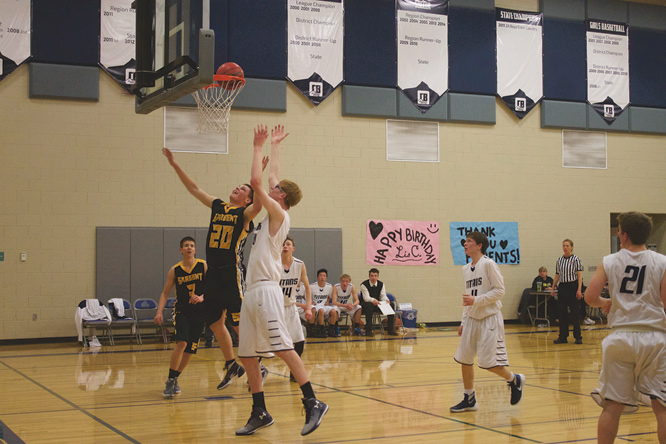 The Titans opened with a game plan in place, looking to get the ball into Theis, and while Sargent double-teamed Theis inside, he still managed to pull down a couple of offensive boards and score to keep the game close midway through the first quarter. But, Sargent's press hobbled the Titans and they finished the quarter scoring nine points in a row to build a 16-5 lead over Crested Butte.
"John had a big game against them earlier this season so we wanted to play some outside in and use him as the focal point," explains coach Brandin Hamilton. "That part of the game was working fine—just nothing else was."
Things went from bad to worse for the Titans to open the second quarter as Sargent's press had the Titans flustered, and when Sargent scored off another Titan turnover to go up 23-5, coach Brandin Hamilton called his second timeout in a one-minute stretch for additional damage control.
"We were in a rough patch and I was just trying to get them through that rough patch," says Hamilton. "There was a drop in energy and confidence and we weren't playing as a team. I just wanted to remind them of what we needed to do."
McCudden came out of the timeout with a three-point play, Theis scored inside and the Titans appeared back on track, but the Farmers kept on coming. It wasn't until the final two minutes of the first half that the Titans started breaking the Sargent press to rattle off five points in a row, but they went into halftime down 35-19.
"Our guys just weren't comfortable attacking their press," says Hamilton. "We just didn't have the confidence to do it and then somewhere in the mix, someone got the confidence to attack."
Hamilton used the halftime to run his team through a little math lesson, reminding them that while the scoreboard reads 35-19, the game is well within reach.
"I told them 16 points is just eight baskets—we stop them a couple times and that's it," says Hamilton.
Then the gloves came off in the third quarter as the two teams traded off taking blows and then responding. The Titans opened with a three-pointer from McCudden and when Dumas drained a 14-foot jumper and converted on a three-point play, the Titans had pulled within 11 and the Farmers were stunned, forcing their coach to call a timeout.
The break provided a brief reprieve but the Titans kept pushing as Dumas drained a three-pointer, Wasinger hit two from beyond the arc and Cummins took a charge, firing the team up even more and cutting the Farmers' lead down to five points.
"They were like piranha, they all just started attacking," says Hamilton. "We got right back in the ball game quick. Our offense was looking much better, but our defense was still the same. We weren't really stopping them."
The Titans got another test to open the fourth quarter as Sargent managed to rebuild an 11-point lead and when Crested Butte started coming back, Sargent retreated into a stall offense, looking to drain the clock. Sargent hit enough free throws to maintain a seven-point lead but with under a minute left, the Titans surged one last time.
"Our mentality had to change and we started to get more aggressive and that's when things just got ridiculous," says Hamilton.
Cummins found Wasinger open for an easy bucket, the Titans pressed on the inbounds to force a turnover and Wasinger scored again and was fouled. He stepped to the line with the Titans down by three and 20 seconds on the clock. Wasinger missed the free throw but Dumas pulled down the rebound and kicked it back to Wasinger, who then passed crosscourt to McCudden deep in the corner. McCudden took the pass and drained the three-pointer, tying the game 60-60 with 15 seconds left in regulation and Sargent called a timeout.
"I told the guys, go back into their base defense, make them take a tough shot and don't foul. I probably said 'don't foul' ten times," says Hamilton.
The Titans followed suit, Sargent got a shot but had three Titans in the shooter's face without fouling, the shot missed, the Titans got the rebound and Hamilton called a timeout with seven seconds left for one final shot.
Then inexperience reared its ugly head. As the Titans pushed up court under heavy pressure from the Farmers, they turned the ball over. Sargent called a timeout, set up a play and scored at the buzzer to hand the Titans a devastating 62-60 loss.
"We made a huge comeback, an awesome run and it could have gone either way," says Hamilton. "It took a full team effort to make that comeback. They were heartbroken after, but after processing it, they're more confident offensively. If we want to be a good ball club and have a successful finish to the season, we need to ramp up our defense."
Four Titans finished scoring double-digits, led by McCudden with 17, Wasinger with 14, Dumas dropped in 13 points and Theis recorded another double-double with 10 points and 10 rebounds.
"I was proud of the boys. Their resolve was incredible," says Hamilton. "As a coach it was really fun to see. They could have easily just folded up shop and quit."
The Titans remain at home as they host Custer County in Mt. Olympus on Friday, February 5 at 7:30 p.m.