"It was nice to see some consistency from the players"
by Than Acuff
Coach Brandin Hamilton knew that, barring any major catastrophes, his Titans basketball team would roll to a relatively easy win over the Custer County Bobcats, but it didn't start out too smoothly.
The Titans struggled with shooting through the first four minutes of the game. They were tied up 5-5 before they started to find their rhythm on offense to go on a 14-2 run, capped by back-to-back three-pointers from Ryan McCudden to build a 19-7 lead by the end of the first quarter.
"I think our guys underestimated Custer County a little bit," says Hamilton. "They weren't quite ready to play the game so I called the time out to go over what we need to do to win basketball games."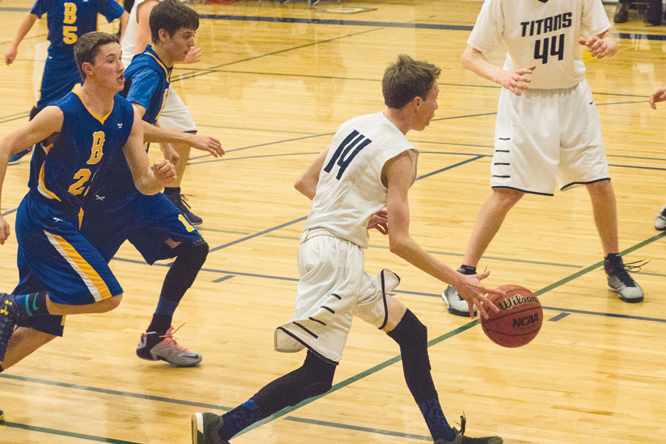 They continued to pour it on in the second quarter, with everyone contributing on offense. John Theis was a force inside, Noah Dumas found success both penetrating and from the perimeter and David Wasinger proved nearly unstoppable when driving to the hoop. Meanwhile, the Titans' press continued to improve and the Titans outscored Custer County 21-6 in the second quarter to build an insurmountable 40-13 lead at halftime.
"We've been working on our press and I think we took a step forward," says Hamilton.
The Titans eased off the throttle in the second half, getting players key varsity minutes while still working on Theis' inside game. Theis dropped in a couple of buckets when given the ball and Crested Butte coasted through the third quarter to take a 48-16 lead into the fourth.
"As soon as I get a sizeable lead, I pull the plug and start working on things," says Hamilton.
Theis continued to wreak havoc in the paint in the fourth quarter, scoring four more points, Dumas and Joseph Cummins both sliced through the Bobcat defense for lay-ups and the reserves did the rest to finish off Custer County 58-23.
Three Titans scored in double digits, led by McCudden with 17 points. Theis recorded another double-double including 15 points, Dumas scored 10 and Wasinger dropped in eight.
"I think the game was a continuation of players figuring out their identity offensively," says Hamilton. "It was nice to see some consistency from the players."
The Titans host Creede/Lake City on Friday, February 12 with the boys starting at 5 p.m. and then head to South Park to take on the Burros on Saturday, February 13.
"South Park is a big game, they're the team nipping at our heels and we're trying to hold our ground to get the 4/5 seed matchup with Sargent in the playoffs," says Hamilton.
They then have their hands full with three games in five days during the February school break, starting with a return to mighty Mt. Olympus on Tuesday, February 16 to host Cotopaxi. Tip-off is at 4:30 p.m.
"We're trying to stay healthy and keep solidifying what we do well so we go into the playoffs hot," says Hamilton.