Host Custer County this Friday
by Than Acuff
The lead-up to the Crested Butte Titan girls' home basketball game against the Sargent Farmers Friday night in Mt. Olympus was anything but ideal. The team has struggled all season with their youth and inexperience, and to make matters worse, the team, including coach Mike Moran, was hit by illness during workouts the week of the big game, adding insult to injury.
"It was a bad week," says Moran. "It was one thing after another."
Still hampered by illness, injury and inexperience, the Titans took the floor to face the Farmers, only to suffer through a rough four quarters, eventually falling 57-10.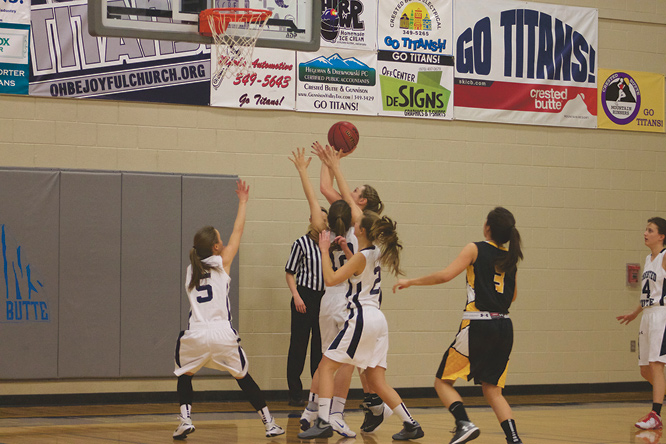 "I was disappointed that we didn't come in ready to play," says Moran. "They just took it to us."
The Titans hung in there through the first quarter, opening with an early steal by Katherine Washburn, who pushed the ball up to Erika Bremer for a lay-up. Sargent took control inside, grabbing offensive boards to get multiple chances leading to a six-point burst.
"Our biggest challenge is rebounding," says Moran. "It's a battle in there and we're losing that battle."
The Titans closed the opening quarter on a high note as Sarah Johnson drained a baseline jumper to close the quarter, but the Farmers ramped up their game in the second quarter. To make matters worse, the Titans lost Bremer for the game as she succumbed to illness.
Continued pressure on the Titan ball handlers forced numerous turnovers, physical play inside provided numerous second chances and the well-oiled Sargent Farmers machine put the game out of reach for good, going into halftime with a 22-4 lead.
"We continue to struggle against great pressure and it's just frustrating to get beat up physically as well," says Moran. "We're at a point where everyone needs to play well to compete against these teams and when your starting captain goes out, everything just unfolds."
The few times the Titans did manage to get up-court and run their offense, things worked out as Sydney Petersen and Tara Mortell both hit open jumpers after a series of passes, but the Farmers would respond each time.
"They're just so balanced and everyone on their team can score," says Moran.
Sargent closed out the game to rattle off 18 more points in the fourth quarter as Moran was getting players into the action for continued experience that he hopes will pay off in the future.
"Being young and inexperienced is really hard in this league," says Moran. "I know these girls are getting tired of getting beat up physically each game but every time I wake up I think, these girls are still just giving it everything they got."
The Titans will host Custer County in Mt. Olympus on Friday, February 5; tip-off is at 5:30 p.m.
"We got another tough game coming up against Custer County," says Moran. "We're just going back to defense and trying to figure out a way to slow the game down defensively."