"We struggled to play well for the entire game"
by Than Acuff
It was a tremendous start to what could have been an incredible game for the Crested Butte Titans girls basketball team. Unfortunately, the constant pressure of a full court press and physical play ultimately wore the Titans out, as they fell to the Custer County Bobcats 47-19 on Friday, February 5.
The Titans opened the game with a three-point play as Tara Mortell grabbed an offensive rebound, scored, was fouled and hit her free throw. Custer County responded to score the next seven points, paced by their early press, but the Titans kept plugging away.
Erika Bremer completed a three-point play and Sydney Petersen broke off a screen and drove to the hoop to score to keep the Bobcats' lead at one point.
Custer County's press continued to cause problems for the Titans and they closed the first quarter with a 13-8 lead, but when Lily Talbot opened the second quarter with a baseline jumper, things were still looking good for the Titans.
"We played some really good basketball," says coach Mike Moran.
When the Titans were able to get up-court, their offense looked solid. The only problem was they couldn't get the ball up-court and as the second quarter wore on, the Titans wore out.
The Bobcats' press eventually handcuffed the Titans for good as Custer County opened up their lead after closing the first half with a 14-2 run.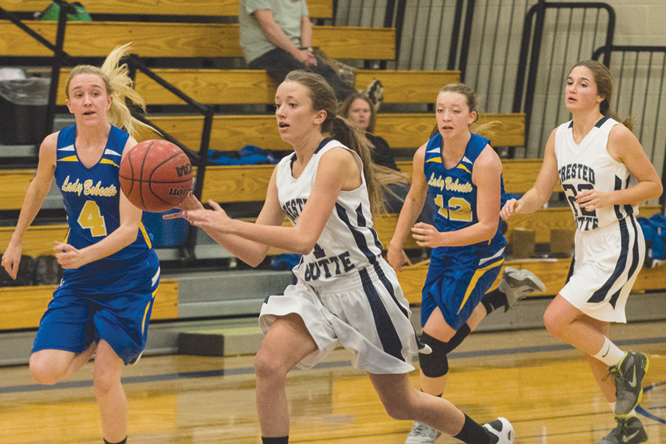 "There's no doubt that their speed and quickness created some havoc in the press," says Moran.
The Titans clamped down defensively in the third quarter and were able to hold the Bobcats to just eight points. Unfortunately, Crested Butte struggled at the offensive end and couldn't buy a bucket.
As has always been the case all season long though, the Titans continued to scrap in the fourth quarter despite the 37-13 deficit. Bremer opened the fourth quarter with a three-pointer, Kiara Cottrell continued to battle with the Bobcats' big girls inside to deny any easy buckets in the paint.
Both Petersen and Marion Chater sank free throws and Siena Truex hit a 14-foot jumper in the closing minutes but the Bobcats proceeded to close out the game, eventually winning 47-19.
"We were disappointed in our overall performance," says Moran. "We struggled to play well for the entire game."
The girls have three games in the next five days. They are tentatively scheduled to host Creede/Lake City on Friday, February 12 in Mt. Olympus. Tip-off is at 3:30 p.m. The Titan girls head to South Park on Saturday, February 13 and then return home to Mt. Olympus on Tuesday, February 16 to face Cotopaxi.
"The next three games will determine a lot for this program," says Moran. "We definitely have a shot to compete. I'm just very thankful for the progress that we're making."