It's just getting started
by Than Acuff
The regular season is over and now the real action starts. Well, sort of.
This might be the longest town league hockey season ever, and I mean that in a good way. Thanks to the roof over the rink and town league hockey organizers, the season could well last until March 10.
The regular season concluded on Wednesday, February 10 and Altitude Painting finished it off on top with an undefeated record. But that was then and now teams have been divided into two separate pools for a "second" season of play, which opened Thursday, February 11.
Without boring you with the details, teams will now be battling for final seedings for the official playoffs, which will then begin on March 1.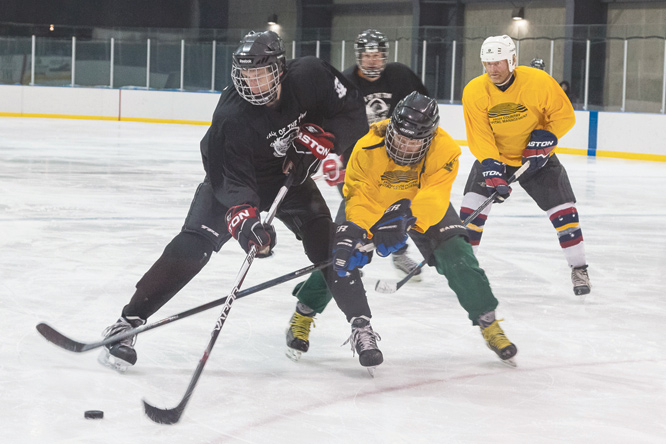 The Talk of the Town and HCCM faced off in their first game of the "second" season on Tuesday, February 16 and it was immediately evident that the Talk is priming up for a post season run.
The Talk took immediate control of the game outskating HCCM up and down the ice and firing shots. HCCM's defensive hustle and HCCM goalie Ed Dujardin held off the Talk assault for the first six minutes, but Billy Watson finally broke through to net a backhand for a 1-0 Talk lead.
Thirty seconds later Watson struck again but just when you thought things would spiral out of control, HCCM came back 30 second slater to score when Rewk Patten scored off an assist from Will Dujardin.
HCCM appeared to pick up steam as the first period continued and carried their momentum into the second period, tying the game 2-2 when Will fed Jason Napoli in the slot and Napoli poked it past Montana Wiggins. They continued to surge and set the pace for the remainder of the period but the Talk had the final say as Chelsey Wilson slipped into the slot to take a pass from Watson and score for a 3-2 Talk lead.
The floodgates then opened up as the Talk scored the next three goals led by a two-goal effort from Bruce Winchenbach. Winchenbach started it off 30 seconds into the third period carrying the puck into the HCCM zone and picking the low corner with a wrist shot. Watson completed his hat trick 45 seconds later and after a brief reprieve, Winchenbach struck again for a 6-2 Talk lead midway through the third.
HCCM wasn't quite done as Will blasted a slapshot from the point and Brennan tipped it past Wiggins but the Talk finished the game scoring two more goals as Thomas McClean scored an empty-net goal and Molly Keating capped the 8-3 crushing with a backhand.