"Mom Nature kicked our ass"
by Than Acuff
In its 19-year history, the Grand Traverse ski race from Crested Butte to Aspen has been turned around only four times. Unfortunately, one of those times was this year.
Last year Mother Nature rolled out the red carpet for Grand Traverse racers with moderate temperatures all race long. This year she gave race organizers and racers fits with random acts of winter leading up to the event.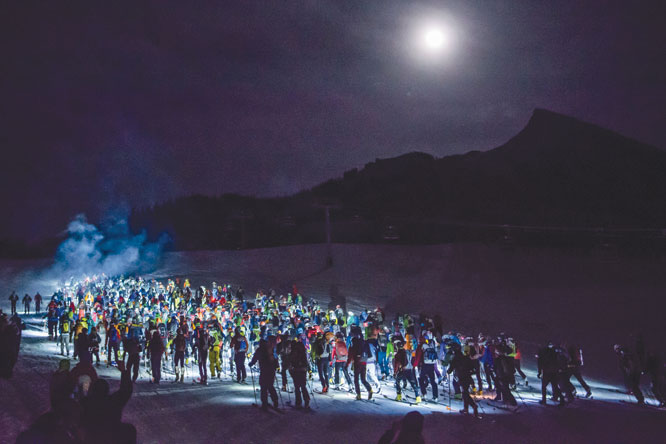 Weather forecasts kept teams this year speculating all week, wondering if the race would go through to Aspen or not, but reports from the field were leaning toward sending teams through.
Athletes shuffled into the Mountaineer Square ballroom Friday, March 25 for the mandatory racers' meeting at 1 p.m., anxious for the news. Race director Andrew Arell cut right to the chase, stating that the race would go through to Aspen—resulting in a roar of approval.
It turned out though, that as teams ate, put the finishing touches on their gear and strategy and tried to relax before lining up at midnight that night for the start, things turned for the worse in the high country.
"We had a forecast that was manageable and at 11 a.m. we did a round of ski cuts through four to eight inches of snow and were able to clean up all of that hazard," explains race avalanche forecaster Ben Pritchett.
Then the storm intensified and Pritchett and his team spent the next six hours in the tent at Star Pass trying to stay ahead of the game, but it got overwhelming.
"We were unable to keep up with management," says Pritchett. "It was a total whiteout and we were locked down for six to seven hours."
Not only was Star Pass getting pummeled, but volunteer crews at the Opus Hut along the course were reporting 11 inches of new snow in six hours and the crew at the Barnard Hut had 18 inches of new snow, making it impossible to get from there to set up a checkpoint at Taylor Pass. Even their support snowcat got bogged down numerous times just trying to get the volunteers out of there.
Given the severe change in the weather and snowpack, Pritchett and his snow safety team had to make the call to turn the race around that evening and sent the word down to race organizers at 8 p.m.
"Mom Nature kicked our ass," says Pritchett.
Fortunately, race organizers had a Plan B in place. After the reverse of 2014, during which a hasty course was set in place, much to the chagrin of several teams, the reverse course was in place well in advance of race day and even posted online for teams to create some semblance of a strategy.
"That was a really cool thing to have in place," says Grand Traverse veteran Pat O'Neill.
O'Neill has started all 19 Grand Traverse races and finished 18 of them, stepping onto the podium 11 times and racking up three titles. He sees the reverse as no less daunting and found this year's course to be a great Plan B.
"There's a certain bit of excitement when you go into a new course," explains O'Neill. "Reverses are kind of cool because you just don't know what you're getting into. The course was hard because it threw a lot of things at you."
Even with the reverse format, 206 teams still lined up Friday at midnight bound for the high country and back to Crested Butte on a 33.5-mile course, with close to 8,000 feet of climbing.
Six and a half hours later, Max Taam and John Gaston from Aspen crossed the finish line back at the base of Crested Butte Mountain Resort for the win. Over the course of the next 10 hours after them, 167 other teams successfully completed the trip, with 38 teams forced to drop out during the race for a variety of reasons.
According to Taam, he and Gaston were out front with two other teams, Marshall Thomson and Rob Krar and Ben and Nils Koons, all the way to the Friends Hut. The Koons brothers, racing on Nordic gear, lost touch with the other two teams on the descent from the Friends Hut and then Taam and Gaston built a gap when the course turned back up hill.
"We got a small gap on the transition to the Strand Hill climb," says Taam. "The small gap grew and we were psyched."
Still, given the relatively unfamiliar territory of the new course, Taam and Gaston still remained uncertain of the race outcome.
"We never knew what was ahead of us so we couldn't make any plan on when to make a move," explains Taam. "It was tough because we didn't really know where to transition. It ended up being a war of attrition."
Overall, there was a visible sense of relief at finishing the race from teams, but several teams had choice words for the final climb up the Happy Hour Trail, as it proved to be mentally and physically challenging—teams were within reach of the finish line only to turn back uphill before heading to the finish line.
"That last climb was awesome, but for the people from out of town, they didn't know if they were 12 minutes from the finish line or an hour and 12 minutes from the finish line," says O'Neill. "I think for some people it was the Sad Hour climb, not the Happy Hour climb."
"I think as a Plan B it was a really good course," adds Taam. "It mimicked the traverse course pretty well as far as mileage and the amount of climbing."
It was a great close to the season for Taam and Gaston, who won the Power of Four Race in Aspen and placed 15th out of 200 teams at the prestigious Pierra Menta.
"We're pretty psyched on the win," says Taam. "It's a really unique race, mostly because we were racing entirely in the dark. It's a little more of an adventure."
The race also had its fair share of sub-plots, as it usually does. For starters, Allen Hadley's streak remains intact as the only one to have started and finished every single race. For one, while equipment carnage is the norm, there was some physical carnage as well requiring a rescue, as WSCU Search and Rescue and Crested Butte Search and Rescue headed into the field to get an injured racer off of the top of Strand Hill.
In addition, this year's race was also the biggest turnout in the "family affair" division. Dan McElroy was the first to jump into the Grand Traverse fray with one of his kids several years ago. In fact, he has five kids and has finished the race with four of them.
This year, a significant number of parent/child teams lined up. Dave Wiens and his son, Cooper, toed the line and eventually came in tenth place overall. Rich and Hannah Smith completed their second Grand Traverse as a father/daughter team, Randy and his son, Ben Swift, cracked 10 hours in their first race together, Jim and his daughter, Kirsten Dirksen, gritted their way to the finish line, as did Roger and Kai Sherman.
All things considered, it was another successful Grand Traverse, even with the reverse.
"Forget any disappointment that the racers may experience concerning a reverse," concludes O'Neill. "The bottom line is that skiers were able to ski through mountains and forests for six and a half to 14 and a half hours on fresh snow. Think about the volunteers who started working at the Friends Hut and Barnard Hut on Monday. Think about those volunteers who scrambled last minute to put in a beautiful new route on 402, Farris, Strand, and the Upper Loop. The race can only happen because of the tremendous, selfless efforts of volunteers. Period! So, if you see a volunteer this week who worked any stage of the event, thank him or her. The reverse is a ski, just like the traverse is a ski. Build a bridge, and get over it. And, by the way, your time doesn't count if you don't hug Glo at the finish."