But ideally wants a much more regional approach
By Mark Reaman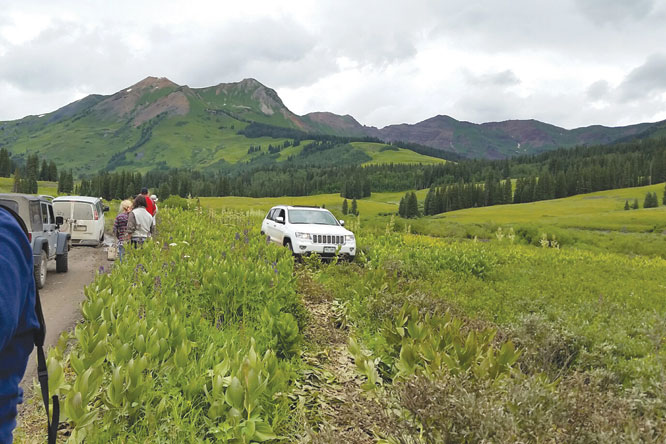 The Crested Butte Town Council would prefer a more regional approach to addressing summer crowding issues in the nearby backcountry, but it will send a letter to the Forest Service supporting the closure of the Gothic corridor to dispersed camping this summer.
The council on Monday agreed to have town manager Todd Crossett draft a comment letter before the March 18 public comment deadline, but the council members voiced concern that closing one drainage will push the impact to the Washington Gulch or Slate River areas. Councilwoman Erika Vohman wanted to make sure the town comment asked for adequate backcountry enforcement from the Forest Service.
"From our perspective, these issues go back to the 1950s," explained Rocky Mountain Biological Laboratory (RMBL) executive director Ian Billick. RMBL, a world-renowned scientific research station, is located in the townsite of Gothic. "Last summer there appeared a change in attitude with people coming up there. It used to be we could handle situations person-to-person and they would understand. Last summer they wanted proof they couldn't camp in a site. People's attitudes changed and we lost control of the valley.
"We see this as the first step for the Forest Service to follow through with issues they've identified for the last 20 years," Billick continued. "There is an opportunity to address the entire regional backcountry and this is a nice first step. There will be a lot of grief no matter how it plays out."
Several council members were worried that if the Gothic valley is closed to camping, the overflow will be overwhelming in other drainages.
"My problem is that people are coming here and I would rather see more money spent on port-a-potties up there than cops telling people they are bad people," said councilman Jim Schmidt. "Rather than just enforcement, other things like outhouses are needed. It seems like this proposal is somewhat of a half measure and the repercussions are immediate."
"It is a first step," responded mayor Glenn Michel, who lives part-time in the Gothic area in the summer.
continued from page 1
"Remember this is a Forest Service and county initiative. The town of Crested Butte is just encouraging action. I think it is time to see a solution. Is this perfect? No. But it is a start in the right direction," Michel continued.
"But what's the solution for the other corridors?" asked councilman Roland Mason. "Out of fairness to the people up the other drainages, I have some problems with this. It's not fair. It shows favoritism to Gothic."
"Look and see if it works in the Gothic corridor," recommended Vohman. "Consider it a pilot project."
"Is the solution no dispersed camping up any drainage?" asked Mason.
"Some places are leaning that way," said Crossett.
"The BLM, the town and [the Crested Butte] Land Trust are looking at options around Oh Be Joyful campground," said town planner Michael Yerman, without going into details. "You may see something in front of you later this year."
Michel pointed out the town is starting to allocate funding to study development of the Avalanche Campground south of town that could help mitigate some backcountry camping issues.
"And let's be clear that people can still camp in the Gothic valley in designated campgrounds," said Michel. "It is not shutting down camping completely up there."
"It is tough. I want a solution across all the drainages," said councilman Chris Ladoulis. "I hate playing the game of whack-a-mole. We all care about the issue but the comment from the town should include that we want to see all the drainages addressed, not just Gothic."
"We have to be proactive," argued Vohman. "I'm all for people camping but some of the jokers out there don't know what they are doing."
Councilman Paul Merck thought the Forest Service would be collecting data from all three drainages in the coming summer and the idea of closing one could skew the numbers.
Ultimately the council voted unanimously to send a comment to the Forest Service supporting the idea of closing the Gothic drainage to dispersed camping next summer, but they also strongly encouraged a broader solution for the entire regional backcountry issue.
"I think we need to take some responsibility on impacts that will shift to the other nearby drainages," said Mason. "Maybe we have to help with more port-a-potties out there."
"I agree," chimed in Ladoulis.