"It's a unique group, but it's exciting"
by Than Acuff
Graduation tends to wreak havoc upon sports programs at smaller schools and that's part of what head coach Ben Davis is dealing with this year.
Davis worked with the Crested Butte Titans high school track team as an assistant coach last year and jumped into the head-coaching job this year. He worked diligently with the sprinters and hurdlers in 2015 and saw great success from both the girls and boys teams as the girls won the league title and 16 Titans qualified for the state championships.
This year, numbers are down due to graduation, among other things, and while two of the state-qualifying girls relay teams are back, the boys team lost some sprinters and there is just one Titan representing in the distance events as of right now.
"We have a strong girls' presence but our core boys' sprinter group graduated," says Davis. "We have a lot of young runners, and new runners. It's a unique group, but it's exciting."
Davis has Callie Conrad helping him coach this year and may call on one more coach to help with the distance runners. The season got off to a dubious start as just eight Titans showed up for the first week of pre-season starting on Monday, February 29. But as winter sports wrapped up their seasons, more Titans started trickling in and Davis now has 25 runners on the team and hopes to reach 30 now that the hockey and ski racing seasons have concluded.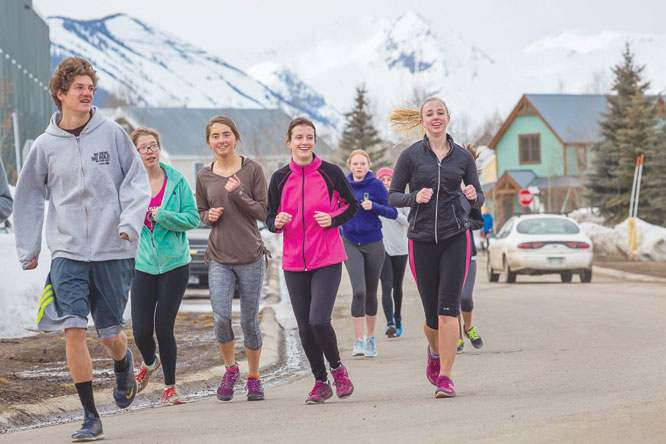 "It's a smaller crew this year," says Davis. "I'm hoping for 30 to 35 because it creates better options for things like our relay teams."
The team has the usual hurdle during preseason, the weather. Davis takes the team outside when he can, including a morning practice every week, but has been somewhat limited to the gym for a number of the preseason workouts.
"The first two weeks the emphasis is on strengthening and conditioning," says Davis. "With the weather it's always up in the air but we do as much as we can in the gym."
The Titans also mix in one day a week of practice in Gunnison spending time in the WSCU Field House now. Davis hopes they can get outside on the track starting next week.
With a new crew of runners and workouts the way they are, it wasn't until the Montrose Icicle pre-season meet last weekend that Davis and Conrad got their first real look at what the team has this season.
"I was finally able to see what the young and new talent have," says Davis. "It's kind of a time trial more than anything."
Fifteen Titans made the trip to Montrose. Davis was both surprised and pleased with what he saw from his team. The girls relay team of Malia Olson, Jamey Spahn, Erika Bremer and Tara Mortell placed sixth at the state championships last year and appear to be on track to take their game to the next level this year, as they were just two seconds off of their personal record time in the opening meet in Montrose.
One of the young guns, Josh Merck, piqued the interest of the coaches when he jumped 18 feet and one inch in his first high school long jump and had a solid showing in the 100 and 400 meters.
Sydney Petersen posted a time that was just two seconds below her personal record from last year in the 800 meters.
As more Titans rack up the necessary training, Davis looks to take a bigger squad to their first official meet of the season this Friday, March 18 in Center. He expects at least 12 other schools to line up that day and looks forward to giving his team a taste of what a real meet is like and get additional insight into their strengths.
"We'll get that feel for a big meet but time-wise, it's still up in the air how we will do," says Davis. "But at least I will get a much better idea."