Step on podium in Breckenridge and Vail
by Will Dujardin, westelkproject.com
The Crested Butte Mountain Sports Team (CBMST) freeride athletes have been busy this March. After a strong showing on the home turf a few weeks ago at the Crested Butte National, the CBMST traveled to Breckenridge and Vail on consecutive weekends and a host of Crested Butte athletes will now be making the trip to the IFSA North American (NorAm) Championships in Whistler.
Kye Matlock, who spent most of the winter in Japan and had an underwhelming finish at the Crested Butte National, got some redemption by winning the next two events at Breckenridge and Whistler, qualifying for the IFSA Junior North American Championships, while taking the top spot in the Rocky Mountain Region.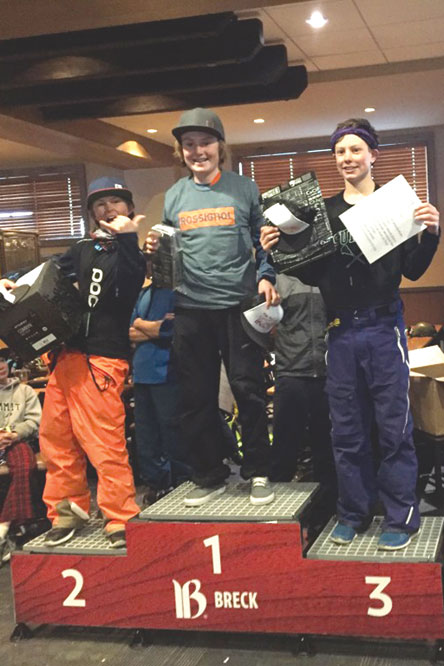 Dagan Schwartz had previously qualified on his snowboard with his two national victories at Taos and Crested Butte and his two regional victories, currently sits in first overall in his division. Carson Hildebrandt made it through with his second- and fourth-place national finishes and first- and second-place regional finishes. Turner Petersen qualified through the region as well with a third at the Crested Butte Regional and a sixth at Winter Park in the older men's ski category; Jon Clay Patterson had a little pressure going into Breckenridge and was able to take fourth, which, combined with his sixth from the Telluride regional, was good enough to get him in. Local independent Brooks Hudson was also able to qualify for NorAm Champs with his first at the Crested Butte National and third at the Snowbird National, sitting in fifth, right in front of Carson Hildebrandt, in the overall rankings.
The CBMST headed over to Breckenridge amidst a snowstorm March 17 that eventually put competition on hold for Friday, turning the event into a one run comp. The team experienced skiing powder on weather days, which is awesome. While most of the terrain at Breckenridge is flat, they do have a sick park and they also have some decent terrain if you know where to get it. The venue itself up on Peak 6 is a true big mountain, high alpine venue and delivers the goods. It's worth checking out if you haven't been.
The 12-14 age categories skied on the looker's right of the venue, with fun features to link up and great snow to shred on. Carson Hildebrandt laid one down the skier's right of the venue that included a steep, blind roll over into the most technical section of the venue. His run was only to be outdone by his teammate, Kye Matlock, who laced his trademark turns down the venue through the same area as Carson. Kye got away with one in the finish where he actually crashed in the corral but the judges ruled in his favor that he was past the finish line.
Dane DeFrates stomped a strong finishing air on his telemark bindings and was able to take 11th in a stacked regional field. Ella Haverkampf added another podium to her regional résumé in third after skiing a fun run with a straight-line through a chute to finish her run. Nate Ball, Jackson Warner and Luke Shull wrapped up their seasons with strong efforts on the venue but bobbles and control issues kept them from getting competitive scores.
The following day, Conrad Truettner, Turner Petersen, and Jon Clay Patterson took on the looker's left side of the Peak 6 venue with more technical areas and bigger cliffs for the 15-18 age groups.
Jon Clay Patterson did a unique double into a wide-open, high-speed chute and took a transfer air huge to take fourth of the day, which punched his ticket to Whistler. Turner Petersen was going for a similar, larger version of the double but got hung up and washed out on his landing. He got some redemption by spinning a three on his final feature. Conrad Truettner, in his last competition on the CBMST, was skiing beautifully through a technical double but started going a little too fast and high sided. For coaches Will Dujardin and Mark Robbins, it's been a pleasure coaching the level-headed Conrad the last five years and we wish him the best in his endeavors as he heads to Michigan Tech this fall.
The following weekend at Vail, Kye Matlock and Matthew Harper-Johnston represented the CBMST. Kye kept Whistler in his sights and threw down the best line of the day in his age category, doing a unique double up top into the popular diving board feature. Kye took the victory by .6 of a point and also became the top finisher in the IFSA Rocky Mountain Region with his back-to-back victories, earning a spot at the IFSA Junior Championships at Whistler. In the 15-18 ski men category, Matthew Harper-Johnston skied remarkably fluid with strong features, taking his best finish and his first top-10 result in ninth.
Athletes who earned a spot in Whistler will have some training over closing weekend and then head to Whistler the day after the resort closes here.