Takes year off from Grand Traverse… maybe
by Than Acuff
It has been a frantic skimo-racing season for a handful of local racers. In addition to the weekly town skimo race series, there were the U.S. Ski Mountaineering Nationals, the Gothic Mountain Tour, the Power of Four in Aspen and the Sneffels Traverse in the San Juans.
Team Griggs Orthopedics (Team gO) athlete Brian Smith has lined up for every single one of those races, as well as the Alley Loop Marathon, and has been charging through his season of racing. He posted his personal fastest times in both the 42-kilometer skate marathon and the Power of Four and capped off his season with a win last weekend at the Sneffels Traverse.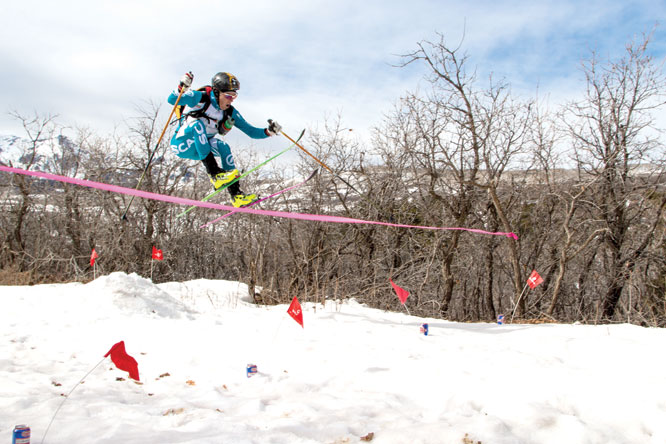 "My fitness is as good as it's ever been," says Smith. "All in all I've felt more solid from start to finish this season than ever before."
The Sneffels Traverse is one of the more relaxed races of the aforementioned events, equal to that of the Gothic Mountain Tour, and the caliber of athlete ranges from the serious skimo racer to the newbie.
"It's more low key and it draws a different type of racer," says Smith.
The racecourse itself is no walk in the woods as participants are treated to 5,540 feet of climbing and descending spread out over 25 miles, all of which is in the backcountry terrain of the San Juan Mountains.
"It's a fun little backcountry kinda deal," says Smith. "Lots of ups and downs through the aspens, tops out at 11,300 feet. The organizers just put out a bunch of ribbon in the woods and hope no one gets lost. You get out in the backcountry and it's got a way different feel about it than the other skimo races where you going up and down on a ski area under the lifts. I like it."
While the race is "low key," it still offers an opportunity for racers to push the pace, including Smith. He made his first move from the start line as racers were treated to a running section on a dirt road before jumping on their skis.
"I just go from the get-go and see what happens," says Smith.
Smith established his lead early and maintained it throughout the entire race and found himself dodging sections of saw dust, downed trees and pine needles while negotiating a series of switchbacks.
"You just point 'em and you're flying and you had to huck your skis around these switchbacks in the woods," says Smith.
Smith went a bit off course two miles from the finish and had to backtrack but still won with a time of 3:49:49. Billy Laird was six minutes back in second place and Jason Stubbe crossed three minutes later in third place.
Smith typically wraps up the season of skimo racing with the Grand Traverse but is taking this year off…maybe…turning his attention to the upcoming bike-racing season.
"I'm going to take a break. It's been a good season and I'm going to start riding the bike and getting ready for the Growler," says Smith. "But, if someone were to come up to me with a free entry and we'd have a shot at winning, I might do it."
Whether he races in the Grand Traverse or not, he predicts this year's race will be one for the record books. Both last year's winners and a team from Aspen that just set a new record in the Power of Four race are currently competing in the prestigious Pierra Menta in France before returning home for the Grand Traverse.
"I think a new course record is going down this year," says Smith.