"I need a bogle for the glotch."
by Than Acuff
Zero-7-0, not a win, not a tie, not a nothin'. That's how REG closed out the regular season. But that was so long ago and they decided to wait until it mattered most, bum-rushing the post-season to take the town league title with a 5-2 win over Altitude Painting on Thursday, March 3.
Altitude Painting had the exact opposite trip to the title game. They finished the regular season in first place with a record of 6-0-1, averaging close to six goals per game. They carried that momentum into the post-season, looking to close out the "perfect" season, only to get REGulated.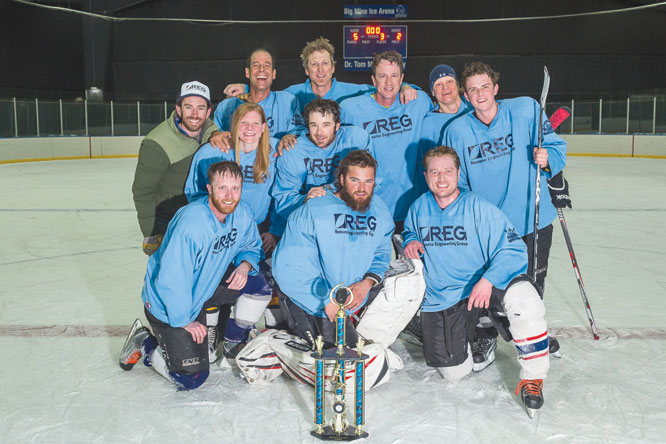 The entire evening was a tremendous close to what some may say was the best town league hockey season ever. For me, I think the best days were back when the rink was open air, the boards had no glass, Tuna chased the action up and down the snow banks surrounding the rink, and teams had names like On Golden Pond, Panama Red and Gray Matter.
But I'm just a fan and I believe most, if not all, of the hockey players, and especially the rink crew, are happy to have a roof on the rink. Fact is, if it weren't for that roof, there would never have been a "second" season or playoffs and we never would have seen REG's climb from worst to first, when it mattered most.
To put it in current political perspective (and lord knows I'm a big politico), it would be similar to governor John Kasich winning the Republican presidential nomination.
The championship evening on Thursday at Big Mine Ice Arena opened with the Toilet Bowl as the Eldo skated to a 5-3 win over the Last Steep, capped by a goal from Mikey Weil, to take some hardware back to the bar.
Following some expert ice resurfacing, despite the nearly 40-degree temperatures, fans rolled in, circling the rink for the showcase showdown, complete with cold bevies, signs heralding Betty "F***ing" Sue Gurk and an air horn. It almost felt like the good ol' days.
When REG and Altitude took to the ice, you could tell during warm ups that REG was on a mission. They had a little more hop in their step, a little more stoke in their stride and they had Zach Van Dyke in net.
While energy was on their side to open, Altitude Painting was undefeated all season for a reason and they struck first as Nate Akell took a pass from Mike Stoneberg and scored for a 1-0 Altitude lead two minutes into the game.
But REG had a plan in place and it proved effective as they focused on applying heavy pressure in the neutral zone, including shutting down Altitude all-star Danny Stoneberg, and utilizing hustle as their main counterattack. The plan played out midway through the first period as pressure on the Altitude attack poked the puck loose and up the ice. Dodson Harper jumped on his horse and outskated two Altitude players to the puck and headed straight to net to slip the puck past Shawn Harrington, tying the game 1-1.
Two minutes later, Harper's efforts paid off once again, digging the puck out of the corner and dropping it to Kris Bruun. Bruun adjusted to the puck with a spinning no-look slapshot, roofing it over the shoulder through traffic for a 2-1 REG lead. It was pure Bruunatic Fringe.
REG was surging and had everything going its way, but with the focus on Stoneberg, Dylan Storz was given even more room to move and he made REG pay as he sliced past two REG players like they were traffic cones and beat Van Dyke with a backhand to tie the game back up.
REG came right back 30 seconds later though, to press into the Altitude zone, and despite the heroic efforts of Harrington throwing his body one way and his glove and stick the other to deny shots, REG kept swinging away until Jon Holton punched the puck through for a 3-2 REG lead at the close of the first period.