"He deserves it"
by Than Acuff
Crested Butte Mountain Sports Team (CBMST) alpine ski racer Tanner Perkins is in the midst of the USSA Rocky/Central Junior Championships in Vail and has already stepped on top of the podium, winning the U16 downhill on Sunday, March 13.
It is a feat for a local ski racer that has rarely been matched. Maybe David Chodounsky, who is now flirting with the podium on the World Cup slalom circuit. Maybe Max Lamb, who went on to race for the Division I NCAA national champion University of Colorado team. Or maybe Hannah Watt, Caroline Jarolimek or Stacey Rixford popped a similar result. Or, perhaps, it was as far back as the Pucketts or Eric Reinhardt, who were standout skiers hailing from Crested Butte in the '80s and early '90s, when a local kid last stepped on top of a U16 podium.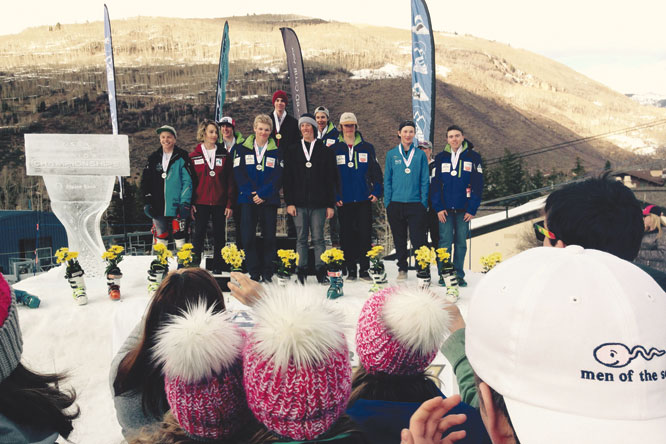 The win is especially impressive given it is his first year racing in the U16 age class and he beat out a gaggle of racers from the Ski and Snowboard Club Vail team on their hometown hill. Furthermore, he entered the championships ranked 18th for his age class in the Rocky Mountain Division heading into the Rocky/Central Junior Championships.
Perkins has been hitting it hard all season, training and racing with massive support from Crested Butte Mountain Resort.
"CBMR and CBMST helped prepare Tanner by providing excellent training with Prater Cup, Prater Camp and early morning speed training," says coach Conor Lynch.
Downhill training started on Saturday, March 12 and with a storm pending, organizers gave athletes one more training run Sunday morning with the race later that day. Perkins had two solid training runs finishing with a sixth and 11th. According to Lynch, while the course was short, it was fast with times running 45-50 seconds and skiers reaching top speeds of 65-70 mph and airs of over 100 feet in length.
When it came to race time, Perkins dropped in as the snow was falling and he crushed the field for the win.
"When the race run came, Tanner's skis were running fast and he made the proper adjustments to lay down a flawless run for the course's fastest time all weekend, dominating the field by .56 seconds," says Lynch.
Perkins proceeded to step back into the starting gate and post a 15th place finish in the Super G despite suffering a hiccup following the jump that was midway down the course.
Racers returned to the fold on Wednesday for the Giant Slalom and the championships concluded with the slalom on Thursday, March 17.
"Overall, it's an amazing result and great to see that kind of talent/dedication still represented in CB," says USSA director of sport education and former local alpine ski coach Brian Krill.
"He deserves it," adds Lynch. "He has worked harder than anyone."