Limited numbers holding team back
by Than Acuff
Heading into workouts last week, coach Ben Davis had high hopes for a full squad coupled with practices outside in Gunnison. But, as is often the case, things never quite work out as hoped.
"We got our full team together but we're battling illnesses," says Davis.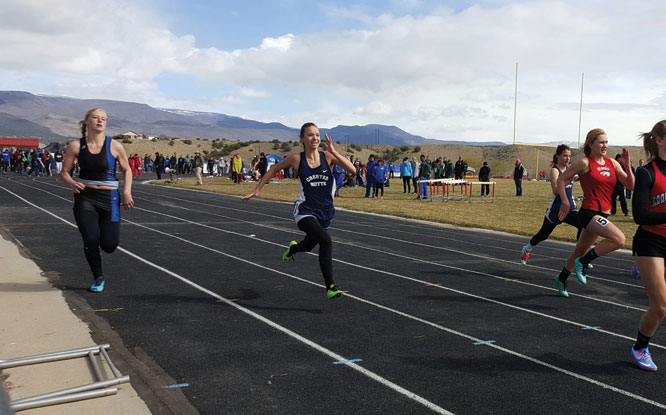 In addition, their plans to train outside on the WSCU track was challenging, as winds whipped through the Gunnison area forcing the sprinters inside, while the distance crew tried to log some miles in on the outdoor track.
Nevertheless, the team pushed through the week but by the time race day hit on Saturday, March 26, the Titans track squad was depleted, leaving just 16 athletes healthy enough to compete at the Bulldog Invitational in Hotchkiss.
The Titans matched up against several familiar foes in Hotchkiss as well as a couple of new programs and while the Crested Butte team was smaller than most, if not all, they did post a handful of solid results. Davis is optimistic about how the season will play out.
"Those that were there were prepared and ready to go," says Davis. "From what I've seen so far, we're on pretty fair ground and across the 2A schools, we definitely hold our own. The only disadvantage is that we have a small team."
Teams were met with less than favorable conditions in Hotchkiss as a winter squall blew through the meet throughout the day, hampering times. Still, the Titans and their limited crew managed to post a handful of scoring results across the board.
Tara Mortell specializes in the 400 meter run but it wasn't until Hotchkiss that she got her first start in the open 400 and put together a strong effort, placing fourth overall.
"It was good to see her running in the open 400 and running strong," says Davis.
Sydney Peterson continues to flirt with her personal record (PR) time set last season and post podium results placing second in the 800 meters and fourth in the 1,600 meters.
"She did great as always," says Davis. "Three weekends in a row she's come close to breaking her PR."
Down four girls due to illness, Davis had to mix and match teams for the relays. In the end, a somewhat new 800 sprint medley team of Malia Olson, Erika Bremer, Mortell and Peterson lined up to race. They made up for the cohesion they may have lacked with effort running to a fifth-place finish.
Josh Merck had the standout performance for the boys team. In just his first year of high school track, Merck has stepped onto the podium three weekends in a row in the long jump. Merck jumped a distance of 18 feet, 11 inches to take the win in Hotchkiss and is just two inches shy of setting a new school record. Liam Woodward placed fifth in the high jump, despite coming up shorter than usual, and Tate Young continues to make strides in the 800 meters, placing eighth.
The boys 4×100-meter relay team of Woodward, Quinn Farnell, David Wasinger and Thomas Taaca had an outstanding showing, except for one important aspect. They breached the hand-off zone ever so slightly on one exchange, causing them to be disqualified.
"Time-wise they did incredibly well," says Davis. "We'll keep that team together."
Overall, Davis sees the boys team surging as the year progresses, with Aiden and Conrad Truettner joining the distance ranks and the sprinters getting their feet underneath them.
"The freshmen boys came in at a pretty high level after running middle school track," explains Davis. "The older runners are performing well but for a lot of them, it's their first year so they're still learning how things work. Form is a lot of the emphasis for them."
Davis hopes to have his team back to full strength this week as they head to Cedaredge on Saturday, April 2.
"Besides a couple here and there, we should have our full team," says Davis. "Cedaredge is typically a great meet and most of the kids like it. It's one of the more competitive meets."