Cash, beer, food, prizes, friends
by Than Acuff
"Weather forecast for tonight, dark. Continued dark overnight, with widely scattered light by morning.
— George Carlin
According to my daughter, spring weather in the Rockies is much like a cat, "finicky."
Fact is, even Joe Ramey, general forecaster with the National Weather Service out of Grand Junction, admits weather patterns in this area can be a bit quirky.
"Crested Butte is a weird place. That's why we love it right? At many different levels," admits Ramey.
So there you have it. Weather is finicky and this place is weird and what better way to experience both than at the annual Crested Butte Pole, Pedal, Paddle, or CB3P, on Sunday, April 24.
Sure, you can sit at your computer or check on your hand-held device and see that, as of Tuesday, the weather forecast for this Sunday appears a bit dubious. But that's what it looked like last year and everyone, barring a handful of people in the back of the pack, had great weather for the CB3P.
You just never know.
One thing I do know is that if you decide not to do it, the weather will be great and you will have wished you had.
If you decide to do it, the weather will be great and you will be glad you did.
Or, you will decide to do it, the weather will suck, you'll be hot, then cold, then freezing and then sitting on the banks of the Gunnison River enjoying free libations from New Belgium, free food from Mikey's, in line for a turn on the ROMP Shotski and the sun will come out and you will be totally stoked. And who doesn't like to be totally stoked?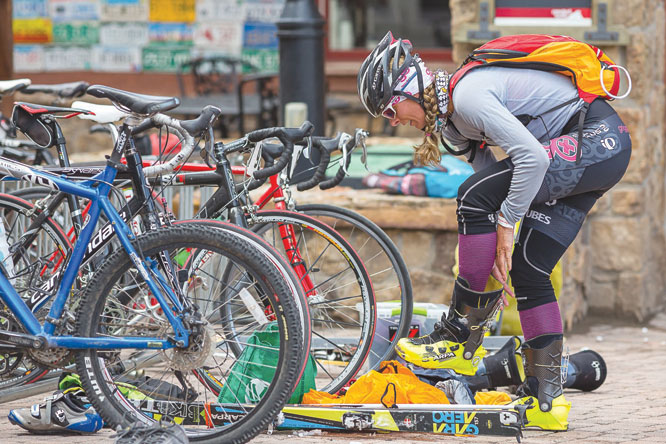 Current Crested Butte/Mt. Crested Butte Chamber of Commerce director and future executive director of the Crested Butte Mountain Bike Association (CCBMCBCCDFEDCBMBA) Dave Ochs helps out race director Tiff Simpson with organization and other duties and is totally stoked for this year's CB3P.
"I cannot wait," says Ochs. "The weather is looking so awesome… isn't it?"
The race starts at 10 a.m. with a Le Mans-style sprint through the Mountaineer Square tunnel to your skis or split board, at which point you will click in and start climbing. Race category will go to the top of International via a detour through Paradise Bowl before tearing the hides and tipping into the downhill. Rec category will climb to the top of Upper Park before transitioning to the downhill section.
A 27-mile bike ride along Highway 135 from Mt. Crested Butte to Garlic Mike's follows the snow section, which according to Ochs, "is downhill the whole time."
The race ends with a 4.5-mile paddle down the Gunnison River with one class II+ rapid right before the finish line at the start of the Gunnison Whitewater Park.
The race is open to all levels and abilities and you can do the race solo or as a part of a team.
Cash prizes will be doled out to the top three solo men and top three solo women in the race division as well as cash for best solo costume and best team costume. All participants get a goody bag complete with drink mixes, energy food, lip balm, sunscreen, a commemorative CB3P trucker hat and a raffle ticket for a chance at the pile of prizes organizers have collected from sponsors.
"We've always been huge with the prizes," says Ochs.
The best part of the race comes at the end where racers, fans and volunteers will gather on the beaches of the Gunnison River to enjoy beverages from New Belgium Brewery and food from Mikey's and soak up some spring rays.
"It's always sunny in Gunny," says Ochs. "Suffer a little through the snow at the start and then rejoice in the sun."
And while racers are responsible for setting up their equipment at each transition area, volunteers will follow the race to pick up gear and deliver it to the finish line.
Sun, snow, wind, rain, or all of the above, the CB3P is a great way to spend an off-season—sorry, shoulder season—Sunday.
"Anyone can do it," says Ochs. "Harden up, sign up and do this thing."
For more information and to register, check out crestedbutte3p.com. And, as always, volunteers are needed. Contact Dave or Eliza at the chamber, 349-6438 or email crestedbutte3p@gmail.com.