From Ski Roundtop to the world stage
by Than Acuff
After eight years of competitive freeride skiing, local ROMP athlete Mark Mikos punched his ticket to the world stage and is headed across the pond to compete on the Freeride World Tour (FWT) starting in January.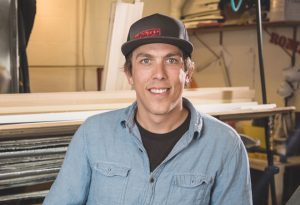 Mikos grew up in York, Pa., skiing at Ski Roundtop as a kid before moving onto a ski racing/education at Waterville Valley Ski Academy in New Hampshire. Upon closing out his high school racing career, including multiple trips to Junior Nationals, Mikos was invited to the U.S. Ski Team for a season. Unfortunately, the season did not play out as hoped.
"I just crashed a lot and got hurt a lot," says Mikos.
He returned to Waterville Valley as a coach and during the 2008-2009 season, he came out to visit his brother Matt here in Crested Butte during the Christmas holiday. That was that.
Crested Butte got pounded with snow starting in early December, so when Mikos made it out here to visit his brother, the resort was in the midst of a great season.
"Everything was open and I was skiing Phoenix, Spellbound, Third Bowl, everything," says Mikos.
He came back out three more times that season to ski and decided it was time to make the move for good, coming to Crested Butte in the summer of 2008.
Mikos stepped into the competitive freeskiing world almost immediately, taking his brother's spot at the Crested Butte Extremes in 2009. Mikos eventually enrolled at Western State Colorado University in the fall of 2009 and continued to compete on the freeride scene that season as a part of the WSCU freeride team.
Since then Mikos has juggled work with school with competitions, getting in anywhere from three to five competitions each year, keeping it close to home.
"I would always do the ones that were nearby and head to Snowbird or Montana for those," says Mikos.
It was during that time that Mikos lined up his ski sponsor. He worked for Caleb and Morgan Weinberg banging nails when the Weinberg brothers were just starting to make skis in their garage. Mikos was a test pilot for them, taking skis out to give them a trial run and provide feedback. As ROMP skis opened and has since grown, Mikos has been on them the whole time.
"Those guys are amazing and they make an amazing product," says Mikos. "Right from the beginning I was on skis they made in their garage and it's awesome that now I'll be able to get their skis on the big stage."
As Mikos continued to compete and juggle everything else, he eventually found a job that paid the bills and allowed him to ski almost uninterrupted for an entire winter. For the past four years, Mikos has worked for the state of Colorado's Division of Reclamation Mining and Safety, specifically in the abandoned mines program.
"It's the ideal job," says Mikos. "It starts in May every year and ends the end of the year. It's pedal to the floor in the summer to get the work done when you can get to the mines."
Mikos broke through to the FWT following his strongest season of results last year.
"I was finally able to put a full season together," says Mikos.
He opened the season with a third place at the FWT qualifier in Crested Butte. He followed that with a second-place result at the FWT qualifier in Taos and then capped the qualifier season winning the event at Crystal.
"That one was great because both my fiancée [Ashley Bembenek] and I won," says Mikos.
While qualifying for the FWT was always on the radar over the years, Mikos has always enjoyed the events themselves throughout each winter.
"It's definitely been a goal to qualify, but I'm also just really happy to ski the qualifying comps—they're incredibly fun," explains Mikos. "I love that way of skiing. It's completely different from a normal way of skiing. You inspect the lines, figure your line out turn for turn and then go out and execute the run. Or, when you go off your line and still make something fit. It's really cool to ski that way, ski deliberately, and I've always loved competing, growing up ski racing."
It's that ski racing background that Mikos calls upon in the events themselves. While park skiing style has definitely filtered into the freeride world with skiers throwing a variety of tricks into their runs, Mikos continues to show his skiing ability rather than tricks to impress the judges.
"I tried using tricks for a couple of years but I decided to focus my energy where my skills are," says Mikos. "I try to showcase my ability to turn and use my ski racing skills to my advantage so when I do turn, I want to show them I can turn while skiing technical fast lines."
With his work for the state of Colorado completed this year, Mikos has been skiing as much as possible on the mountain to prepare for the upcoming competition season.
"I rode my bike some and would workout some but there's nothing that can get you ready for skiing more than skiing," says Mikos. "I'm feeling great."
Mikos will be taking three pairs of ROMP 115s (that's the width, not length) with him to Europe—one pair mounted with alpine bindings, one with touring bindings and a third pair pre-drilled for his alpine bindings.
"That's a holdover from my ski racing days," says Mikos of the pre-drilled skis. "That way I just need a screwdriver and I'll be ready in case something happens."
In addition, ROMP has an extra pair of 115s waiting for quick ship if the other three pairs break.
"Hopefully that won't happen," says Mikos.
The tour starts in Chamonix, France on January 28, heads to Andorra the second week of February for the second stop and then takes a two-week break before returning to action in Fieberbrunn, Austria.
Following the three events, the field of 22 men will be cut down to between 13 and 16. If Mikos makes that cut he is qualified for the next year as well as to remain on the tour and ski at the last two events of this year in Haines, Alaska and Verbier, Switzerland.
Mikos has skied in Europe, but only as a racer. Fortunately he will be traveling with friend Conor Pelton, who has three years on the FWT circuit, and hopes to glean as much information from him while on tour.
"I'm really excited that he's going to be there. I'm lucky to have that," says Mikos. "I've never done any freeriding over there so I'm super-psyched to do that."