The man behind the wheel
by Dawne Belloise
Sherman Jones slides behind the wheel and into the seat of an RTA bus, schlepping passengers to and from Gunnison on Friday and Saturday nights. More than one rider has labeled this last-run weekend route the Puke Bus, for all the obvious reasons.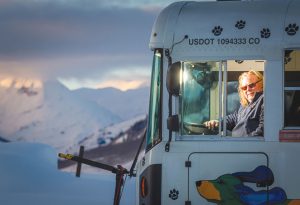 And with New Year's Eve falling on a weekend this year, it's bound to get sloppy. Thankfully, the last bus heading out from Crested Butte to Gunnison is 11:25 p.m. and that might just give Sherm some respite from the 2 a.m., very-late-night revelers who may choose to spend the night in town or stay in Gunnison to party.
Sherman is no stranger to stupefied, bewildered, belligerent, over-imbibing merry-makers of the everyday sort, or the tourists who don't understand the alcohol-to-elevation equation, because he also used to drive the late-night taxi, (a.k.a., the Tipsy Taxi). Both the taxi and weekend RTA can be challenging when people lose it, and he notes there has been vandalism by intoxicated idiots, slicing the passenger seats for no apparent reason.
Nevertheless, he continues to deliver people safely to their destinations. He also drives various routes on the mountain and town for Mountain Express.
His advice to would-be over-indulgers on New Year's is simple: "Cut your drinking in half, just half, okay? Halfway through the night just stop and say, 'That's my half.'" Wise words indeed.
The sort of mettle needed to deal with driving through blizzards with rowdy busloads of commuters is fortified by having been raised in Colorado. Sherman is a fourth-generation native, born to parents from Cripple Creek, Parker and Denver. His father was a botanist, a plant pathologist, for the U.S. Bureau of Interior. His mother received her degree from CSU in interior design but never used it because, Sherman laughs, "She was too busy raising three insane boys. I'm the baby. I was a mistake, being seven years behind my brother."
He chortles that he figured out the timing and it all comes down to a New Year's Eve party his parents had attended.
Sherman happily admits that he had a fabulous childhood. "My brothers and I sang in a boys' choir in St John's Episcopal Cathedral in Denver. We [the choir] were nationally known. There were 100 of us in every vocal range. We sang for all the big weddings and funerals, and we traveled to Washington, D.C. and sang in the Washington National Cathedral."
In school, he had to overcome the stigma of being a red-haired, freckled-faced boy who, he recalls, was a little pudgy. "I was picked on. I went to a parochial school, St. Anne's Episcopal, from first through seventh grade. But my dad thought that I wasn't getting enough of a street education so he pulled me out of the private school and enrolled me into an inner-city one with 2,000 kids when I started middle school."
Sherman thought it was a bit tough at first. "I remember the first day, Dad shaking my hand and driving away and before he was at the stop sign my pants were up the flagpole. It was pretty bad. But by the same token, I got a street education," he laughs.
He graduated from North Denver High School in 1967 and decided that he wanted to become a coach. While he was getting his "street education," he discovered he somewhat excelled in football during high school and wound up at Western State College (WSC) on a football scholarship in fall of '67. "I played for a year but I didn't care for the regimentation."
Oftentimes, Sherm observed, "There were a lot of people having a lot of fun outside of the football regimentation. There were the Lufsabens and the Mud Kids, which were drinking organizations at WSC, and it looked like everyone was having a good time."
It was 1967 and '68 and Sherm borrows the opening phrase from A Tale of Two Cities, "It was the best of times, it was the worst of times—there were so many parties going on, but then, there was also the Vietnam War. You had to stay in school or get drafted and die. But every week, there was a new band, a new beat, from Santana to the Beatles to Creedence. And that's when I discovered Crested Butte, walking around the streets and smelling the coal people were burning for heat, there was the Grubstake and Tailings, and there were lots of beads and long dresses and hip-huggers. Those were the days, I thought they'd never end," he adds a line of 1968 song lyrics and laughs that because of the times, "It took six years to get my degree in physical education from WSC with a 2.001 GPA. I was not cum laude." But he finally tossed the graduate cap in 1972.
Sherman returned to Denver to teach at East Denver High School. It was a time of unrest as they had just started busing students of color into the school to desegregate. "It was a war every day, not because of racism on my part, but just because of the new challenges, so I walked away from that."
In 1974, he went to work as a server at the Chart House in Palm Springs, Calif., and it evolved into lucrative employment that had Sherman returning to Colorado to help open restaurants in Genesee and then traveling the country from San Francisco to Chicago.
"Somehow I wound up at the Broadmoor pool in Colorado Springs," and at the gazebo bar he was smitten. "All of a sudden, I see this girl and said to myself, that's my future wife. We were married a year later." Both of them went to work for United Airlines; she was a flight attendant and Sherm was in customer service. Based out of Denver and Chicago, Sherm recalls fondly, "We saw the world, first class, from China to Australia to Europe and back again. After 18 years, we grew apart and divorced."
In 1995, his family sold their Parker ranch and there was enough inheritance that Sherm bought a ranch in Ennis, Mont. "It was gorgeous there," he felt, "and I thought I had the ranching business all figured out." There was no way to know that a severe seven-year drought would drain dry everything he had invested in and loved. "You couldn't put up hay because they restricted all your water and basically I lost the ranch. It's just the reality, it was a dark and terrible time. So I thought, what the hell, I'll go to Hawaii and live," which was a consolable paradise to escape to. He had always wanted to live there anyway.
He spent two years in Maui but finally concluded, "There are no seasons, every day it's 80 degrees. I met wonderful people but you get tired of flip flops and I missed Colorado." His thoughts returned to Crested Butte and the Gunnison Valley and he started driving for Alpine Express.
"I'm thankful to Stewart Johnson, JP, and Cindy Boubour. It was after 9/11 and the airlines had changed drastically," so he didn't want to go back to the job he had already retired from. That same year, 2005, he also started working for Mountain Express and states his appreciation for being able to work with Chris Larsen and Bill Quiggle, as well as all the bus crew.
"I tried the retirement thing. I didn't like it. When I was in Maui I found there was a lot of dead time, and that bored me," he admits.
It's a fair certainty that Sherman won't be bored this weekend with the carousel of tourists and locals celebrating the start of 2017. We should all be thankful for this warrior of transportation (as well as all the designated drivers) who gets us to our parties, bars, and dinners and home again safely through winter storms and New Year's Eve chaos. Thanks, Sherman.