Family Circle
by Dawne Belloise
Maggie Chlipala was the tiny red-headed miracle child born in a firestorm on a wintry day in 1991 to Crested Butte locals Ron Chlipala and Bonnie Petito. During the difficult and prolonged week-long labor that sent her parents to Denver, Maggie lost her paternal grandfather just before her birth and at only two days old while she was still in the hospital, she suffered a stroke.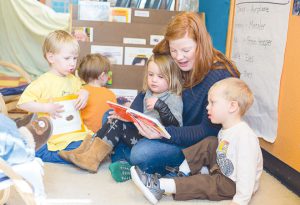 She attributes her dazzling red hair to the cataclysmic events surrounding her birth. When the infant Maggie, who was also the in utero Harvest Baby celebrated during the fifth Vinotok festival, finally arrived in Crested Butte two weeks later, a large banner hung across Donita's, proclaiming, "Welcome Home Miracle Maggie."
Maggie came into the world with a ready-made clan of Italian mother-aunts, the legendary Flying Petito Sisters. Her first memories are of hanging out with the family—her mom Bonnie, aunt Lynda Jackson, Cindy Petito and cousins Hanna, Bailey and Jackson. Her father, Ron, was somewhat outnumbered but was the quiet, calm influence in her life.
"Living in an extended family was like having siblings. We called them cuz-brother and cuz-sister. There are so many photos of us all having matching pajamas. Even though I was an only child, between the town and my family I had, like, 20 siblings. So many people thought Mackenzie Mailly and I were sisters," says Maggie.
Her close-knit family and community have shaped her life's decisions along the way because, she feels, "Family is my everything."
Because it was easy-going Crested Butte, there was a lot of dirt-loving freedom for local kids. Maggie recalls those childhood days and compares them to the different experiences Crested Butte kids have today, as she observes the newest generation of townie toddlers and preschoolers from her front-row seat as a teacher at Paradise Place preschool.
It's a full circle coming around from where she started as a Crested Butte whippersnapper. She attests to the ongoing timeless joy of mountain kids being allowed to get messy—witness her four-year-old second cousin Luna (Jackson and Leah Petito's daughter), who loves her pretty tutus but excels at getting dirty, the quintessential Crested Buttian kid.
One thing that hasn't changed much in town is the instant messaging hotline to parents, except it's even faster these days.
"When I was ten, my friends and I would walk around town doing silly things like picking and eating raspberries from all the bushes in people's yards. While we were out picking those raspberries, my mom's friend came up and said, 'I heard you were picking all the raspberries.' Growing up here, when you do something, not only your parents know, but the whole town knows in less than 20 minutes. I was riding my bike one day and didn't stop at the stop sign and a local driver got all mad at me. My mom and dad knew about it before I got home," she laughs.
Throughout school, Maggie had some learning disabilities because of her stroke as an infant, but she willfully overcame those. High school, she admits, was tricky for her because she wasn't into partying but by her senior year, Maggie knew, "I wanted to teach because I just love kids." She graduated from the Crested Butte Community School (CBCS) in 2009.
Maggie enrolled at the University of Northern Colorado in Greeley because it was closer to home than going out of state. "I knew I wanted to stay in Colorado because I wanted to be close to family and Greeley has one of the top teaching programs in the country," she says, and though she grew up in a more liberal town than Greeley, she felt it was perfect.
During her last semester in college Maggie returned home to do her required student teaching at her alma mater, CBCS. "It was funny coming back as a teacher to the place I went to school. Shari Sullivan Marshall was my first-grade teacher and when I returned to student teach she was my advisor."
Maggie graduated in 2013 with a bachelor of arts degree in elementary education and returned home to be a substitute teacher, "at the big school," as she calls the older elementary grades of CBCS, "as opposed to preschool."
Since the substitute teaching job was temporary, when school let out for summer, Maggie thought, "Oh, no—now I have to get a real job to pay down my student loans."
Maggie's "real job" was at Townie Books and helping out at the Flying Petito Sisters video store. When her cousin Jackson and his wife, Leah, moved back to town with baby Luna in tow, she helped out babysitting.
She wound up on the board at Paradise Place Preschool. As much as she loved her real jobs, she missed kids. As serendipitous timing would have it, an assistant teacher position opened up for the two-year-olds' class at Paradise Place.
"And the rest is history," Maggie says with a bubbly giggle. "I love it, it's so great." She's been there two years now. When she was a kid attending Paradise Place, her mother was on the board, and Maggie notes that Jackson also attended as a kid and now his daughter is going there, too. "Yeah, we're taking over the town," she chuckles.
Like her mom and aunts, Maggie has always been into politics. "It's through Petito women osmosis," she smiles. "Growing up, the news was always on, as it still is now. My first real political memory was in 2000—my mom was a wreck after the election. I thought, what's going on? I was only 10. Then in 2004, it was the same thing and mom threatened to move us to Canada!"
In 2008, Maggie worked on the Obama campaign, making phone calls, knocking on doors, and helping voters get registered. "It definitely opened my eyes. I wasn't sheltered but not everyone was nice," she says of the surprising negative reactions to her canvassing. "There were some snarky comments made," but it wasn't enough to deter her, and in fact, she says, "It pushed me even further."
Realizing the Democratic primary for Senators Romanoff and Bennet needed younger blood than the long-time elders involved, in 2010 Maggie attended a caucus during her spring break where only 10 people showed up and she noted, "I was youngest one there by at least 20 years." The party recruited her to be a delegate at the county convention and then she went to the state convention.
From that moment on, Maggie was a part of it all. She became precinct captain in 2015, attending central committee meetings, planning and organizing for the primaries, fundraising and being a voice for the Democratic Party of Gunnison County. She's also secretary of the Gunnison County Democrats.
"I see a lot of work in front of me in these difficult times but I have hope. We have to get more people to be more accepting of everyone's different beliefs. We have to be respectful of each other. Even though people are different, it doesn't mean they aren't good people. Part of the culture of Crested Butte is that we accept people for who they are, partly because it's a small town, and that makes everyone more kind and understanding of each other. My motto in life is 'Be kind.'"
Maggie feels that there are two different reasons people wind up in Crested Butte. "There's the athletic people coming for some of the best skiing in the world, and then there are those who come for the small community and the family. When my parents came here they were able to take on the roles of things like starting the radio station, Mountain Theatre and other areas of the creative aspects in town. They've always been into movies and theatre, and that's how our family's been forever. Where some families might go on a bike ride together, we played a board game, or went to the movies or watched a movie. Yelling at the TV together is a family pastime," she chuckles.
Maggie is excited to see what life brings around the next corner and has a zest for just being. "I go to work and look at the little kids and see the joy in their faces and they make me think that life just isn't that bad. When you're having a bad day, life's getting to you, and then you go into work and see that the kids seem to have no cares in the world, it puts things into perspective, for sure. That's the way it should be during childhood, and it should be that way for adults, too. Stuff happens but we still live in paradise."
Maggie is a self-admitted homebody and says, "I sometimes get pressured to move so I can have different experiences, but any time I go out into the real world I last about a week and then I have to get back into the mountains. I'm just a mountain girl living one day at a time. I think about moving away but looking at the little kiddos' faces, their zeal for life and learning, I realize, this is my home and I don't see myself living anywhere else."