by Dawne Belloise
John Hopper grew up in Santa Monica, "Where the debris meets the sea," he attests. He was a skater boy during the time the Z-boys team was frequenting the same Dogtown beach, the epicenter of a surfing and skating community. Attending parochial schools, he was also an altar boy, servicing the funerals of the Hollywood famous, like Jimmy Durante and Bob Crane (Hogan's Heroes).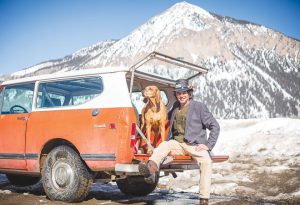 "I was a child of older parents. That's how I knew that acting culture—they were old school," John explains. He lived in an era of bikes with banana seats and sissy bars, and you didn't wear helmets; when it got dark you got yourself home because if you weren't home you were in trouble.
"Once I went to school it was nuns and priests and the clamp was on—the vise of discipline was applied very firmly, until seventh grade when I was let loose on the public school sector. It was kinda weird," John recalls. "I definitely felt like I had entered the jungle." Luckily, he had acquired enough savvy in parochial schools to open the doors that needed to be opened.
"The structure in parochial schools allowed you to move forward in life in all skills. Somehow, you learn tolerance while you're getting beaten," John laughs. He also learned respect.
"You treat the janitor like you treat a president and you don't make fun of anyone," he was taught by his dad. "You don't laugh at people of different cultures. Everyone gets the same respect."
When John graduated from high school in 1986, he wanted to study marine biology, so he enrolled at Santa Monica College, but later transferred to San Luis Obispo to attend California Polytechnic University. While entrenched in marine biology, he had read that 40 percent, or two out of five American adults, were partially illiterate or worse. It caught his attention and he switched his focus to pursue early childhood education and developmental psychology.
John was still a student and working at Lindamood-Bell Learning Processes, which teaches a multi-sensory approach to reading, spelling, comprehension and math development skills, integrating receptive, written, and verbal information. He was trained by the owners who developed the alternative method in the late 1960s.
He taught in mobile temporary literacy and comprehensive clinics during the summer at different places—Manhattan, Chicago, Alaska, San Diego and even in the Philippines. The clinics were everywhere so John chose where he wanted to work from a list. It was a great opportunity for a college kid, and he graduated in 1998 with a bachelor of science degree in psychology.
"I ended up wanting to be a little more specialized and having this degree put me in contact with populations not only with unique learning difficulties, but in a setting that would allow a student to be guided to success and independence through intensive literacy training, rather than playing catch-up year after year. I'm more of a special needs interventionist," he explains.
John works with clients from age six to 60 with disabilities ranging from traumatic brain injuries, congenital disorders, dyslexia, ADD, ADHD, and autism spectrum disorders. "One of my best experiences was working with a non-literate third grader because I got to work with him throughout his entire academic career and he wound up graduating cum laude from high school and CU Boulder, and now he makes north of six digits a year in salary," John says.
The week after John graduated from Cal Poly Tech, he moved to Crested Butte. "A kid I was teaching in Vail had a brother in Crested Butte so we went for a field trip. I also had an old roommate from college living here." He saw his first bald eagle, had his first telemark experience and he felt he had to pay attention to the signs.
"I found that there were opportunities for a less gentrified lifestyle here. I always wanted to have access to wilderness and spend less time turning a key in the ignition of a car," John says. And he realized there was a sense of community here.
But before arriving in his new home as a fresh graduate, he went directly to Telluride to the Bluegrass Festival and then hitched the rest of the way to Crested Butte. When he arrived, he remembers, "I slept on the floor of the old CFI coal mine supervisor's pink house, occupied by a bunch of locals—six people. I did what the invisible new roommate does who doesn't pay rent—cook meals, clean the house, seldom seen or heard and always keeping a six pack in the fridge for the roommates," a typical arrangement back then of paying rent through beer. He was volunteering at the Wildflower Festival, which was how he partially fed himself. "That's how I was getting lunches—you got to take a few cookies home with you in your pocket."
He landed his first actual paid employment at Stepping Stones, a good fit for John, since he had worked with children and came from a background of early childhood education. "It was a way for me to get my foot in the door and start paying rent. I fell into working with the Adaptive Sports Center and generating my own client base, teaching kids with various learning difficulties and building a successful student base. I ended up getting my certification for mono-ski and bi-ski instruction."
Adaptive sent John to Europe with Milo Wynne to teach the Uphill Ski Club in Aviemore, Scotland, Belmonte, Italy, and Rohrmoos, Austria. "We would drive the van loaded with gear and teach any adaptive lesson that came through the door. You teach in any condition and any physical or cognitive disability. And then, they would teach us how to après ski."
It was while he was working through Adaptive that he came up with the idea for 24-hour Bridges of the Butte. "I was sitting on the corner on the bench, not to be cliché, on Third and Elk with Jake Baren, and I said to Jake, 'These people sure love to ride their town bikes… Why don't we make them ride for 24 hours and charge them to do it?' And he said, 'Mr. John Hopper, that's a mighty fine idea.' And that's how an event is born. In 2005, Than Acuff was the only one to keep his ass in the saddle that first year. It was great. I didn't really think any one person was going to ride for 24 hours. At that point I realized the event had traction and would have staying power."
John's philosophy has always been that traveling is the best learning palette for anybody, but especially children, so he started researching a way to set up an art and architectural trip for kids to broaden their cultural perspective and to learn to discern between types and architecture in the Czech Republic.
"I went over to set it up and do the research to take the kids to the mountains of Poland, to the Czech and Austrian border, but the economic crash of 2008 basically stopped it in its tracks." He noted that there was an exodus out of town of many of his clients who were new families. However, he put his research to good use, utilizing the knowledge he had gained to identify how to teach on planes, trains and automobiles, "in order to maximize new cultural exposures once the travel stops—in other words, in between destinations.
"I was able to craft a curriculum complementary to the location we were at. For example, we were in the Bahamas doing a lot of marine biology and learning about the indigenous island cultures; when we were in Iceland there was more geology and geography going on and regardless of where we were, there were community service projects going on."
In the Bahamas, his students had to give a presentation to the local children about their cultural background and explain what they had learned of island cultures and mores. They also taught the kids an art project, tie-dying local sand dollars.
"They're humanity-based experiences and that spun off into my comfort of being able to teach overseas last year. We were in the Bahamas, France and Iceland." John took his clients, who were private families who heard about his curriculum through "word of mouth, via the coconut wireless of Crested Butte."
Besides having volunteered at Adaptive Sports, the Wildflower Festival, and Crested Butte Heritage Museum, John is a volunteer KBUT deejay and if you're having Breakfast With the Sandman on Mondays from 8 to 10 a.m., then it's Hopper serving up the music, most likely with his redbone coonhound, Ruby, in the studio with him. "I grew up on southern California radio listening to top 40 hits, AM radio, FM classic rock and all the big-time deejays at the time, and rolling into Crested Butte one of my first questions was 'How do you get on the air?' I was on the air five months after I hit the dirt here, sharing my appreciation for music and public radio."
Musically, John's influences range from Buck Owens, Glen Campbell, and the Oak Ridge Boys to California counter-culture, rock and roll, punk, and Grateful Dead. He's been on the air with KBUT for 18 years.
John is an avid supporter of volunteerism, and he feels that it maintains a community connection. "Whether you're Daddy Warbucks or Joe or Jill Dirtbag, you give of yourself and your time and get down to eye level with the community. Everybody's time is valuable and you let the community know that they're valuable by giving your time. People need to come together and try to serve as a positive force in town. It's not all snowflakes and columbines out there. Living in a small town presents its own unique challenges of survivability, social positives, opportunities and trappings, as well as needing to get your space and get out and change your perspective but if you follow that inner nomad you'll find more snowflakes and columbines than disappointments and mud seasons."
John's still working with kids and his dream job would be to teach abroad anywhere and be able to come back to Crested Butte and work with his local children, to create a curriculum abroad where kids could take a traveling assignment wherever they go—to have kids be inquisitive enough to ask the difficult questions, to dig deeper for understanding and build confidence through experiences.
As a volunteer snow packer of CBMR, John says, "I'm making sure that this historic winter has seized plenty of mileage from my skis. I try to stay out of the hospital and in the classroom and stay healthy, happy and strong, complementary forces together." He feels strongly about everyday volunteerism in this community, "pulling your neighbor's car out of the snow, helping out locals in need, because we're all in this together."