Concerns voiced over practicality
by Mark Reaman
Developers of the proposed Crested Butte Hotel in the Sixth Street Station development are hoping to use a mechanical lift parking system to partially satisfy their town parking requirements. The system would stack cars vertically over one another and horizontally in front of each other to achieve space efficiencies in parking cars.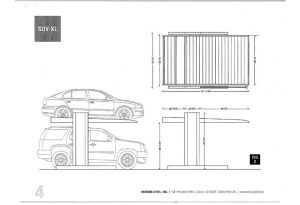 The Town Council will hold a public hearing on possibly allowing such parking mechanisms in the town for places such as hotels. If approved by the council, the parking section of the town zoning code would be changed.
"This would just mean that they could propose the stackable parking," explained Crested Butte building and zoning director Bob Gillie. "It opens it up to discussion. It doesn't automatically approve it. It would allow the BOZAR [Board of Zoning and Architectural Review] to discuss it. A lot of details would have to be worked out with the developers in a complex project."
"Has this system been tested in a place like this?" asked councilman Roland Mason. "Vehicles here have ski racks and have to deal with things like melting snow."
"The manufacturer has said this system is not being used anywhere in Colorado," said Gillie.
The BOZAR heard a presentation from the manufacturer in December and it was clear that trained valets have to operate the system.
"The fact is we have tall cars around here," added councilman Jim Schmidt. "They get taller with bike and ski racks."
"Basically we are saying that the council wants a viable parking system as a policy," said mayor Glenn Michel.
"Everyone wants it to work in this climate," said Gillie. "And no one wants it to be a sham. If it is approved we want it to be used."
The council agreed to consider the proposal and a public hearing will be held at the March 6 Town Council meeting.