Crested Butte Town Clean-Up Day & Electronics Recycle this Saturday
Come out and Butte-ify the town. Volunteers are needed on Saturday May 13 from 9 a.m. to noon. All volunteers will receive a free lunch courtesy of Kay and Heli at Donita's Cantina. Meet at Crested Butte Town Hall at 9 a.m. Bring work gloves, water, and tunes. Town residents who volunteer for the cleanup will receive one free voucher per household to drop off of one level pick-up load of trash (three yards) at the Waste Management transfer station in Riverland—a $75 value for free. This year there will be an electronics recycle at the Public Works yard, 800 Butte Avenue, from 9 a.m. to noon. Items can be recycled for a fee. More information is available at www.townofcrestedbutte.com, or call 349-5338 to speak with Jessie.
Library closing Friday for training
The Crested Butte Library and the Gunnison Library will both be closed until 1 p.m. on Friday, May 12 so that all staff can attend training. Due to the closure, there will be no Big Kid Story Time on Friday, May 12. Sorry for the inconvenience! For more information call 970-349-6535 or email lisa@gunnisoncountylibraries.org.
Runway Fashion Show at Gunnison Arts Center
The Gunnison Arts Center's annual Runway Fashion Show returns with a bang with this year's theme of "Out of this World." This fundraiser will be Saturday, May 20 at 6 p.m. Tickets are $15 for adults and $12 for kids 12 and under. In this event, fashion enthusiasts and artists have the opportunity to create fashion designs and two-dimensional wall art on display in the Main Gallery all May. Each outfit will be worn by models and strutted down the runway along with other supporting businesses designs. This avant-garde fashion show will be out of this world. Call for more information at (970) 641-4029.
Ladies Bike Night at the library
The Crested Butte Library is hosting Backcountry Bike Academy's Ladies Bike Tech Night, Thursday May 11 at 5:30 p.m. Local bike maintenance experts will be at the library to show you how to clean and maintain your bike and fix a broken chain or a flat tire as well as other common trail fixes. This event is free and open to the public (technically, only the female public). So ladies, grab your bikes and head to the library to learn some essential bike tips and tricks. For more information call (970) 349-6535 or email jen@gunnisoncountylibraries.org.
Gardeners and chicken coopers can "Grow a Row" for the hungry with Backyard Harvest
Mountain Roots and Gunnison Country Food Pantry invite community members with home gardens and urban chicken coops to participate in "Backyard Harvest," an innovative food rescue and donation program. From July through October, fresh food donations are collected each week, combined, and distributed to families in need throughout Gunnison Valley. Mountain Roots has resources, educators, and free organic seeds to help get your garden started. No donation is too small. For more details and sign-up information, call April at (480) 332-9937 or email april@mountainrootsfoodproject.org.
Birthdays:
May 11- Russ Radziej, Carol Garcia, Bill Folger, Jim Brophy, Codie Aljets, Moses Wright
May 12- Annie Romero, Dave McGuire, David Rothman, Trenton Young, John Smith
May 13- William Cavanaugh, Jeff Engelstad, Anne Krill, Maria Fitzgerald, Betsy Wiebe, Virginia Nicolaisen
May 14- Allen Bailey, Caillen Dowell, Linda Powers, Rex Hudson, Susan Basso, Penelope Kuehlhorn, Hanuman Enright, Cody Fries
May 15-Bobby Blain, William Dujardin, Jay Harris
May 16- Patrick Seifert, Will Sands, Kevin VanHorn, Bob Starr
May 17- Joy Cunningham, Caroline Fairbanks, Jim "Whitey" White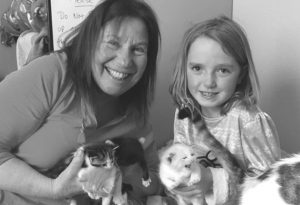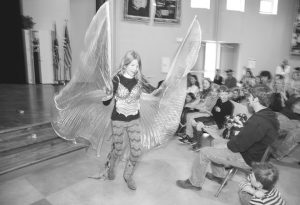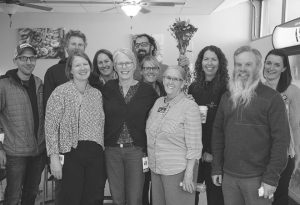 Cameo Question: What stays on during off season?