If you need a laugh, go see this play
by Dawne Belloise
There's really only one thing you need to know about this play: It's a non-stop laugh fest and if you see only one play this year, make this the one.
The production itself is top-notch, from the staging to the set and most notably, the acting, and The 39 Steps is brilliant, in every aspect. The timing and choreography, the innovative and slapstick use of props, costumes, lighting and sound effects are phenomenal. The four actors hit their stride with precision, all under the expert direction of Sam Robards.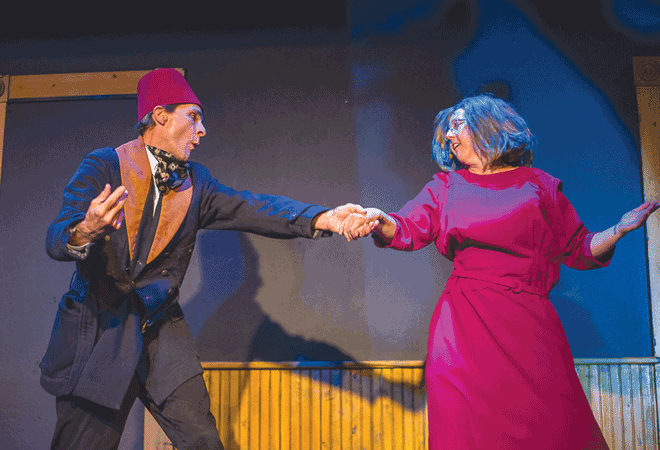 The 39 Steps is an award-winning comedic play, involving murder, espionage, romance and fast action. It was adapted from the 1915 novel by John Buchan and the 1935 film of the same name by Alfred Hitchcock. In 2005, playwright Patrick Barlow rewrote the script, keeping most of the original concepts from the Hitchcock film, but flavoring it with hilarity. The script is full of word puns that refer to titles of other Alfred Hitchcock films, like Strangers on a Train, Rear Window, Psycho, Vertigo and North by Northwest. It also incorporates music excerpts from other Hitchcock films as well as a BBC detective series called Paul Temple, written by Francis Durbridge. It has won Olivier, Helpmann, Moliere, Drama Desk and Tony Awards.
The story starts with Richard Hannay (Brian McLain), a Canadian visitor to London. While attending a show, where the amazing Mr. Memory (Harmony Dawson) spews precise answers to the audience's obscure questions, he encounters Annabella Smith (Kristen Joyce), who claims she's being pursued by bloodthirsty secret agents (David Russell/Harmony Dawson).
Hannay agrees to hide Annabella in his flat, but things turn murderous and Hannay must flee. To clear his name, he must break the code and figure out what the 39 steps are that Annabella spoke of. Time is of the essence as the information is scheduled to leave the country and be delivered into enemy hands. The limited information that Hannay has is that it has something to do with a man in a small town in Scotland, and a man with half his pinky finger missing.
In his flight for knowledge and to elude the police, spies, villains and would-be murderers, Hannay must ride trains, drive, and go on foot through treacherous weather and terrain. Just as the police are about to corner Hannay on a train, he enters a compartment where the sole occupant is a woman named Pamela (Kristen Joyce), and grabs her in an embrace to distract the cops, but the feisty Pamela snitches him out and a chase ensues. Hannay has a harrowing escape.
Afterwards, Hannay winds up at a farm and spends the night with a farmer (Harmony Dawson) and his young wife (Kristen Joyce). When the police arrive the next morning searching for Hannay, the farmer is about to turn him in for the reward but the wife helps Hannay escape, dressed in the farmer's Sunday coat with a hymn book in the pocket.
Hannay later finds the mansion Annabella describes and a loud, festive dance party is going on. He tells his story to the affluent and seemingly sympathetic Professor Jordan (David Russell), when it's revealed that Jordon is missing half his pinky finger. Hannay escapes a mortal bullet wound from Jordan when the lead strikes the hymnbook in the borrowed farmer's coat pocket.
Meanwhile, the police refuse to believe Hannay's story of espionage and impending disaster should the secret 39 steps leave the country. They arrest him for the murder of Annabella, but Hannay escapes, only to find himself at a political campaign as the key speaker, where Pamela is also in attendance, recognizes him and calls the police again. He is arrested and handcuffed to Pamela to ensure that he doesn't escape; however, through circumstances, he's forced to take her along in his latest skedaddle. They find themselves at a Scottish inn, still handcuffed together and posing as an eloped married couple, with the keeper's giddy wife charmingly intrusive and protective of them when the police come inquiring about visitors. In a twist, the police are exposed as plotting and treacherous villains and Pamela finally believes Hannay's story.
Pamela and Hannay discover that Jordon is going to the London Palladium to retrieve the 39 steps and leave the country with it. As the performer, Mr. Memory, is introduced, Hannay realizes that the spies are using Mr. Memory to smuggle the secrets out without a paper trail. As the police arrest Hannay, he shouts out one last question to Mr. Memory, "What are the 39 steps?" Mr. Memory robotically answers, "The Thirty-Nine Steps is an organization of spies, collecting information on behalf of the foreign office of …." Jordan shoots him but the dying Mr. Memory recites the information stored in his brain. If you want to know exactly what the 39 steps are and what they're for, you're going to have to go to the play.
Although the synopsis sounds somewhat like a serious story line, don't be fooled—it's dark and twisted and uproarious. There's so much more to the hilarity and the acting than will be exposed in this review because everyone hates a spoiler.
With the exception of the character of Richard Hannay, played by Brian McLain with the perfect amount of intriguing snark and fop, all the characters are played by the other three actors who double in all the other roles. But Hannay, as director Sam Robards says, is an especially challenging role. He knows, since he played it on Broadway for six months in 2008. Kristen Joyce plays all three romantic female roles of Annabella Schmidt, Pamela and Margaret, the farmer's wife. Her demeanor moves from sensuous and refined to a scared, awkward farm girl with a crush. The two "clowns," who play nearly all the other roles of Scottish innkeepers, spies, murderous agents, constables, Mr. Memory, the emcee of the Palladium, and even inanimate objects are David Russell and Harmony Dawson. The two switch costumes and characters throughout the show with dizzying speed and gymnastics, sometimes contorting their costumes to fit the roles seemingly spontaneously on stage while in a different character. Individually, each of the four actors puts out an amazing performance, one of the best seen in the Crested Butte Mountain Theatre, but collectively, as a foursome engaged in the frenetic antics of a quirky Hitchcock-based play, they're remarkably powerful.
The 39 Steps is directed by local stage and screen actor Sam Robards who deftly moves his four actors through the difficult dance of more than 120 different parts.
"I chose this play because I know it very well," he says of his six-month Broadway run as Hannay. The storyline doesn't stray, all the scenes in the movie are in the play, although with only four actors, and the play was obviously recrafted from the film into a comedy. In those days in England, Robards explains, there was no work in England so the character Richard Hannay probably went to Canada for work but found it was scarce there as well, and the opening scene monologue has Hannay telling about it. England was losing its empire, so in the historical context, Hannay's at his lowest point at the beginning of the play. Thematically for Hannay, he's someone who never found love in his life, just like Pamela. Together, Pamela and Hannay save the country and he gets the girl and the girl gets the guy.
Robards emphatically feels that the four local actors are amazing, saying, "It's hard for people to do this [acting] for a living, the conceit of the play is that there are no ulterior motives going on. It's a hard play, a tricky play. Each of the actors in this production has been spectacular. It's a lot, each part is a hard part. Hannay is a beast of a part."
Robards notes that community theatre should be "about getting out of your comfort zone and doing something that scares you a little, the crew, the technical part, the actors, it's what community theater is about. It's about everyone pitching in to make a kick-ass production. It's not just the actors, everyone has pitched in."
And this particular production, he says, "is a lot of fun and easy on the mind. We're not getting into deep thoughts, we're just having a good time. You're watching your friends and neighbors onstage, backstage and offstage. It's about doing something for the community—that's the whole point. Theatre is only limited by your imagination. If you can think it, you can find a way to do it."
Many stage hands, managers, costumers, set builders and designers, techies, lighting and sound worked to make this production perfect, many kudos to Scott Little (tech director), Patricia Seeberg (stage manager), Hali Jones (assistant stage manager), Alissa Laney, Susan Sweetra and Bailey Valian (stage hands/running crew), Chase Rockwell (technical operator), and Kathleen Mary (assistant director).
This spoof thriller is just what we need in these times. It's like ice cream on a hot summer day. Go see it.
Doors at the Mallardi Cabaret, at 2nd Street and Elk Avenue open at 7 p.m., curtain at 7:30 p.m. Get tickets for this last weekend of performances, Thursday, August 10 through Saturday, August 12, by calling the Crested Butte Mountain Theatre at (970) 349-0366 or online at cbmountaintheatre.org.