Finding Community 
by Dawne Belloise
Alec Lindeman is sitting behind a desk at the Crested Butte Mountain Theatre fielding phone calls from people who want tickets for the sold-out production of The 39 Steps. He handles the disappointed would-be attendees with kindness and tact, assuring them that they'll be on a waiting list, although he can't guarantee a ticket opening up. There was a time, however, when Alec admittedly was heading down a more reckless path.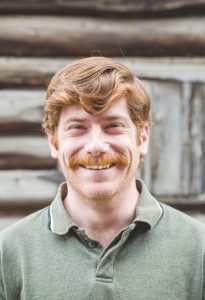 "I have a feeling that I was a shotgun-wedding baby," he laughs of his beginnings in Maynard, Mass. "My parents were fresh out of college."
His dad was working at CompuServe and his mother was working for AT&T. Alec's sister came along two years later, and his parents divorced when he was five years old. "We didn't have a lot of money for sure and we moved around a lot," he says of his life with his mom and spending summers in Columbus, Ohio, with his dad. Alec played soccer and took up the sax in band throughout his school years.
He started working at a Phillips Paint and wall coverings store at the age of 14, before he even began high school. "Initially they paid me $5 a go to cut up all their boxes and put them in the Dumpster. It was a weekend deal. Then I would go right across the street to the 5 & 10 store and spend it all on candy," he recalls.
He graduated from high school in 2003 but recognized, "I was dating a girl that mom didn't like, so I wasn't technically living at home. I think the conversation I had with my mom was, 'That girl isn't allowed to be around here,' so I left," he said.
"Life went super south for me after that. I had gotten kicked out of school, that girl ended up being not so true, and I was sleeping on a couch at a friend's house. I was also being fairly overdramatic because my mom was actually right down the street, so I didn't have to sleep on that couch but I'm stubborn."
While most of Alec's friends were applying to the University of Massachusetts, he had taken a laissez-faire attitude. "I didn't even apply to schools, I just let it happen, so I went to Middlesex Community College in Bedford, Mass.," he says. "The program track was to get you through general education, however, I was officially dismissed because of really bad grades. I was all over the place at the time. I had no direction. Like I said, I was heading down a reckless path. I was working full-time at various jobs as well. As unsavory as my decisions might have been at that time, it led me to Crested Butte. It culminated in being where I am. That's how I make peace with it," he says and feels that he made the right decisions based on the outcome.
Alec spent a year at Columbus Community College, taking general courses before transferring back to UMass Amherst, from which he graduated in 2010. "I wasn't the most diligent student. It took me some time," he confesses of his lack of commitment. But he studied abroad, spending five months in Bangladesh working with an NGO (non-governmental organization) that collected information for reports and publications.
"They focused specifically on the human rights of indigenous people in that sub-continent area. Some of these tribes are nomadic, they travel through and they may look homeless, but they're not, they're just nomadic. I was an assistant editor and working on a research paper on NGO, which was my thesis of sorts. I liked it a lot. Dhaka reminded me a bit of what I imagined NYC to be like in during the ward politics, back in the early 1800s, because there would be streets where electrical lines were literally hanging to the floor since there's no effective policing of how people build things. There were big problems with new buildings collapsing because of shoddy construction. It's a wild place, and they're still trying to figure out a lot of things."
When Alec arrived back in America, he returned to Maynard. All his friends had graduated a year or two prior and he decided that Maynard was not where he wanted to be. There never seemed to be anything of interest going on and he was ready for a change.
"It's a small town without all the amenities. I never liked it and I couldn't wait to leave. I had posted to Facebook asking where I should move to," he says. "I had a really good friend from college, Jesse Blumenthal, and he answered that I should come out to Crested Butte. I had no idea where that was and I thought, why would I do that? I had never skied a day in my life because I felt that was a rich person's sport."
But Jesse convinced Alec that there was more to Crested Butte than just skiing. Alec stuffed his backpack and headed west to Crested Butte, sight unseen, with his dog, Maya.
"When I got here in 2010 it was the exact opposite of what it is now. You could get a room easily, there were lots of places to live in town but you couldn't get a job even if your brother owned the place. It was really rough. Nobody had work and if they did they had a wait list of friends of friends of friends.
"My first job was working for Pizza Hut in Gunnison as their full-time day cook for $7.36 an hour. It was appalling. I hitchhiked down from Crested Butte because it was the only way I could get there in time. The buses weren't running as much. My first job in town was at the Majestic Theatre and I think the Druckers hired me out of pity. I worked there for three years. I was living in Marcellina and after it was condemned by the flooding, I was homeless and couch surfing."
Alec was then hired at the Elevation Hotel, where they provided employee housing before he went to work at the Elk Mountain Lodge a year later and found downtown housing. This past spring, he got the job at the Crested Butte Mountain Theatre as operations manager, along with his second job at Altitude Painting.
It was totally by chance then, Alec tells, of landing his first acting performance with Crested Butte Mountain Theatre in last year's production of Pippin. Only on stage once in high school as a small bit part in My Fair Lady, he hit the Mallardi Cabaret stage last year as the lead character, Pippin.
"It was scary. I went to the audition because I thought it would be fun to do a play. I had volunteered to bartend for the theatre a couple of times and I was randomly the stage manager for a play. On a whim, I went to the audition and got the lead. I didn't know if I wanted it and I wasn't hoping for it. I was working full-time. I had never acted, much less been in a musical, and there was dancing, which thankfully, I didn't have to do much. I was nervous when I got the part, but it was funny, I didn't have any stage fright and I was singing above my range for sure."
With so much opportunity to be a part of town through volunteerism, Alec turned his love of music into joining KBUT as deejay Bobby Digital, Mondays 6:30 to 8:30 p.m.
"I went to a meeting and the rest is history. I've been doing my radio show, Soul System, for six years." His playlist boasts a rhythm and blues genre but he travels all over the map with it. "I mix it up a bit, mess around with things, and be creative. I started listening to Otis Redding and it just spiraled from there.
"I was listening to East Coast hard-core metal all through high school but what turned me was Otis Redding's Try a Little Tenderness. It embodies everything I think of as a perfect soul song. The message is a positive message and that's a really key component for a soul song. Some are very sad songs, but they make you feel good. Some of the electronic music today that they call R&B harkens back to Isley Brothers, Aaron Neville and back to the sounds of the original R&B. You can hear the musical themes that came from this stuff. The ideal song is one that's got that soul while trying to tell a story."
Alec was also a volunteer at the Crested Butte Heritage Museum, which is where he met his girlfriend, Nel Burkett. "I really liked working there. I fell in love with the history of the town. I had been living here for six years but the only community I had was my friends. Working at the museum really connected me to the concept of what the Crested Butte community is. I finally got to shake hands with some old timers and meet new timers. Glo [Cunningham] was just great and Mary Haskell, who was running the store at the museum at the time, they made it a very nice place for me to be."
Part of being a local and absorbing the town heritage is learning the traditional dance. "Dancing the polka with Nel is one of my favorite things. It's a blast. Three years ago, I went to the Memorial Day events, which I consider the real Crested Butte. It definitely embodies all of the stuff that I really like about this town. So does Vinotok."
It's easy to become enamored of this community and understand its clan devotion by experiencing the spirit that is quintessentially Buttian… Vinotok, and it was one of Alec's first encounters with the collective.
"I showed up at the Rainbow Park meeting and it was that first taste of community. I've been a flag bearer every year since except last year because I was working so much I couldn't be at the meetings or devote a lot of time. It's such an important thing, it's such a big operation and they really need people to be committed. When I couldn't commit, I volunteered when I could, doing whatever they needed me to do, and I'll do it again this year."
Alec has found his place, here among the peaks, the vinyl, the stage and the friends. He feels, "I think Crested Butte would have been just a ski town with bars for me if it hadn't been for KBUT and Vinotok initially and then later the museum and the Mountain Theatre, and that connection to community is what makes me love this place. I like the small-town vibe. It's nice to finally find a home."