Life Reflecting Life 
By Dawne Belloise
Joe Bob Merritt describes himself as a materialist, but in actuality he is indefinable, shedding any parameters of description. Even though as an artist he works in materials of very solid matter—metal, wood, stone and paint—and can be called a sculptor, his ideologies pertaining to life are light and ethereal.
Joe Bob's lineage is rich with history and he's gone deep into his heritage, following both his paternal and maternal roots to their ancient origins.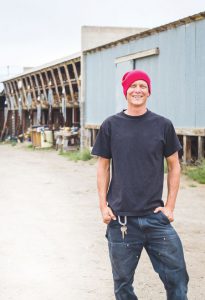 He was born and raised in Alice, Texas, the coastal plains and brush country south of San Antonio. He tells the story of his great-great-great-great grandfather, who was the foreman on Spade Ranch, the first ranch in the U.S. to install a barbed wire fence, which had just been invented.
The ranch was enormous, spanning more than 400,000 acres. "They were running herds of cattle off that ranch to San Diego, California, where they sold them, bringing gold back on stage lines on the Santa Fe Trail," Joe Bob says. He discovered these facts through his great-grandfather's letters that tell of cattle being lost to Ute Indians, Mexicans and rustlers and of the cowboys running huge herds of cattle across Apache lands through Santa Fe and Tucson.
Joe Bob's questions began to form for him while he was a child spending summers on the East River in Almont. His first year in the Gunnison Valley was 1972, after his grandmother and aunt bought a house on East River Lane for their family reunions. Joe Bob came every summer since the age of three, and he knew this valley was his home.
"I would come up here to the green summer mountain lushness, the afternoon thunderstorms and the coolness. When I was five years old, I built a little stone circle at the edge of the East River. I had a little pocketknife that I had stolen from my father and I stuck it in the ground inside the circle and I said 'This is my home,'" he remembers clearly.
"In south Texas, the 1960s never happened," says the curious wild child growing up in a very conservative place and escaping to summer freedom during the height of the hippie culture in Crested Butte. "I'm coming up to Crested Butte, eating at the Grubstake, going to the Princess Theatre, and I remember the dirt streets and the falling-down houses. We'd take day trips every day, going up the Slate River to fish and to Gothic to hang out. I'm a young child in Texas in a culture of football and church and conservative western, and I look around at the people in Crested Butte who look and act a lot different and I want to be like them.
"Not only did I fall in love with the forces of nature and atmosphere but the spirit and quality of the people that I met as a child," he fondly remembers the inspiration of the 1972 Arts Festival, the leatherworkers, glassblowers, metal, copper and jewelry makers, "making everything right there on site. I remember thinking I want to be like them."
But Joe Bob's gypsy spirit most likely comes from his mother's lineage, the Shimer family, who helped settle the Pennsylvania Dutch country. "My maternal line hailed from four brothers who came over to America from the Rhine River Valley with William Penn, after the 100 Years' War decimated the agriculture and led to a refugee crisis. William Penn needed bodies to colonize his new land (hence Pennsylvania) and promised them riches, land and freedom," he explains.
Joe Bob researched even further back. "From the time I was a small child," he says, "I was really curious as to what's going on here in terms of who I am as an individual, as a culture, and the meaning of life. Going back into these ancestral stories, I've realized that I'm the descendant of displaced peoples."
Through the one line of his ancestors, the Shimers, Joe Bob discovered before the Rhine River Valley, they were previously displaced from the Khazarian Steppes, between the Black and Caspian Seas north of the Caucasus Mountains.
He explains, "Prior to being converted to Protestant, they were Catholics, and prior to that, they were Khazarian Ashkenazi Jews, and prior to Judaism, they were a steppe nomad, shamanic horse culture." He weaves a rich tapestry of migration that harkens back to the Indo-European Steppe, or current Russia. His wildness and creativity comes from the horse nomads, who were also artisans, metalsmiths working in iron and gold, he says.
"I am a materialist," he describes himself and offers the origins of the word. "The word 'matter' is the root of the word, and 'matter' etymologically is the same word as the word 'mother.' The word 'mother' and 'matter' are the same word in the (lost) proto-Indo-European language. So the mother is the matter and the mother matters, so the mother is mattering, and to me that means I make shrines in adoration of the holy 'matter,' out of the body of the holy 'matter' herself. This is old Indo-European shamanic knowledge."
Growing up in south Texas afforded Joe Bob the opportunity to learn how to work, from his uncles who were ranchers to the oil field people, since his family had a machine shop repairing and manufacturing oil field equipment.
"So I learned all sorts of things, about making things, taking care of things, and about the land," he says. His undergraduate degree is from Texas A&M, and he has a master's degree in architecture from Southern California Institute of Architecture (SCI-ARC). He's designed more than 100 homes in the Gunnison valley.
"I knew I wanted to be an artist and the only path that I could see was to be an architect. It seemed like a good path because I love building things, making space and facilitating activities and planning events. These are acts of architecture."
Joe Bob also knew what he wanted, harkening back to his early childhood. "I knew I loved the mountains," he says, so when family friend Carl Fite decided to move his general contracting business to Gunnison in 1997, Joe Bob saw a way to return home. The two started Gunnison County Millworks, working in the reclaimed wood business. "We were tearing down cotton gins, big factory buildings, and harvesting the timbers, then trucking them up to Gunnison and milling them into casework, cabinets, floors, doors, and trim, all out of this 100-year-old heart pine."
The materials were used in custom homes they were building, mostly in Crested Butte. In the evenings he was moonlighting, drafting for Bob Williams, and through Bob in 1999 he met John and Karen Stock and started High Mountain Concepts, a design and contract home building company.
Through what Joe Bob calls, "the mysterious association of individuals in this valley," he says he's been afforded the opportunity to express his art and contribute to the development of the culture here. "I don't see myself anywhere else. I see this as the base camp," he says as he forges into new territory, getting out of the valley with his love, artist Amanda Sage, to teach visionary art workshops in and out of the country and Gunnison.
Joe Bob is also vice president of the board of directors for the Crested Butte Arts Festival and Grump Master for the past eight years, creating that beloved Vinotok effigy that burns every year for the wellbeing of the community.
In 2001, he struck out on his own, creating Sol Space and Light, a design, planning and construction company, where one of his more interesting projects was designing and building the Gunnison Valley Observatory, as well as some extraordinary homes.
He owns the old Mauer lumberyard at the end of South Main Street in Gunnison, where he lives, works and creates. "I moved into it and began to fix all the broken parts and in so doing I started a small salvage operation. I've always loved relics and wrecked things. I love repairing old things and salvaging broken parts, making them into expressions of durability and beauty. This place has been a living work of architecture, an organic, growing, living, sculptural artifact that facilitates teaching and learning," he says of the space that's home to a somatic art studio, and a place for yoga, dance, martial arts, meditation, and massage.
It's also a place of trade. "We sell things there, raw materials and up-cycled art, both functional and fine. It's a material arts workshop, a wood and metal shop, as well."
Joe Bob says, "You don't have to find all the answers in life. You don't have to figure it all out. Figuring just one thing out resolves it and makes it so you're no longer on the seeker's path and you enter a path of service. I consider myself to be in service as an artist to the community in the sense that I inform the world in a beautiful way. And in the other sense, more of a hidden sense, it's a type of remembering the holy mother herself. We're talking about where we're from. We inform the world, we speak into the infinite field of potentiality. And that's why I make things of beauty as well."