This week people will travel to Crested Butte from across the country to celebrate the life of legendary Crested Butte Chronicle & Pilot editor Lee Ervin.
Lee edited Crested Butte's newspaper from the '70s to the '90s, but he wasn't an ordinary editor or reporter or pundit. Lee was a poet, a philosopher and a protector of Crested Butte's collective spirit. He formed a trust and connection with the community that helped guide it, celebrate it, and heal it for 20 years.
When he left Crested Butte, Lee moved to a quiet piece of land in Nambé, New Mexico. Despite his seclusion, people from all backgrounds and industries and professions traveled to New Mexico seeking his counsel or comfort because Lee was a natural therapist, teacher and a brilliant analyst with an astounding ability to see perspectives and solutions that the rest of us missed.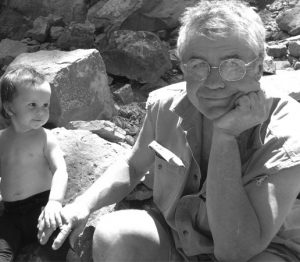 Lee was an award-winning writer, a Vietnam veteran, a carpenter, a bartender, a teacher, a gardener, a musician, an athlete, a father, a husband, a brother, a son, a grandfather and a friend. Those who wandered past his adobe home in Nambé had no idea that the guy they saw raking leaves in a ripped t-shirt and sandals had a master's degree in special education, and could speak to them with knowledge and alacrity about nuclear fission, shamanism, or the Butler Bulldogs basketball team.
In 1994 Lee published a collection of his essays called Crossings: A little book of essays, and he begins the book with this quote from the 13th century Persian poet Rumi:
 "Beyond ideas of wrong doing and right doing there is a field. I'll meet you there." 
This was the essence of Lee Ervin. Lee didn't care what your occupation or job title was. He didn't care about the color of your skin or how old or young you were. He didn't care if you called yourself a Democrat or a Republican. He cared about the good you were trying to do in the world, and he loved to help you see that good and amplify it.
Lee was a seeker of truth and was unable to accept "conventional wisdom." He refused to succumb to the laziness of today's journalistic echo chamber where media outlets repeat what they see in other media outlets and call it "fact."
Right now you're reading a real newspaper. The stories in this paper are written by members of the Crested Butte community, not by a newswire service based out of Denver or Dallas or D.C. The editorials in this newspaper are signed by the people who write them.
That was Lee's way.
Lee believed it was the responsibility of a journalist to write with integrity and courage so you can defend your work to the people you are writing about when you run into them at the post office or the bar. He also believed that when you make a mistake, you should correct it and have the courage to put your name on that as well.
One of the reasons the Gunnison Valley is as special as it is today is that it has real newspapers at both ends of the valley, and they're both edited or published by accomplished journalists who learned from Lee Ervin. Through these pages, his legacy continues to make the upper East River valley a better place than most.
Whether you knew Lee Ervin personally, or whether you simply love the community that he helped to chronicle & pilot for so many years, we're all better for his incredible mind and spirit.
To my friend Lee: Our lives have been blessed by your wisdom and laughter. We will carry your torch and your teachings and your love with us forever.
Beyond ideas of wrong doing and right doing there is a field, my friend. We'll meet you there.
—Eddie Stern
(Stern is a former editor of the Crested Butte News. A memorial ceremony for Lee will take place this Saturday at noon at the cemetery and a party will be held at 2 p.m. at Rainbow Park.)