by Dawne Belloise
As you walk into the Crested Butte Marshal's Office you're immediately drawn to a large glass jar of peppermint patties and greeted by a broad smile beaming from office manager Kayce Barnett. It's a friendly, non-intimidating atmosphere, keeping in tune with the Crested Butte flavor.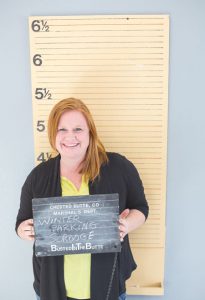 Kayce is the first contact many people have when the need arises to seek out the law enforcement services. Examples: A young tourist comes in asking if anyone found his wallet since he now has no ID to get on the plane in three days. A local arrives with a wallet found in the snow, all cash and cards intact. A concerned couple, confused as to which side of the street they were supposed to park on, asks for clarification about why they received a ticket. Kayce answers questions for people who call in with everything from car accident reports to queries about fingerprinting.
"It's one extreme or another," Kayce smiles. "It's either nothing, calm and quiet, or it's chaotic." She greets them all with an effervescence that is probably uncommon in cities. "She's our glue," one marshal says of Kayce's ability to hold everything together for the team. And she's the author of what is definitely one of the most popular features in the Crested Butte News, Busted in the Butte, the weekly local police report. Her sense of humor keeps it in the comically entertaining Buttian style when appropriate, but emphasizes seriousness when needed.
And why marshals and not police? "The difference between a marshal and a police officer is only a term," Kayce explains. "Marshals are only in historic towns with fewer than 1,500 population. There's around 14 towns in Colorado with marshals instead of police."
Kayce's father was in law enforcement in the FBI, and her mom is Kathy Barnett, aka Lou, aka Lew, who is a long-time local in Crested Butte. Kayce grew up in Cincinnati, and has one younger sister. "My parents were very involved with our daily lives and our extracurricular activity. I played soccer for years, from the age of five through about 15. Then I played JV softball for a couple of years," she notes. Her childhood was peppered with the normal parental rules and boundaries that she says, "We knew not to break. When I was 15, my parents had a law enforcement party to go to and a boy I knew drove me home from work." She was a hostess at a restaurant. Fortunately, no one was hurt when he wrecked the car but, she grins, "The EMTs had to call my dad at this police party to come get me."
Kayce's mom came to Crested Butte after a 1975 adventure with friends. Her mom loved it and stayed for a year, and later  brought her family back to the area. Kayce was ten years old when she first visited and they returned two years later.
"We always came in August and we would camp," she says. "I never saw the winter and that was one of my fears when I was thinking about moving out here. I wasn't raised in the snow or familiar with it. It's not like you took driving classes to learn to drive in the snow in Ohio. School closed down a lot in Cincinnati for snow days, even if they got just a couple of inches—unlike here, where they don't close for even a couple of feet. I had no inkling that I'd be moving out here one day, because from the time I was in my teens, I swore I was moving to the south," for the small town feel.
Kayce had never seen real mountains before. "We had the Smokey Mountains to visit but that was the extent of the mountains that I had seen until I came out here. I thought it was absolutely gorgeous," she says. She was hooked after that.
She went off to college at Eastern Kentucky University, where she majored in social work with a minor in business, graduating in 2006. Afterward, she moved to Pontiac, Michigan and was hired to do investigative child abuse and neglect cases. After three years, she left for Memphis, Tennessee for the same kind of work, but she soon realized that her heart just wasn't into that sort of a career. "I wasn't happy with my career path. There were times I just wanted to go off, seeing children with a negligent parent. I had kids who were sexually abused, with broken bones, and it was very difficult seeing how the non-offending parent wasn't protecting their child and making excuses for the abusive party. It wasn't something I enjoyed doing."
Kayce's mom, Lew, had moved full-time to Crested Butte in 2003 and by 2012, Kayce was ready for a change altogether, in both career and a home. "Mom asked me to at least give it a try, live here for a year," and Kayce discovered that she absolutely loved Crested Butte, winter and all. She landed a job at the Gunnison Sheriff's Office as a detention officer and because it's a smaller jail, that position came with many hats.
"In this jail, the detention officer does everything from booking in arrestees, fingerprinting, and cell searches to cooking for them and doing their laundry—basically, whatever needs to be done."
After about a year and a half, when the position of office manager became available at the Crested Butte Marshal's Office, Kayce applied for the position. Tommy Martin hired her in 2014. "They're the best group of people to work for," says Kayce. "What I like about this job, and the best part, is the people I work with, the seven marshals, who I truly respect and enjoy working with each day. I also enjoy the versatility of this job. There are so many aspects to it and so many situations to encounter."
As an animal advocate, Kayce has volunteered with the Gunnison Valley Animal Welfare League (GVAWL) since 2014. "It started out as fostering but I was so worried that one of my foster dogs was going to get adopted while I was out, as one of them did and I didn't get to say goodbye," she laments.
So she started volunteering during adoption hours, opening and closing the shelter, completing the adoptions and accepting strays. And that's how she met her boyfriend, Chris Steele. Chris was working for FedEx when he went to the shelter to meet one of their dogs. Kayce approved the adoption. Six months later she jokes that he adopted her as well.
Kayce has scaled back her volunteerism to handle Facebook entries, updating the Adopt a Pet page and helping with announcements and postings. "I'm considered a foster but I'm a foster fail," she grins, "because the dogs I fostered I actually wound up adopting." Remi and Calvin are her foster fails and also Cooper, who was the top dog of 2017, which means he raised the most money for the shelter in a dollar-a-vote campaign.
As an off-beat fun project, Kayce started the Gunnison Karma Rocks on Facebook, a nationwide project intended to spread joy and smiles through painted rocks left in random places for others to find and enjoy. When people find a rock, they can post it on the Facebook page she set up for Gunnison Karma Rocks. Some leave uplifting testimonials, stories of having a rough day only to find one of the rocks, which brightened their day. Kayce says the joy is reciprocal between rock painter and rock finder.
The senior center has started painting rocks once a month to distribute and recently a Gunnison fifth grade class painted and hid rocks, sharing the photos of their project on Facebook. Most cities have their own page for their happy rocks, like Montrose Rocks. Kayce points out that the project is nationwide with cities and towns individualizing their own pages and rocks.
"Tourists will find rocks here, take them home and hide them in their own town. You put the name of the group on the back of the rock so they'll know what city it came from," Kayce says. Finders then post it on that group's Facebook page.
Kayce is quite at home in the Gunnison Valley, and although she doesn't ski, she enjoys the outdoors with her pooches. She's also thrilled that for the first time since high school she's near her family again, even though her mom is now a snowbird with longtime companion, favorite local bartender and former hotdog man Ted Fuhrmann, wintering in Florida for six months but returning for the summer and fall to Tincup.
Kayce says, "What also keeps me here is the beauty of the valley, the small town vibe and the people I get to work with every day. I don't ever see myself living anywhere but Colorado."