by Dawne Belloise
Tim Skafidas loves being out in the elements, in his mountains, and he's definitely not a beach boy, he smiles wryly, "because I get bored, and there's sand everywhere." When he was a child growing up in Concord, New Hampshire, Tim claims, his mom could never get him inside. "I was really into climbing huge pine trees, 150 feet up, and I loved to hike and bike. I loved snow, too."
But at 12 he developed chronic asthma, to the point that he had to be rushed to the hospital after turning blue. New Hampshire has the most species of trees in the United States and with its humidity, pollen, mold, dust and ragweed, Tim was essentially allergic to New England. His asthma limited his ability to do the outdoor activities he once loved and because of his lack of exercise, he gained an uncomfortable amount of weight in his teenage years.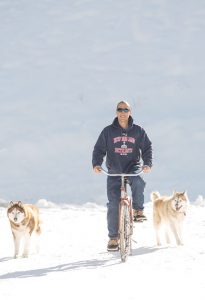 "I'd come back from a hike and be wheezing from everything I was allergic to, so outdoor exercise just made me worse." He was upwards of 200 pounds by the time he was 19 (he quickly points out that he's a muscular 160 pounds today). "I never grew out of the asthma until I moved to Colorado's dry climate," he says of his adopted home.
When he graduated from high school in 1988, Tim was working at a printing press factory that he felt was negatively affecting his health. "The pressmen were dying from cancer. There were a lot of different chemicals, which were making me sicker, and that's when I knew I wanted to go to college," but Tim also realized that he really didn't want anything to do with school. Meanwhile, he and a friend began weight training and that began to help alleviate his asthma symptoms.
"The magic bullet happened at a fitness center, where I really started to explore a wider variety of fitness activities like swimming, racket ball, weights and mountain biking," he explains. "The weight training was getting me stronger so I could start to do more endurance-based activities."
Tim decided to enroll in a class at a community college in 1990 and then transferred to Plymouth State, where he was torn between forestry and health sciences. Since the college didn't have a degree in physiology, which is what he had decided on, Tim attended for only a year, transferring to Colorado State University (CSU) in Fort Collins because they had an excellent exercise science program.
He had grown up with his buddy, Crested Butte local Craig Burbank. Tim grins, "Craig's voice was always in the back of my head because he was always calling, leaving messages that said, 'Hey Scruff, you gotta check out Crested Butte, you're gonna love it, the skiing, biking, the hiking, the friendly people.' I had a little bit of time before I started at CSU so I drove to Crested Butte and loved it so much that I almost bagged going to school but my mom told me that if I stayed in Crested Butte I'd never accomplish getting my degree and I'd live there forever, and she was right, so I stuck with my plan."
Tim wound up camping around Crested Butte during his summers off from college, using it as base camp while pursuing the fourteeners around the state. He graduated in December 1997 with a bachelor of science degree in exercise science.
Tim interned in a physical therapy office in Steamboat Springs, and moved to Crested Butte the following year. "I couldn't figure out a job using my degree so I moved back to New Hampshire for a winter and hated it. I realized how changed I was, so I moved back to Steamboat, then back to Crested Butte, then back to Steamboat, and back to the Butte for the fourth time, then Jackson Hole in 2004 for a year."
There, he pursued a job opportunity at a wellness center, but laments that he didn't like the vibe there. "People are really snobby if you're not a local. They aren't friendly if you haven't lived there a long time so I moved back to Steamboat in 2005, but the town had changed. There were suddenly five Starbucks and a Staples—it had grown so much it just didn't feel close to the same town I had moved to. That was huge for me.