CB Creative District to host pizza with creatives Friday afternoon
The creative community is invited to join the Crested Butte Creative District at the Center for the Arts on Friday, March 2 at 5:30 p.m. to learn about the new Paid to Create Grants for Public Art. This will be a fun and informative gathering where you can ask questions, hear from past grant recipients, and enjoy free pizza and beer with your Creative District commissioners. For more information contact Hilary Henry at hhenry@crestedbutte-co.gov.
Friday Night Fish Fry…really!
The whole community is invited to a Friday Night Fish Fry on March 2 and March 23 at 6 p.m. at the Queen of All Saints Parish Hall at 405 Sopris. Purchase advance tickets at www.CrestedButteCatholic.org/FishFry.  The cost is $15 for adults (includes one beer or one glass of wine) and $7 for kids ages 6-12. At the door, prices are $20 for adults and $10 for kids.
Crested Butte Wellness Fair on Saturday in Mt. CB
Community members in the Gunnison Valley are encouraged to take advantage of free health services available at the Crested Butte Wellness Fair this Saturday March 3. Gunnison Valley Health's Board of Trustee and Wellness Fair Founder Marla Covey said the Fair provides a range of services such as bone density scans, body fat testing, movement analysis and low cost blood tests. The Crested Butte Wellness Fair will take place at The Lodge at Mountaineer Square this Saturday, March 3 from 7am – 11am.  Walk-in low cost blood tests will also be available.
Shabbat Weekend with Rabbi Robbi and Congregation B'nai Butte
B'nai Butte welcomes back Rabbi Robbi Sherwin the weekend of March 9-11. She will make her regular stops at the T-Bar on Elk Avenue (Friday 10 a.m. to 1 p.m.) and at the Coffee Lab in Mountaineer Square (Saturday and Sunday 10 a.m. to 1p.m.) for anyone who wants to chat. A Shabbat/Purim potluck dinner celebration will be held at the Queen of All Saints Parish Hall on Friday evening. Please call Ofra, 970-349-5211 with any questions.
Call to artists: Mountain Express has two new buses to paint
Mountain Express has two new town buses driving around in circles on the bus routes. And, in keeping with the colorful themed buses in the fleet, the new buses need some character. Mountain Express is currently accepting proposals from artists who are interested in joining the long line of artists who have made the MX fleet a motorized canvas of creativity. The deadline to submit is Friday, March 9 at 3 p.m. The two winning proposals will be awarded at the MX board meeting on Thursday, March 22. Tentative project start dates are June 2018 for the first bus and August 2018 for the second bus with a six-week deadline to complete. For more information or questions, please contact Chris Larsen, transit manager.
Birthdays:
March 1- Dawne Belloise, Bethany Cloud, Liz Sanderson, Don Cook, Kerry Young, Pete McCurrach
March 2- Heidi Sherratt, Jim Lohr, Elke Wheeler
March 3- Rob Fessendon, Caith Norton
March 4- Francesca Cain, Ann Lara
March 5- Jim Sullivan, Laura Ramos, Kelsey Bigelow, Sophie Hall
March 6- Candy Shepard, Ellen Ornato
March 7- Everett Fillmore, Alexander Dumas, Jonah Moss, Yvon Michel, Adrienne Van Horn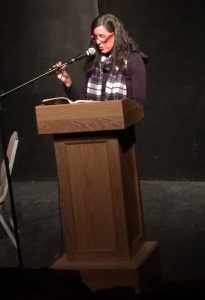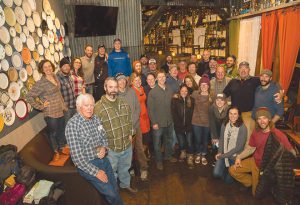 Cameo: Why do you Move the Butte?