Studying nature as preventative and rehabilitative medicine
By Cayla Vidmar
Local veteran Stephen Otero has a vision for U.S. soldiers in training: guided meditation and yoga during the second phase of their initial military training and nature immersion for recovery. Underlying this vision is the question: How do nature and the mindfulness found in nature affect the brains, healing and rehabilitation of our wounded warriors?
Otero, a Crested Butte local and senior at Western State Colorado University, is researching his theory that having veterans experience nature and alternative focusing methods will help them recover from service and transition back into civilian living.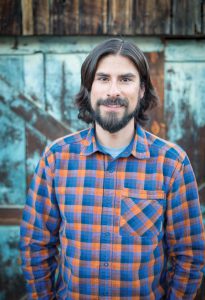 A 12-year Air Force veteran, Otero was spurred into action by the insights he gained after moving to Crested Butte in 2015, following his own struggles during his transition into civilian life. He sees the natural beauty and recreation opportunities that surround Crested Butte as a gateway for better prepared and rehabilitated veterans.
"I came back with abdominal nerve damage, a hernia. I had to have a series of surgeries to repair everything," says Otero. "I left the military and I had a series of physical and mental health problems, like chronic insomnia, post traumatic stress disorder [PTSD], and the symptoms of that, like anxiety, combined with chronic pain."
Otero moved to Crested Butte in search of work-life balance, and found it in spades here. With a background as a communications officer for one of the five federally funded Wounded Warrior programs, where he advised members of Congress and the Senate on program funding, he made a great fit for his current position as the Gunnison County veteran's services officer.
As he settled into life in Crested Butte and began to notice the effects outdoor recreation has on people in the valley, and the effects it has on his own struggles, he started getting curious and asking questions, like what nature is doing to the brain and how it could help his brothers and sisters in the military.
It was at this point that he started his higher education career with the National Outdoor Leadership School (NOLS) for a semester program. With almost a decade on the rest of the students, he confronted many challenges that ultimately changed him, and inspired his research at WSCU.
"I was cocky and thought I knew what I was doing because I was 34. Communicating with people from different life circumstances was very difficult," Otero reflects. "During those 90 days I spent living in the field and working through austere environments with a team that was a full decade younger than me, I was forced to learn and grow in ways that I had not thought of in a long time."
The small group experience convinced him that nature-based therapy is great for building community among veterans. "Intimate outdoor programs seem to have a greater long-term effect and it seems like veterans hold each other accountable to change," says Otero.
After his NOLS course, he felt he had found his mission, one that aligns the things he loves, like outdoor recreation, with helping his brothers and sisters in the military. With his background in working with Congress on behalf of veterans, he knew that if he wanted to effect change at a policy level, he would need solid research to back up his theories about the impact of nature on the brain.
This led to his decision to research hormonal changes that take place in wounded military veterans who are exposed to nature-based activities. He enrolled at WSCU and teamed up with Dr. Lindsey Fast, associate professor of psychology, to finish his undergraduate degree, with plans to complete a doctorate in neuroscience remotely.
With the guidance of Dr. Fast, Otero hopes to establish a body of peer-reviewed research that will change how soldiers are trained before battle, and how they are rehabilitated into civilian life following their service.
"I would like to encourage the government as a whole to look at nature-based activity as a preventive medicine, to build a stronger warrior mentally and physically by introducing meditation and yoga early in the career of the fighter," says Otero.
Otero believes that not only will this better prepare our military for the potential trauma associated with war, but it will also save taxpayer money by reducing the need for disability payout because military personnel will be better prepared for battle. He argues that offering a higher quality rehabilitation program with nature will help ease the transition to civilian life for veterans.
According to the Military Times, $86 billion was budgeted for disability compensation and pensions in 2017, which Otero says isn't sustainable.
The research he is conducting will look at neurotransmitters in the brain that are associated with PTSD, like cortisol, which he will collect through saliva samples. He plans to begin collecting samples this summer on a small scale to establish his methodology and procedures, and then scale his data collection to larger data pools.
The initial studies will be conducted on only wounded military veterans, and will take place in Colorado. Otero is currently speaking with local organizations like Adaptive Sports that could potentially help with research. He is also speaking with larger organizations like Outward Bound and NOLS that work with both civilian and veteran communities, which would give him the opportunity to expand to national data collection.
Otero is hoping for a summer 2019 peer review of his initial findings, and a feature documentary will accompany the release of the data in order to give a full scope of the methodology and scope of the project.
If you would like to follow along with the project, you can like @Remedy_TheDocumentary on Instagram, and view a short documentary about the project at www.vimeo.com/259231571.