Let the holidays begin!
Hanukah in Crested Butte starts this weekend. B'nai Butte would like to invite the community to join us as we light the Hanukiah (Menora) nightly at 5:45 p.m. at the Brick Oven starting Sunday, December 6 and continuing for the Eight days of Hanukah till December 13. Sunday, December 13 we will have our nightly lighting at 5:45 followed by a pizza party to celebrate the last day of Hanukah. All are invited!
Coloring and Conversations at the Old Rock
Have the holidays got you hustling around like a wild person? Stressed out at work? Come to the Old Rock Library on Wednesday, December 9 at 6:30 p.m. for a free evening of Coloring and Conversation. Snacks and soft music will be available for this event, sponsored by the Crested Butte Friends of the Library. Come to relax, perhaps meet new people or have a chat with old friends while you do some coloring on beautiful adult coloring pages. Coloring and Conversation will give you some "Zen" time to color and relax. We will have a variety of adult coloring pages and pencils for you to use, or bring your own.
Seats opening on Mountain Roots board of directors
Mountain Roots has three seats opening on the board of directors, one for a Gunnison resident and two for a Crested Butte or Almont resident. Appointments begin January 1. The organization runs the Farm to School program for the school district, models and teaches sustainable agriculture through a network of urban, youth, and community gardens and a new community farm, and builds food security and economic development through access strategies, education, and outreach targeted to meet the needs of low-income, Latino, and senior residents. For more details please contact director Holly Conn, (970) 417-7848 or go to director@mountainrootsfoodproject.org.
Awareness Night/Beacon Brush Up 2.0
The Crested Butte Avalanche Center (CBAC) is hosting its' annual Avalanche Awareness Night on Friday, December 4 at Mountaineer Square. Doors open at 5, show starts at 6. There will be presentations, a video and even a game show in addition to the Haffle and Faffle, slices of Brick Oven pizza, Avery beer and plenty of schwag for sale. $5 gets you in the door. On Saturday, December 5 Irwin Guides, the CBAC and the Alpineer team up to host the new and improved Beacon Brush Up 2.0 at the Crested Butte Community School from 9 a.m.- 3 p.m. There will be clinics for all levels from beginners to experienced backcountry users and a gathering afterwards at the Alpineer. Best of all, it's free!
Honor a loved one at the Tree of Life Celebration Saturday
Gunnison Valley Health Hospice & Palliative Care invites you to honor a loved one this holiday season at the annual Tree of Life Celebration on Saturday, December 5, at 10 a.m. at the Almont Resort. Each year, the Tree of Life is dedicated to loved ones and adorned with dove ornaments created especially for hospice. This year's dove ornaments were designed by local artist Elise Meier and lovingly assembled by GVH Hospice & Palliative Care volunteers. Each ornament is uniquely designed and no two are alike. Call (970) 641-4254 to order your dove ornament by phone. A bell will be tolled as each loved one's name is read out loud. Light refreshments will be served.
Birthdays
December 3- Kristen Van Hoesen, Emerson Wohlers, Ben Debnam, Bryan Wickenhauser
December 4- John Cowell, Hallie Weischsel
December 5- Murphy Sloan, Heejohng Chae, Ezra Paden
December 6- Laci Wright, Linda Crouse, Jack Crumpton, Stacee Schultz, Reilly & Logan Walter, Jenny Birnie
December 7- Sydney Loyed, Tony Campana, Ray DelTufo, Matt Kuehlhorn, Hanna Weichsel, Jeff Deutsch
December 8- Amanda Knoll
December 9- Fred Garing, Beth  Carter, Lucille Lucas, Colton Schnailter, Dan Jones
Cameos: what is your favorite run on the mountain?

The Edge
Otto Billingsley

Twister
Grace Haverkampf

Big Chute
Jacob Bernholtz

Headwall
Finn Veit

International
Anika Jobson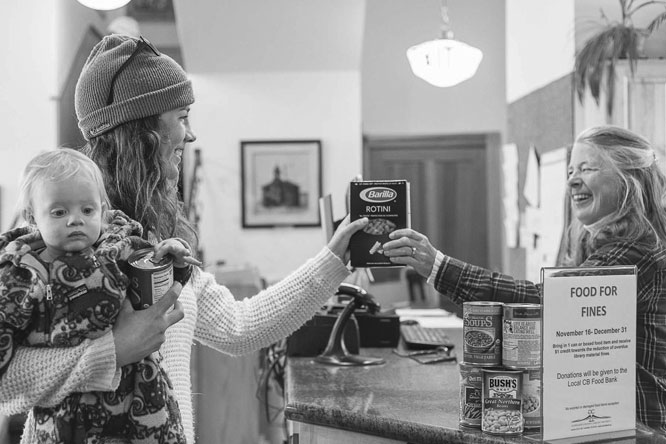 FOOD FOR FINES:  Baby Ruby and Sierra Fairfield-Smith paid off fines at the Old Rock Library by donating food to librarian Debra Reich for the food bank.  photo by Lydia Stern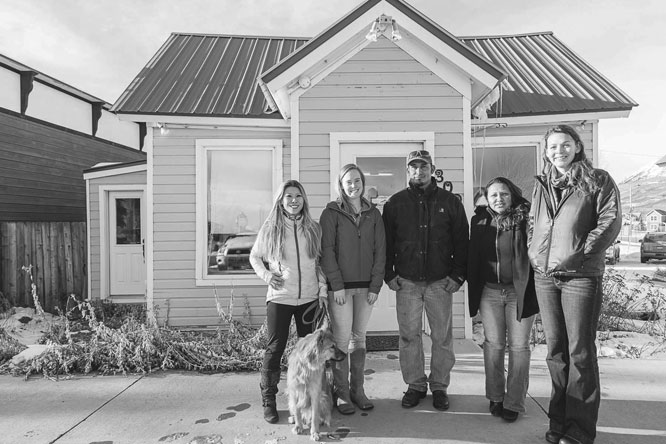 NEW LOCATION:  Watchdog Property Management & Real Estate has a new permanent home! The team is proud to announce the new location at the "Pink Building" at the 4-way stop. 309 6th Street, Unit A. Watchdog offers full real estate services, vacation rentals, care taking, and HOA management.  photo by Lydia Stern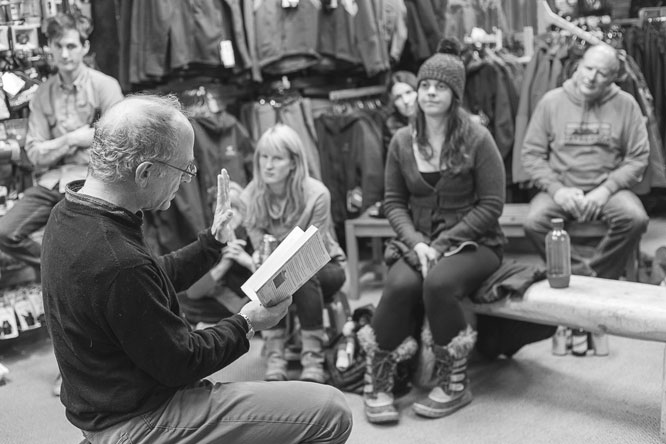 LOCAL AUTHOR:  David Rothman read from his book Living the Life: Tales from America's Mountains and Ski Towns at the Alpineer on Saturday, November 28.  photo by Lydia Stern