Boys' team and three girls earn spots
by Than Acuff
The Crested Butte Titans cross-country team hit all of its pre-regional race goals last week and is sending the entire boys team and three individual girls to the state championships in Colorado Springs on Saturday, October 31.
The regional race is the only time a runner can punch his or her ticket to the big show, with the top 15 individual finishers making the cut and the top four boys teams and top two girls teams also getting a bid.
Coach Austin Ross expected as much from his team but you never know when the kids are coming off of October Break, Montrose relays, and then ramping back up for the regional race, but he kept all of it in mind, walking a fine line between resting the runners but maintaining their focus.
"We spent the week focusing on feeling fresh for the race," says Ross. "The goal was to make sure we were not tired, but also not sluggish."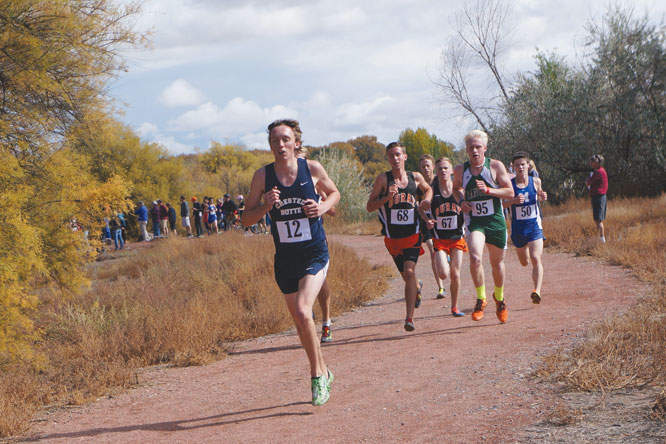 According to Ross, the regional race preparations worked better for the boys than the girls but still played out as hoped.
The boys were in the mix prior to the regional race for one of the four spots but never assured. Yet, rather than concentrate on specific places for an overall team score, Ross kept the boys focused on their specific efforts.
"I told them you shouldn't worry about what you can't control," says Ross. "What you can control is how fast you run. I told them every place counts, but that I wanted them to go out and run their best. That was the focus more than the nitty-gritty numbers."
In the end, the boys team did just that as they recorded some personal records and some season-best times, and finished regionals in fourth place to qualify as a team.
Aiden Truettner was one of the Titans who brought a near-perfect effort to regionals. Truettner went out fast and furious with the top runners in the region, posting a first-mile split of five minutes, 10 seconds. While he was on a school record pace through the first half of the race, the initial effort took a little bit of a toll on him. He still held on to finish in sixth place with a time of 16 minutes and 21 seconds. Truettner's time also qualified him for the National Elite Silver Standard.
"He ran a really fast race and it was his fastest official time of his career," says Ross. "For him it was a really great race, but not a perfect race in his eyes."
Hunter Wright continues to make waves as the top freshman in 2A. Wright stepped into his first regional race and finished the day in 20th place overall.
"It was awesome to see him perform under a little bit of pressure," says Ross.
The race of the day for the boys came from Conrad Truettner. Conrad finished the day right behind Wright to place 21st for some key team points with his best effort to date.
"He ran easily his personal best and it was awesome to see him run really well," says Ross.
Vincent Michel was next in line for the Titans, coming in 33rd place. Joe Coburn placed 40th with Benjamin Swift 2/100ths of a second behind him in 41st place. Storey Crossett placed 52nd and Charles Behrens posed a 68th-place finish at regionals, with the boys team finishing the day in fourth overall.
"That's about where we expected them to be and they qualified for state," says Ross.
As a result, Aiden, Conrad, Wright, Coburn, Michel, and Swift will carry the Titan colors at state with Crossett tapped to be the alternate.
The girls team had a tougher row to hoe with just six teams in the region, leaving only the top two teams earn a place at the state championships.
"It ended up being tougher than we thought," says Ross. "The girls still finished fourth, which is awesome."
With that goal proving unachievable, the girls still put in a solid effort and both Sam Crossett and Sydney Petersen qualified as individuals, with Tara Mortell named the alternate.
Crossett led the charge for the Titan girls, placing eighth overall with a time of 20 minutes and 40 seconds, just a couple clicks off her personal best.
"She kept up with some really fast girls and it was good to see her out there pushing the pace," says Ross.
Petersen was also a few seconds off of her fastest time but still managed to finish the day in ninth overall with a time of 20 minutes and 46 seconds to join Crossett at the state championships.
Mortell closed out the regionals in 30th place, Emelie Elkins was on her heels in 31st, Sierra D'Aquila placed 33rd and Kelly Sherman posted her personal best time to place 36th.
Ross plans to tweak workouts leading up to the state championships to make sure both the boys and girls are as rested and as focused as possible for the big race. They will have their hands full with the course in Colorado Springs though, as after a relatively flat first mile, runners will hit a brutal hill on the second mile and then run up one final hill to the finish line.
"We have a really strong region and I'm excited to see how we do at state," says Ross.